Makeup Artist Sir John Collaborates With Barbie to Dream Up Iconic Beauty Looks
"This year a lot of my inspiration came in the form of activism or being a voice for change," Sir John says.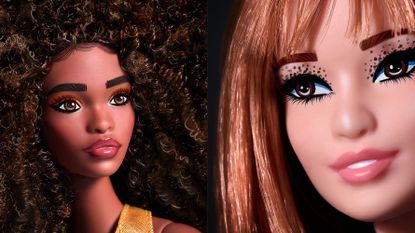 (Image credit: Courtesy )
Barbie tapped activist and Beyoncé's makeup artist Sir John for a new collaboration.
Sir John dreamed up six modern beauty looks inspired by his artistry work.
The collaboration embodies a shared vision for diversified beauty within the industry.
Since 1959, Barbie has sat at the helm of little girls' doll collections all around the world. The classic figure continues to reinvent the wheel and inspire the masses—and now, Barbie has teamed up with celebrity makeup artist Sir John, the artist extraordinaire responsible for many of Queen Bey's most mesmerizing makeup moments. In a new beauty-focused editorial, Sir John shows off his expertise by creating six modern makeup looks on Barbie dolls with various skin tones, facial features, and hair textures.
"l love that Barbie is such a vehicle into learning [about] yourself, what you want to look like, and who you want to become as an adult. I mean, she's had over 200 careers!" says Sir John. "As you can see within this collaboration, each doll's look takes a different direction with makeup and hair. That's what needs to be celebrated the most—being authentic with your beauty."
The collaboration came about as many do these days: via Instagram. "I was looking at [stylist] Shiona Turini's Barbie collection back in February and was just really impressed by her work. I remember there was a comment under the post saying: "Oh, wouldn't it be cool for Sir John to do the makeup?" From there I was contacted by the brand, I met the team virtually, and we just organically built a relationship," explains Sir John. "It was really nice to get a great vibe from the people behind the brand, once that happened a collaboration was completely a go for me."
The artist drew inspiration from work that he's dreamed up in the past, including the 2019 campaign for Disney's The Lion King. Sir John wanted looks that were works of art yet still wearable. "I'm all about skin but also looking for a punctuation or a statement that will elevate a look," he says. "So for me, the eyes are the best way to communicate feeling or evoke emotion into an audience."
When it comes to the artist's day-to-day work, he draws inspiration for his creations from multiple areas. "The inspiration changes," Sir John says. "Yes, I'm always inspired by the amazing women that I get to work with but for me this year a lot came in the form of activism or being a voice for change."
Each doll represented in the collection has a look that embodies her own individuality and style. From the played-up eye looks to the strikingly bold lip colors, each masterpiece is a nod to one of Sir John's classic beauty favorites. "I love winged eyeliner, seductive or flirty eyes, and beautiful skin," he says. "Gone are the years of just cookie cutter glam. What seems cool, fresh, and modern is when a look is anchored in personality. Hopefully, that's what comes across with the looks on these girls."
Celebrity news, beauty, fashion advice, and fascinating features, delivered straight to your inbox!
Chelsea Hall is the Assistant Fashion and Beauty Editor at Marie Claire, where she covers celebrity style, fashion trends, skincare, makeup and anything else tied into the world of fashion and beauty