How Model and CEO Miranda Kerr Does Self-Care
The founder of Kora Organics talks fried potatoes and aromatherapy.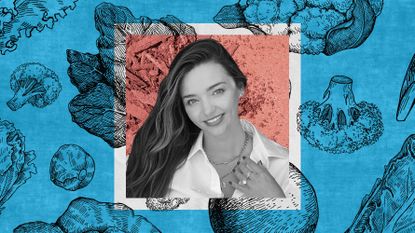 (Image credit: Design by Morgan McMullen)
In the ultimate quest for inner beauty and outer glow, Marie Claire asks our favorite trailblazers to share intel on finding balance in their busy lives. Read it all here, inBeauty Inside & Out.

As a former Victoria's Secret model and founder of KORA Organics, Miranda Kerr knows a thing or two about staying centered. The mother of three is used to a busy household, whether that's taking meetings for her brand, or running after her children. "I'm very much into taking care of myself. And I feel like when you do little things, it can make a big difference," says Kerr, who finds calm in daily beauty rituals and surrounding herself with crystals. Ahead, the entrepreneur, who just launched her new Milky Mushroom Cleansing Oil, shares her feel-good products, and a tip for eating guilt-free fried food.
Inner Beauty
Kora Organics Milky Mushroom Gentle Cleansing Oil"The geranium with rose and basil is a sensory experience that I'm really into at the moment. I basically see my skincare routine as a meditative ritual. It's a form of self-care and a moment for me to check out and focus on my skin and wellbeing. That's why I infuse all my products with rose quartz and use aromatherapy in the formulas."
Therabody Theragun Mini
"I've got many Theraguns and I'm obsessed. They've been my lifesaver, especially while I'm not getting massages and whatnot at the moment. I do it everywhere all over my body, my neck, and my legs. I'm still breastfeeding, so I get a little tight around my chest and that really helps."
Kora Organics Noni Glow Skinfood
"It helps with digestive function, makes your skin glow, and helps with energy levels. And it has the Noni in there, which is the key ingredient across the whole range."
Rose Quartz
"I have crystals everywhere—rose quartz, amethyst, clear quartz. I have been a lover of crystals since I was a little girl. I had no idea that every crystal has like a different purpose and a different use until I was older. I stumbled across a crystal shop and my mind was blown."
Outer Glow
Kosas Kosasport Lipfuel Hyaluronic Lip Balm
"I can never decide if I like the shades Rush or Pulse better, but it's a natural color. It's easy to put in your pocket and sometimes I'll put it on my lip or on my cheek."

Kora Organics Crystal Luminizer
"The Rose Quartz shade is such a beautiful highlighter that just melts into your skin. It has real crushed rose quartz in there. All Kora products are filtered through rose quartz and energized with it in the manufacturing process. But it's fun to actually have it on your skin as well."
RMS beauty "Un" Cover-Up Cream Foundation
"This whipped foundation makes me feel good when I put it on. It's very light coverage and natural."
NuFace Trinity Toning Device
"The NuFace definitely makes a difference when you use it. It is non-invasive and if you do one side and compare it to the other you can see [the treated side] is visibly less puffy and lifted."
Recipe for Success: Miranda Kerr's Air Fried Potatoes
Recipe for Success: Miranda Kerr's Air Fried Potatoes
1. Pre-heat air fryer to 370°F.
2. Peel 1 lb. of Yukon gold potatoes and cut them in half.
3. Cook the potatoes in the air fryer for 11 minutes.
4. Sprinkle with Herbamere herbed sea salt and edible flowers. Enjoy!

RELATED STORIES
Celebrity news, beauty, fashion advice, and fascinating features, delivered straight to your inbox!
Tatjana Freund is a Beauty Commerce Writer, covering makeup, skincare, and haircare products and trends. She's a fan of vodka tonics and creepy Wikipedia pages.