Supermodel Hairstylist Harry Josh Has a New Approach to Beauty
Nature viewings, binaural beats, and Brazilian facials keep him looking good and feeling even better.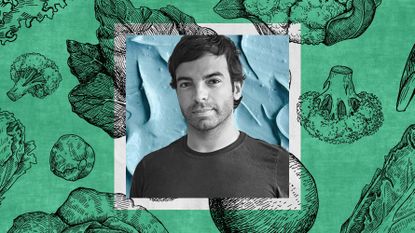 (Image credit: Harry Josh/Morgan McMullen)
Marie Claire Newsletter
Celebrity news, beauty, fashion advice, and fascinating features, delivered straight to your inbox!
Thank you for signing up to Marie Claire. You will receive a verification email shortly.
There was a problem. Please refresh the page and try again.
In the ultimate quest for inner beauty and outer glow, Marie Claire asks our favorite trailblazers to share intel on finding balance in their busy lives. Read it all here, in Beauty Inside & Out.
"My word for 2021 is expansion," says celebrity hairstylist Harry Josh, who is on a mission to move, motivate, and rewrite the new chapters in beauty—to approach it from a more holistic point of view. "Who I am inside is where I'm putting all my energy, and I'm hoping that will translate and be able to serve the people around me in a different type of way." But longtime clients Priyanka Chopra Jonas, Karlie Kloss, Cindy Crawford, and Gisele Bündchen need not worry: Josh isn't giving up on hair. The founder of Harry Josh Pro Tools and newly named ambassador for Goldwell and KMS is just embracing a fresh perspective. "I have more to give than just a great topknot on a red carpet. It's about expansion in mind, in the definition of beauty. If we can remind ourselves that beauty is nature—a lake, a mountain, something majestic—then it inspires us to do the right things to make ourselves feel and think beautifully," he says. Ahead, how the NYC-based stylist applies this mindset into his own daily practice.
Inner Beauty
Next Health
This is basically my new gym. I don't work out for the outside anymore. All I do is I work out for the inside of my body—I call it my organ gym. I've gone through my blood work with them, and now go on a weekly or bi-weekly basis and do cryotherapy to treat inflammation, the LED bed, and a vitamin immunity IV drip with some kind of superfood pushed in there. Lately, I've been doing glutathione.
Brain Wave App
I have a binaural sound app that I play in the apartment. These are like vibrational sounds that are designed to go to the center of your soul to recalibrate the energetic field around your body. You can set up the app based on whatever you're needing—energy, healing. I don't have it on all day but if I'm reading a book or something for an hour or two, it'll just be on softly in the background. If I'm taking a nap, I'll put it on as well.
Nature of Things Superlative Body Balm
I use all over. I just think it's the best CBD cream I've ever tried—it's effective and my body feels relaxed. I hold all my tension in my traps, so if I'm stressed, it's in my traps, my neck, it just goes there. I put this on at night and the relaxation is beyond.
Acqua di Parma Boungiorno Candle
I find it very calming, just the aroma in the air. It's not as pungent and fragrant as some of the other ones the brand makes but just makes me feel really nice.
Mother Nature
Don't ever underestimate the power of just going to sit in Central Park and staring at a duck in a pond. Come with me and sit there for 10 minutes and put your phone away. Just stare at a tree or a bee sniffing a flower—there's magic in that.
Outer Glow
Christine Chin Soothing Hydration Masque
I tend to have rashy or dry skin but a lot of the stuff I use, if it's too rich, leaves me breaking out. This Christine Chin mask is one of the only products that gives water-based hydration. It's a big game-changer. When I wake up and feel kind of dry, I put it on and my skin looks its normal texture again.
Fabricio Ormonde Overnight Perfector
This sloughs off a lot of dead skin while I sleep. It has hyaluronic acid in it and just keeps my skin very smooth while minimizing my pores. Fabricio is a Brazilian guy and does a lot of high-tech skincare. A lot of the models are starting to go to him—Caroline Trentini, Candice Swanepoel. When it comes to resurfacing, light therapy, plumping, radiofrequency skin tightening, he has all his machines. I never know what I'm getting when I see him. It's always a new adventure.
IS Clinical Pro Heal Serum Advance+
I use this anytime I get a rash, it's so great for calming the skin.
KMS Hairplay Styling Gel
As I get older, my hair is getting shittier. It's just thinner, crappier, it just isn't what it used to be. I have to work much harder to do stuff. But I'm obsessed with going back to what I was using at 16, which is my KMS gel. It's the only thing that keeps my hair not puffy, not flyway, not crunchy—but flat and shiny. I use a drop of the KMS gel and it makes me feel like I'm having a good hair day.
Recipe for Success: Harry Josh's Juice Press Blue Magic Smoothie
Blend and Enjoy!
1. Gather and add ingredients (they can be purchased as a kit or à la carte from Juice Press) to your blender in this order: 9 fl. oz. of plant-based milk, 1 bag of Blue Magic Protein Blend, 1 bag frozen bananas, 1/4 cup ice, 1 tbsp almond butter.
2. Blend for 25–30 seconds and pour into a cup. Drink up!
RELATED STORIES
Celebrity news, beauty, fashion advice, and fascinating features, delivered straight to your inbox!
Erin Flaherty is a beauty journalist and consultant who has contributed to numerous publications including the Wall Street Journal and Domino, among many others. She is a board member of the Women's Global Empowerment Fund and especially passionate about worldwide beauty anthropology and women's issues. She lives in Woodstock, NY with her husband and dog.