The Derms Are In: The Biggest Beauty Trends of 2021
From the newest injectables to smarter skincare, here are the next big treatments you'll be asking for in-office.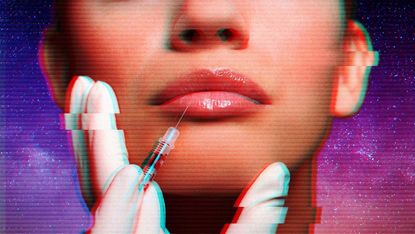 (Image credit: Getty/Tova Diamond)
So much has changed about the way we take care of ourselves in 2021. From how we apply our makeup (mask-proof, or maybe not at all) to the way we work out (at a distance, or maybe not at all) it's a whole new world for wellness. But that's not all that's changed: in the past year, there's been major tilt in trends when it comes to injectables, skincare, and beauty tech thanks to our shift in lifestyle and new advancements. That's why we checked in with the best dermatologists in the business to get the details on exactly what their patients are asking them for in 2021—and why. Here, the pros tell us what's new.
Fillers are getting smarter.
When it comes to the products Marie Claire recommends, we take your faith in us seriously. Every product that we feature comes recommended by a MC writer or editor, or by an expert we've spoken to. Learn more about how we review products.
"The continuing trend of injectables is less about treating features and more about treating faces—doing little bits in many places. It's not about longevity; it's about small changes frequently," says dermatologist and PFRANKMD founder Paul Jarrod Frank. And dermal fillers, which can be used to add volume to facial features, improve the appearance of bags and dark circles under the eyes, or lessen the appearance of fine lines, have made long strides in the last year.
"There are new injectables and tech that are hitting the market all the time," says NYC board-certified dermatologist Elyse Love. One of the most anticipated: Restylane Contour, a new hyaluronic acid filler designed to give a natural bounce to the cheeks without the stiff look that can occur with heavier filler products. Love explains that the product's distinct difference from other hyaluronic fillers is its patented Restylane XpresHAn technology, which allows the filler to move dynamically with facial movement. Love also notes that RHA, a new designer filler company that has previously only been accessible in Europe, has finally hit the states. Similar to Restylane Contour's purpose, their products are designed for the mid face and to move more dynamically with expression. Your doctor can help you wade through these options based on what you might be looking to achieve and which brands they're most comfortable using.
New formulas aren't the only tech changing the way derms use filler, though. While fillers are sometimes used 'off-label,' a.k.a in locations on the face and neck they haven't specifically been cleared for—for example, Restylane Kysse is specifically formulated to plump and define the lips—the FDA often expands its approvals for existing products. The most recent: Restylane Defyne and Juvéderm Voluma, two of the most popular fillers already used in-office, have both recently been approved for chin augmentation.
"A recessed chin often makes the nose look larger and the lips out of proportion, and this new approval gives us more power to address the proportions of the entire face," explains Dr. Love, "Chin augmentation has quickly become a favorite injectable treatment for me."
Thanks to Zoom culture, jaw work is king.
Now that working from home is more commonplace, our virtual visage is shaping the way we see ourselves—and what we're asking for at the derm's office.
"I actually have patients that are distraught because of what they see on the screen. In a static image, everyone can control the angle of their selfie, and they know right where to look and position their head for the result they want," says board-certified dermatologist Dendy Engelman. "But all of a sudden, they're dynamic on camera and they're seeing expressions they didn't know they even make." Engelman says chin and jaw filler has soared in popularity at her clinic, and that its subtlety is what makes it a worthwhile investment. "It's very attractive, but it doesn't look done. You just look like 'better.'" This widespread hyper-focus on the bottom half of the face isn't just superficial, though.
"Almost everyone's coming in and asking for masseter injections," says Dr. Engelman. Injecting Botox into the masseter muscle, which connects your cheekbone to your lower jaw bone, temporarily paralyzes the muscle and can relieve tension headaches and other jaw pain. (It's technically off-label for Botox usage, but it's commonplace amongst derms these days.)
"People say, 'I'm clenching so much more,' and I think that that's just indicative of the stress level that has skyrocketed during in the pandemic. They're chipping their teeth, or even breaking their night guard they're clenching so hard," she notes. So if you're one of those people grinding your teeth down to nubs just trying to make it through 2021, it might be worth a visit to the derm.
A K-beauty triple-threat is changing facials for the better.
Microneedling has been an MVP for treating acne scars, reducing the appearance of fine lines, and improving overall skin texture for years. Lately, derms are even using microneedling combined with with radiofrequency all over the body as an alternative to more invasive and expensive lasers. But we're most taken with what we've decided to call the Arnold Palmer of in-office treatments: the Aquagold Fine Touch.
While the technology has been used in Korean skin clinics for years, the treatment has finally come stateside, and it combines the benefits of microneedling, filler, and Botox—all wrapped up in one little anti-aging package. Here's the deal: the device, which has tiny, 24-karat-gold needlepoints on the end (the needles are super short, so it's not as painful as it sounds) prick the skin and cause micro-injuries to the dermis, which stimulates collagen and elastin production to heal them. Just like microneedling! But the Aquagold device also contains small amounts of hyaluronic acid filler, Botox, and vitamins, which are stamped into the skin on a surface level. Rather than augmenting features or paralyzing muscles as the injectables typically would, they plump and tighten the skin for a glowing complexion, and they absorb all the better thanks to the micro-injuries the needles cause.
It's an investment, for sure: facials including the treatment are running for $775 and up. But if you've struggled with fine lines and wrinkles or slack skin, the treatment has essentially no down time and might be worth the splurge. But if you can't swing it, there are alternatives you can take. Ask your dermatologist about more microneedling facials, or try dermarolling, an effective at-home alternative that can make the serums you've already got in your medicine cabinet more effective.
Body contouring just got a major upgrade.
You've probably seen it on Tiktok or Instagram, strapped to celebs, athletes, and even influencers: Emsculpt, the device that tones your abs so you don't have to exercise. Well, that's not entirely true. The machine, which your provider will strap to whichever body part you're targeting, uses HIFEM (High Intensity Focused Electro Magnetic) energy to contract your muscles at high-speed. If you're using it on your abdomen, one session equals about 20,000 crunches in just one hour.
"Emsculpt is still the hottest technology in body contouring," says Dr. Frank (it officially launched in 2018.) But now, his practice—and many others around the country—carries the device's newest iteration: the Emsculpt Neo.
The upgraded device takes the treatment's muscle sculpting powers and improves their efficacy by adding radio frequency heat to the treatment: not only does the heat improve the machine's muscle development by 25%, but it also melts fat and tightens skin for more visible results. While the abdomen and buttocks are the two most popular areas for the device, smaller attachments have recently been developed to target the arms, the calves, the inner thighs, the outer thighs, and 'love handles.' Four once-a-week sessions is the minimum to see real results. But the more sessions you do, the more obvious the transformation. It might not be necessary, but you'll leave the clinic feeling like you just put in work at the gym.
Treatment for melanin-rich skin is getting a more 360 approach.
"Hyperpigmentation still continues to be a big issue in skin of color," says Dr. Frank, "But a lot of the advances being made have to do with oral therapy. Now, we'll prescribe a drug called tranexamic acid—patients will take it for three months—and use that in conjunction with laser and topical therapies. The best results have been coming from combining several lasers—such as 1064 wavelength pico, ND:YAG, and Clear and Brilliant—that are used lightly in one overall session, and that has proven to make an enormous difference in skin-of-color patients. And that's done very safely," he says. He notes that as with all patients of color, there are specific lasers that can't be used as melanin-rich skin is more easily affected by their power (your derm can direct you towards the right treatment based on your skin's tone and condition). And now, patients of color can better supplement these safe treatments with products specifically formulated to care for their complexions.
"Skin of color is now at the forefront of skincare and skincare design. There has been a huge increase in skincare lines designed specifically for skin of color," says Dr. Love. These products—like Eadem's heritage-botanical infused formulas designed by female chemists of color, and Ustawi's mists and serums made from African-sourced ingredients—are formulated to treat the melanated skin the skincare industry has historically neglected.
---
Click here to read the full Future Issue
Celebrity news, beauty, fashion advice, and fascinating features, delivered straight to your inbox!
Taylore Glynn is the Beauty and Health Editor at Marie Claire, covering skincare, makeup, fragrance, wellness, and more. If you need her, she's probably roasting a chicken, flying solo at the movies, or drinking a bad Negroni at JFK.