Editors handpick every product that we feature. We may earn commission from the links on this page.
Editor-Approved Brightening Serums for Lit-From-Within Skin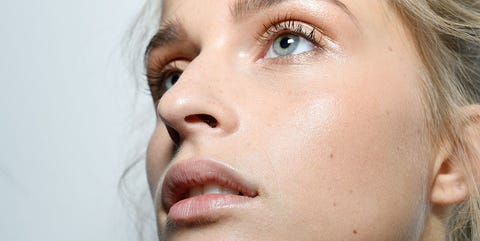 For the past few days, I've been waking up with the sun, eager to make coffee, take my supplements, and start my day. (I can't explain why, but I'm trying to roll with it while it lasts.) I head to the bathroom first thing, still groggy from sleep, to wash my face. I look in the mirror, poke in my contacts and... sigh. I don't look bad, per se, but I look more bleh than usual. Maybe it's the lack of vitamin D, clogged pores from laying on my couch pillows more often, or just general malaise, but my skin has this dull pallor I just haven't been able to shake. Clearly, my complexion is in need of a major tune-up to bring back a lively glow—one that will ensure my boyfriend that he's not trapped in isolation with Nosferatu. Brightening products, serums specifically, can add an illuminating boost to any routine regardless of your skin type. And if you're prone to dark spots, acne scars, or uneven skin tone, they can be especially helpful for bringing your skin back to baseline. After swapping favorite formulas with fellow editors for years and attending endless beauty launches, I've hoarded an arsenal of exfoliating formulas that help shed the dead skin cells and dry patches I'm prone to developing on my skin. Here, the very best formulas for bringing some much needed light back to a dull visage.
This content is created and maintained by a third party, and imported onto this page to help users provide their email addresses. You may be able to find more information about this and similar content at piano.io