The 17 Best Brightening Serums for a Lit-From-Within Glow
Shine on.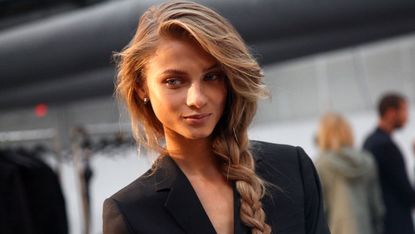 (Image credit: Getty)
Maybe it's the lack of vitamin D, perhaps it's the clogged pores from laying on our couch for far too much of the day, but our skin has a dull pallor we haven't been able to shake. Whatever the cause, our complexions need a major tune-up to bring back a lively glow—one that will convince us that we're not slowly morphing into Nosferatu with every passing day. Brightening products, brightening serums specifically, can add an illuminating boost to any routine regardless of your skin type. And if you're prone to dark spots, acne scars, or uneven skin tone, the best skin-brightening serums can be especially helpful for bringing your skin back to baseline.
After swapping favorite formulas like Vitamin C-infused serums with fellow editors for years and attending endless beauty launches, we've amassed a skin-brightening arsenal that helps shed the dead skin cells and dry patches that often develop on our skin. If you can relate, keep scrolling for the very best radiance-boosting formulas to restore some much-needed light back into a dull visage.
Freelance Fashion and Beauty Writer
Laura Lajiness Kaupke is a freelance writer and editor covering fashion, accessories, fine jewelry, and lifestyle topics, including beauty, home, fitness, and travel. You can see her work across various outlets, including VOGUE, Harper's BAZAAR, ELLE, Glamour, Town&Country, InStyle, Esquire, Women's Health, Brides, Refinery 29, Coveteur, The Zoe Report, Popsugar, Byrdie, WWD, Footwear News, Well+Good, The Editorialist, among other titles and brands. Laura has worked in the fashion industry for over 11 years and held senior fashion editor positions at Popsugar and The Zoe Report, with additional experience as a copywriter and fashion publicist.