Finding the Perfect Perfume
More polarizing than politics, the wrong perfume can be a relationship deal-breaker. Fragrance-phobe Martha McCully sniffs out her soul mate. Still looking for your signature scent? Use our fragrance finder to discover your perfect perfume.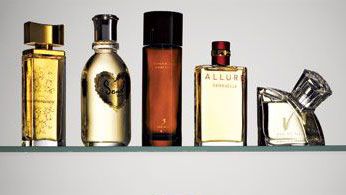 (Image credit: Greg Delves)
I have a love/hate relationship with fragrance. I really should say hate/love. When renting a car, I crawl into all available models on my hands and knees, sniffing for a hint of smoke. If I'm in an elevator with a perfume-soaked woman, I get out. I act like a vampire confronted by a cross when I spy a cardboard Magic Tree hanging from the rearview mirror of a taxi. I let a friend stay in my apartment and she used a PlugIn; I was forced to double up on Ambien once she left. How did I become the annoying woman sneezing at a scented candle?
It turns out I'm not the only one. When I ask friends about their fragrance preferences, they answer with disgust, then rhapsodize about scents they love. Recently, Suzanne Rheinstein, an interior designer in Los Angeles, first told me how much she hated perfume, then promptly swooned, reminiscing about JF by Floris of London, Diptyque's Figuier in the summer, rose oil from a market in Istanbul, and Fracas when she is "feeling flirty in diamonds and pearls."
What is this contradiction? It's just like a love affair: We complain about it, yet have to have it.
No one knows exactly how our sense of smell works, but the truth is, we are bombarded by artificial smells—the fragrance industry comes out with about 800 new fragrances every year, not to mention our soaps, shampoos, toothpaste, deodorant, detergent, dryer sheets, and carpet cleaners all come pre-scented. (Even unscented contains a masking fragrance; only fragrance-free has no fragrance.)
To say we are over-fragranced is an understatement. Dr. Alan Hirsch, director of the Smell & Taste Treatment and Research Foundation in Chicago, also believes that because cigarette smoking is now relegated to 20 feet from any office building, our sense of smell is actually improving.
But there's more to it. Although I truly want to love perfume, I can actually feel sick when I smell it—whether it's a headache, nausea, or sneezing. Other people can get migraines, involuntary muscle contractions, or even seizures, according to Hirsch. He says there are two components to any smell—psychological and physiological.
The psychological response is what we've come to know and love about fragrance: its ability to evoke emotions. And because our olfactory receptors are directly connected to the limbic system of the brain—thought to be the center of emotional perception—it's the emotion we recall first, not necessarily the circumstance. My dear friend Susan got me hooked on a gift of Jo Malone Orange Blossom bath oil when I had to take baths after hand surgery. Every time I smell orange blossom, I'm reminded of her kindness, not the surgery. Scent preferences are also programmed into our brains. "What you like or don't has to do with your brain," says Virginia Bonofiglio, associate professor in the cosmetics & fragrance marketing department at the Fashion Institute of Technology. She says our preferences are cultural and memory-based. This can also be negative—for example, if your parents forced you to mow the lawn without a decent allowance, you may not like grassy scents.
The physiological aspect may have something to do with irritation of the mucous membranes in our noses (cigarette smoke is a common culprit) and also what's happening in the brain. "Fragrances can trigger certain pathways that stimulate what's called the vomit center," says Dr. Randolph Schnitman, an ear, nose, and throat specialist in Beverly Hills. We can also be allergic or sensitive to certain elements. Christopher Brosius, whose I Hate Perfume fragrance line is in about 60 stores worldwide, started his career as a taxi driver in New York City, back in the years of big (bold florals, spicy orientals) fragrances. He can still recall the stench of women's perfume making him nauseous 12 hours after they left his cab. "It's supposed to be alluring, and these fragrances were anything but," he says. Now he makes a range of scents based on his favorite memories, with names like At the Beach 1966, In the Library, and Burning Leaves.
I, too, have some good scent memories. Now that I've moved to lush California, I can literally smell the roses. I have recently fallen for the attars (essential oils with a sandalwood or vetiver base) made by Floracopeia. The night-blooming Jasmine in Motia Attar reminds me of the first time I went to the Hotel Bel-Air years ago. It's now by my laptop, ready to place me in a relaxed, dreamy state. A new laundry detergent from Francis Kurkdjian assures me that my sheets are crisp and clean. And to this day, I remember the moment I tried Carriere, the eau de parfum version of Gendarme. It was love at first whiff.
But what I'm really drawn to right now is Strange Invisible Perfumes' Essence of IX. The perfumer who created it, Alex Balahoutis, was inspired by Napa winemaker Ann Colgin and says I like it "because it's real." Balahoutis uses only natural ingredients in her scents and is such a proponent of naturals and knowing where the ingredients come from that she has her own distiller on staff.
This is the real point of contention. Brosius believes that synthetic compounds in fragrance are the root of the problem. "It has to do with the fact that more and more perfume is made with cheap, synthetic crap," he says. It's an ongoing debate. Some argue that synthetic fragrance molecules (derived from petrochemicals like most manufactured products, such as plastic) cause our negative reaction. David Crow, the creator of Floracopeia, says our bodies "only know how to relate to botanically based compounds since they are oils that come from flowers, woods, and other plants. Our brain and immune system don't recognize the synthetic stuff."
Others say that synthetics add stability, performance, and dimension to fine fragrances. "People often think synthetics are bad and natural is good. That's false," says Paul Austin, who worked as the head of perfume manufacturer Quest's fine fragrance division for 17 years. (It's also a matter of plant sustainability and cost—it's much less expensive to re-create the scent of rose in a lab than it is to extract rose oil from the tons of harvested petals required to make the "juice.") Veronique Ferval, fragrance creative director at International Flavors & Fragrances, says, "For me, it's not about synthetic versus natural. You need both to make a creation." On average, a fine fragrance will contain 80 percent synthetic ingredients and 20 percent natural.
When asked about natural and synthetic notes, Bonofiglio, the professor from FIT, says, "Can your nose or brain tell the difference? Absolutely not." (But, she adds, a "trained nose" probably can.) Sherri Sebastian, a Los Angeles—based custom perfumer, points out that "chemicals exist in nature. The molecule is exactly the same if you analyze it."
That may be true, but as Balahoutis explains, "A real rose has more mystery and essence to it than something we manufacture in a lab. At the end of the day, that's the difference." And so the debate continues.
When Sebastian came to my Venice bungalow to help me experience scent, I smelled all the little sticks she dipped into the tiny bottles she carried. Surprisingly, I found that the synthetic jasmine smelled more authentic than the real Jasmine Absolute. Sebastian smiled and pointed out all the scents around me—fresh eucalyptus from the farmers' market, my favorite Antica Farmacista Casablanca room diffuser, Mrs. Meyer's Geranium Countertop Spray in the kitchen, and a row of attars and Tsi-LA organic fragrance samples on my desk—a mix of natural, synthetic, and actual plants. Maybe I am more attracted to fragrance than I realize, or will admit. Just like a real love affair.