The Easy — and Tasty — New Way to Tan (No Spraying Required!)
A new study promises that if you just eat some of these natural foods, you'll get a healthy glow.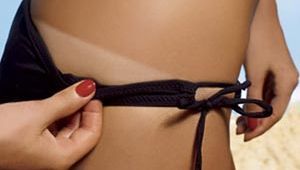 (Image credit: J. Storey)
For us pale chicks who don't want the wrinkles — or the skin cancer risk — from baking in the sun, but hate those stinky sprays, a new study provides tawny hope.
Researchers at Bristol University have found that eating plenty of fruits and veggies containing organic pigments called carotenoids can help pasty folks achieve a natural glow in as little as one month. They asked a group of Caucasians to eat a diet rich in orange and green fruits and veggies, and showed "before" and "after" pics to volunteers. The feedback? Most preferred the golden sheen of the "after" photos.
Some great sources of carotenoids include orange foods (natural ones — not Cheetos, ladies!) such as carrots, mangoes, squash, and sweet potatoes, and dark green foods such as spinach and kale. Whip up a colorful salad every day this summer and watch the glow grow.
Oh, and there's a bonus: Carotenoids just happen to be extremely powerful antioxidants, fighting the free radicals that can lead to disease and cancer. Your dermatologist will be so proud.
Celebrity news, beauty, fashion advice, and fascinating features, delivered straight to your inbox!
Anna Maltby is an award-winning journalist and editor and was most recently the executive editor of Elemental, Medium's in-house health and wellness publication. She was previously the deputy editor at Real Simple magazine and a deputy editor at Refinery29, and also held staff positions at Men's Health, Marie Claire, SELF, Fit Pregnancy, Natural Health and Condé Nast Traveler. Her writing has appeared in such outlets as The Wall Street Journal, Cosmopolitan, Glamour, O, Family Circle, Fitness, Redbook, Vogue.com, TeenVogue.com, MensJournal.com, CondeNastTraveler.com, FastCompany.com_ _and Brides.com. She received her BSJ and MSJ from the Medill School of Journalism at Northwestern University. Anna is also an American Council on Exercise–certified personal trainer and functional training specialist, a certified prenatal and postnatal exercise specialist, and a certified mat Pilates teacher. She lives in Brooklyn with her husband, two children, and two tuxedo cats.