The 20 Best Self-Tanners That Will Never, Ever Streak
Bring on the bronze.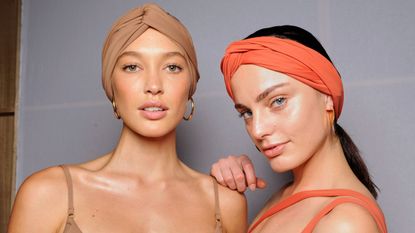 (Image credit: retailer)
If you're on the hunt for a just-off-the-beach bronze before summer kicks into full gear, we have some good news. Getting a gorgeous, glowy, and, most importantly, even tone has never been easier thanks to the best self-tanners on the market. With everything from facial tanning drops to gradual lotions and tinted creams that come with buffing mitts for easy applications, there are tons of streak-free formulas that'll leave you looking like you just hopped back from the beach.
While a perfect bronze is the end goal, anyone that's tried their hand with self-tanner knows that streaks and patchiness can creep up. To help you avoid blotchy color or distinct lines around the wrists and ankles (the worst!), we're breaking down the top tips and techniques for getting a summer-worthy glow from the comfort of your own home.
How to Prep Your Skin for Self Tanner
The secret to a faux tan that looks real as can be? The right preparation. "Shaving and exfoliating is the key to an even tan as it flattens and evens the skin's surface," tanning expert and celebrity makeup artist Tarryn Feldman explains.
While any physical exfoliant will get the job done, Feldman is a big fan of the St. Moriz Pro Exfoliating Skin Primer (opens in new tab), which is specifically formulated for tanning prep. Plus, it's "gentle for sensitive skin users, and won't cause breakouts prior to application."
How to Apply Self Tanner
While some of the easier-to-use formulas (read: gradual tanning lotions or facial drops) are pretty self-explanatory, there are a few tips and tricks for getting a flawless finish with trickier textures like mousses or foams. Haphazardly applying the product is a huge no-go—you'll be covered in streaks. Instead, build up the self-tanner with long, sweeping motions. Feldman recommends patting the formula dry with a tanning mitt, buffing out the product with a big powder brush and allowing the formula to dry completely (!!) before putting on clothes.
As for the tricky areas like the knees and elbows? "Do a layer normally and let it dry. Then, do a layer [with the joint] bent," Feldman advises.
The Best Self Tanners of All Time