Beauty Secrets from the Land of Eat, Pray, Love
Marie Claire's beauty director ventures to where spa and spirituality meet head-on.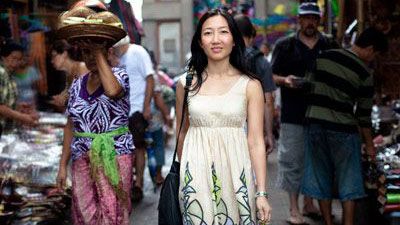 (Image credit: Jason Lindberg)
After flying 21 hours from New York to the opposite side of the earth, I was in desperate need of some serious "anti-jet-lag" spa tuning. Happily, I was in the right place.
As a Westerner heading to Bali for the first time, I'd pictured infinity pools, yoga-honed surfers, and blissful massages on pristine beaches — all of which exist in abundance here. But what I found even more enticing was the host of holistic remedies and time-honored traditions the locals celebrate every day. And no, it's not all om-ing and health tonics — they're big on good old-fashioned appearance, too. Despite the unrelenting humidity, Balinese women are meticulously put together, with their hair perfectly coiffed and their eyes elaborately painted in Technicolor hues. It's a happy haven of spirituality, spa, and beauty. And I revel in all of it.
Kneaded into Submission
You've got to love a place where massage is considered one of life's staples. Regular spa sessions are commonplace and affordable for all, from taxi drivers to aristocrats. No matter which locale I try, from the plush Bulgari Spa to the no-frills, open-air wellness centers in old-world Ubud, the therapies are consistently sublime. Little wonder then that my five days here are spent in a dreamy haze. The therapists — mostly tiny (yet strong!) women, a few brawny men — are skilled and unwaveringly attentive. And the treatments, based on ancient remedies, marry masterful technique with local raw ingredients.
Case in point: The Royal Lulur, an intensive body scrub, mask, and moisturizing massage series, traditionally done before one's wedding, which is truly unforgettable. Ground turmeric (kunyit), a powerful antioxidant and spice believed to have protective powers, is blended into the mask to give the bride's skin a much-desired golden glow.
Facials, too, emphasize massage, with a focus on brightening the complexion. While the beauty ideal here is pale skin, most young women won't go to extremes to attain it; they prefer imported high-tech skin products instead.
Equally transcendent is the Cream Bath, essentially a souped-up salon blowout (for locals, it's a weekly ritual). The process includes a shampoo, a euphoric scalp massage, avocado hair mask under steam, more massage (of shoulders and arms), another wash and scalp tonic, all finished with a blow-dry. Ninety minutes later, I walk out with shoulders as soft as pudding and hair that's never been more lustrous. My mission back home in NYC: Import the Cream Bath.
Inner Beauty
While yoga, popularized mainly by Westerners, is catching on with locals, exercise in general isn't a priority in this part of the world. (Who wants to jog in 93-degree heat?) But that doesn't mean Indonesian women don't care about their figures. Instead, they rely on Jamu, a holistic herbal healing system with recipes that date back to Java more than 1,200 years ago (some liken it to Ayurveda). Used to address everything from insomnia (nutmeg mace) to coughs (onion, honey, local lime) to weight gain (turmeric, tamarind), Jamu is often brewed at home using raw ingredients, or bought ready-made from healers or even street peddlers.
Interested visitors can dabble in Jamu-making, too: The hip Tugu Hotel, located near a surf beach in Canggu, offers introductory classes. Another great resource on the topic is Jamu: The Ancient Indonesian Art of Herbal Healing, written by Irish-born author Susan-Jane Beers, who spent 10 years in Indonesia studying the culture.
Pharmacy Finds
Next, I make my way to a bustling pharmacy in Seminyak. Under glass counters, I find a handful of prepackaged herbal tonics and dried teas (produced in Java), a few Western drugs like aspirin, and a host of skincare products boasting black honey and local plants.
Unfortunately, hardly any of my local finds are available beyond these shores, so I stockpile a few to bring home with me, and remember Juara, an Indonesia-inspired skin-care line created in the U.S. When I call the line's cofounder Metta Murdaya (an expat living in San Francisco), she tells me about creams and scrubs they make based on Royal Lulur; a turmeric mud mask; as well as an exciting product they have in the works: a conditioning hair mask with candlenut. I place an advance order.
Peacock Girls
There's no Sephora in Bali, but you'd never know it judging from all the pretty, peacock-hued eyes and glossed lips I see around me. MC Indonesia's beauty editor, Gita Panhar, reveals that women in the country spend upwards of 30 percent of their salaries on beauty. Along with American brands — MAC, Revlon — they snap up local ones like Sariayu and Marcks.
For insight on technique, I turn to KT Suwitri, the woman in charge of the elaborate hair and makeup costumes of traditional Kecak and Legong dancers. Within an hour, she has me decked out in full bridal regalia — layers of contoured makeup, false lashes, dozens of delicate gold hairpins (which, surprisingly, weigh almost nothing) and fresh flowers tucked into my hair. It's damp and hot and I'm uncomfortable, yet wedding ceremonies here can last as long as 10 hours. I can't help but be impressed by the resilience of the Balinese women, not to mention my new dramatic look — which amazingly doesn't melt away!
In Good Spirits
As a jaded New Yorker, I'm skeptical when meeting Ketut Liyer, the healer in Elizabeth Gilbert's memoir, Eat, Pray, Love. Liyer guides Gilbert to inner peace, and ultimately to love. And by the looks of it, Westerners are flocking to him in droves in search of the same. But these insights aren't simply delivered on a platter. Gilbert, after all, spent four months with Liyer.
Which in a way sums up the whole Balinese experience. After almost a week here, I've begun to wring out my knots and unload stress, a change that's even started to surface in my complexion. Still, in my meeting with Liyer, he doles out a few cautionary tidbits: I can be too impatient and emotional. In other words, true transformation doesn't come in five days. I better book my next trip now.