Makeout Makeup: What Kind of Guy Do You Want to Attract?
Certain types of guys go for very specific looks, so here's a handy guide to what works.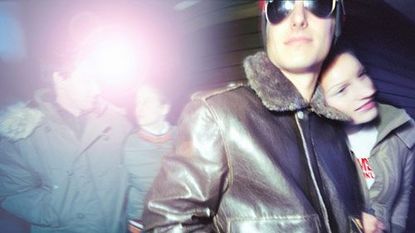 (Image credit: Ivo Von Renner/Riser)
I've been a professional makeup artist for ages, but I still get a thrill from the spell it can cast and the confidence it instills, especially when it comes to attracting the opposite sex. As we know ladies, men are suckers for the visuals, and makeup is a tool to spice and entice. If there's anything I've learned in the field, it's that certain types of guys go for very specific looks, so here's a handy guide to what works.
The Indie Musician: if you're into a scruffy, grungy guy, stop washing and brushing your hair, add some bed head spray and rock some slept-in, day-after-the-concert smudgy, smeared black eyeliner. Be sure to stay out of the sun in order to achieve a pasty pallor, and let nails polished with a midnight blue poke out of your extra long wool sweater sleeves.
The Stockbroker: Do you normally wear no more than a touch of lip balm? Trade in the subtle look for confident, classic, bold red lipstick rounded out by a well-shaped brow and curled lashes. Hang out around various Bull and Bear-type places, and soon you'll be engulfed in a sea of suspenders, wing tips and pinstripes.
The Urban Lumberjack: If you can't resist his manly pheromones, try mixing a little edge with your demure. Cotton candy pink glossy lips, shimmery lilac eye shadow, peaches and cream blush, hot coral nails and a spritz of Love's Baby Soft should seal the deal. Soon you'll be making out, that is, if you can find his mouth beneath his bristly whiskers.
The Jersey Boy: While we wouldn't recommend a tanning bed, you could speed metal it to your nearest drugstore and purchase a tube of fake bake. Your cleavage-bearing, tight jean-wearing body will be even more mind blowing when you throw on five coats of mascara (just short of Tammy Faye), shimmery gold eye shadow, more bronzer, and pale lip gloss that looks like vanilla frosting on a chocolate cake.
The Nature Boy: Maybe you're the type of lady who doesn't leave her pad without a full face of maquillage, but if you crave an organic touch, that's all got to change. Get yourself to the nearest basin and scrub till your face glows like the first morning dew that covers the tall grass you'll be laying in... then let nature take its course.
Celebrity news, beauty, fashion advice, and fascinating features, delivered straight to your inbox!
I have been a makeup artist for many years. I began interviewing and photographing some of my celebrity clients for T Magazine and the New York Times online. Interviewing such awesome talent, doing their makeup, and taking photos has become a huge passion of mine since then. I'm interested in grabbing a moment, a photo, that will paint a spontaneous honest portrait of the person I am featuring.