The Bare Truth
After one writer spent $2,500 on her bikini line, her boyfriend revealed a secret fetish that made her rethink her decisionand question her desire to please him.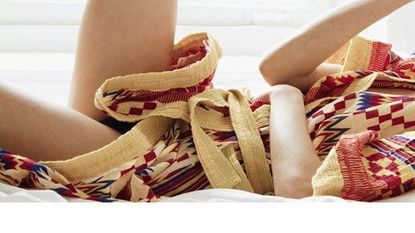 (Image credit: Marie Claire)
"OK, here's a good one," said Zak. We were on our third date, and our game of 20 questions was veering into intimate territory. "Does the carpet match the drapes?" We laughed at the worn-out frat-boy line.
"Nope," I said, smiling slyly. "There is no carpet." I then waited for a gutter-minded grin to commandeer his face as he processed the revised mental image of me naked.
Zak just stared at me blankly. That should've been the first hint.
It's true—I'm completely bare down there. Back in my mid-teens, my bikini line waged a war against my swimsuit bottoms. As years passed, my bathing suits grew skimpier and the battles fiercer. In my 20s, I finally waved the white flag after my razor-burn-ravaged war zone ruined four consecutive summers by the pool. The resolution: a Brazilian bikini wax. But waxing was painful, and as I was plagued by rapid reforestation, I was booking appointments every two weeks. So I sought a permanent remedy—laser hair removal. Four years, countless treatments, and $2,500 later, my below-the-belt beard was gone for good. Granted, total eradication wasn't the plan. I'd originally envisioned a landing strip, but inconsistency was the enemy of precision, and after my bikini line began to resemble the mottled coat of an elderly poodle, I had it all lasered off. The porn-star look was a complete contradiction to my girl-next-door aura, covertly endowing me with a provocative edginess that my facade could never manage. I loved it—and so did the guys I dated.
Until Zak. We fell in love quickly, moved in together within three months, and rode the high of our honeymoon phase throughout the first year. Zak never said he liked my downtown desert, but I never detected dissatisfaction either—until the euphoria faded and the subtle comments began. "I wouldn't mind a little something down there," he'd say. "And I wouldn't mind a little something up there," I'd tease, raising my eyebrows at his bald pate.
Two years in, I hopped on his computer to look over prospective vacation spots we'd been browsing. I clicked on the "History" tab—and nestled below a slew of search terms like "Belize" and "Curaçao," there it was: "hairy women." What?! I numbly stared at the screen, then ran the search myself. These women weren't just au naturel; they were extreme. Was Zak merely curious? Or was this a certified fetish?
When Zak came home, an interrogation ensued. Following a tedious tug-of-war with the facts, he admitted to being a full-fledged bush supporter, saying he'd found the inundation of 20- and 30-somethings with prepubescent crotches "monotonous." He wanted a woman with a bona fide disco-era muff. I quietly listened, stifled by a stew of emotions—shock, disappointment, embarrassment, regret—then chewed on the dilemma for several days. I'd invested a lot in the lasering, yet my bareness didn't define me. In the past, I'd balked at altering anything about myself for the sake of appeasing a man; then again, obstinance hadn't always served me well. Perhaps it was time for a little compromise. I loved my look, but I loved Zak more. If he wanted hair, then dammit, I'd try to get it!
My initial research brought up an article about pubic hair transplants in Korea. Wondering if they did this in the U.S. too, I phoned the Hair Club for Men and was promptly hung up on. Next, a meandering Google trail led me to something called "pussy wigs." Bingo! I followed the link only to find a gallery of house cats modeling $65 wigs. Another letdown: the merkin (a pubic toupee). Most were hot-pink novelties; I finally found one in the right shade, sans photo, but when it arrived, it looked like a Charlie Chaplin mustache. After a few months' use of Rogaine, I managed to get a little peach fuzz, then tried to supplement the "progress" with individual eyelash extensions. The lashes looked pretty good—but it would take hours a day to maintain.
Zak championed my persistence, but our dynamic was deteriorating. I'd started my quest in a lighthearted attempt to sexually please my man, but along the way, something happened that I never could have imagined: During those six months, he morphed from bawdy boyfriend to demanding pageant judge, as if my willingness to indulge his fur fixation had opened the floodgates to all his unspoken gripes. Suddenly, he thought I should go back to being a brunette. He suggested that my wardrobe was bland. He wanted me to work out more. I bought a few trendy outfits; I needed to do that anyway. But working out more? I was already an avid gym-goer.
At first I shrugged off a lot of his complaints, hoping to keep the peace between us. Maybe something in me wouldn't let me see the more sinister implications of what was transpiring. Was this the real Zak emerging, or had we just hit a rough patch that was driving him to nitpick? His criticisms irritated and confused me, but I wondered if it was just a phase, that period that some guys go through, as if they're on a fault-finding mission to justify or nullify the relationship.
How far would he go to change me? And the bigger question: How far would I go to change? By letting his newfound grievances slide, I was changing, too, displaying a passivity very unlike me. My insecurity turned into resentment, which ultimately turned into indifference. All that I'd done to turn him on ended up turning me off.
Finally, after one too many critiques, I voiced what was long overdue: "Take me as I am or watch me as I go," I told him. "I don't want to lose you," he said. But by refusing to admit that he was wrong to try and control me, he might as well have added, "I just want to lose the parts I don't like." So he watched me go.
My only regret is not leaving sooner. Such is the harshness of hindsight, when long-gone is the once-blinding desire to believe that you did not mistakenly fall in love with a jackass. Since then, I've reunited with my risqué alter ego, who'd been temporarily suppressed by self-doubt. I've also found a new man and, in turn, a healthy relationship. In fact, the only thing I've changed for him was my horrified expression when he explained his annual shopping trip consisted of buying the same shirt in six different colors.
For the record, he has no qualms with my lack of lady locks. He's choosing to take me as I am now. And so am I.