The Best Bob Haircuts on Celebrities to Show Your Stylist
From the choppy and extreme to the subtle.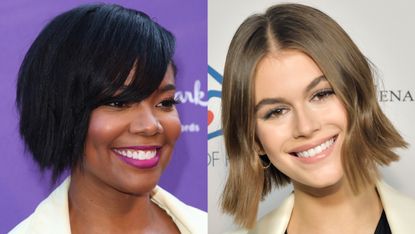 (Image credit: Getty Images)
The bob haircut is trickier to pull off than it looks. Finding a shorter style that works specifically for your hair color, texture, and volume, not to mention your face shape and general aesthetic, can take some trial and error (and some consultations with hair experts). Fortunately, the bob haircut is also more diverse than it initially seems. It can range from chin length to almost shoulder-grazing, and it can have no layers, some layers, or all the layers. For bob haircut purists, I hear you about to argue that the "traditional " bob looks a particular way—and you're not wrong—but the style has evolved to include different types of hair. A bob cut with no layers won't work for people with curly to kinky hair (any hair type that's 2C and curlier, in other words). So some of these are going to have more layers than you might otherwise see in a traditional bob, but I don't want to leave out curly girlies! (If it wasn't already obvious, I have very curly hair myself.)
Because celebrities are always experimenting with their hair, we have a multitude of inspo to draw from when we're contemplating a bob haircut. Below, 32 of the best bob haircuts on celebrities to show your hairstylist right now.
Lucy Hale
This is pretty basic, but effective. Lucy Hale's known for her chin-grazing haircut, so she's perfected it at this point. The cut is simple, but not severe: There are no layers, but the length is just a tiny bit variable and angles downward towards the face. Same with the color: It's all brown, but it's just a tiiiiiny bit lighter at the bottom (which is a normal thing for people who dye their hair regularly). So there's just a tiny bit more dimension than first meets the eye, but it's still just a regular bob.
Lucy Boynton
This piece-y, asymmetric bob works beautifully when you want to do a little layering—such as, for example, when your hair is thinner. It's a particularly nice choice when (as with Lucy Boynton here) your hair is all one color and it's in need of some volume. The growing out process can be a little more haphazard, but the layers also mean that it'll look more voluminous for longer. It's a nice "starter bob" should you want to try the style but not with such a severe cut.
Charlize Theron
If you want an old Hollywood vibe, this kind of bob is for you. Charlize Theron is pulling it off effortlessly, but just note that it'll take some time to achieve. The cut is pretty straight across without much, if any, layering, and the front (just on one side!) has a single set of waves. The cut is mostly one color, meaning that the focus is on the styling. If you're taking this to the person who does your hair, just make sure you know how to style it in a more everyday way, too.
Nathalie Emmanuel
Nathalie Emmanuel has 3C hair, and as a result of her tight corkscrew curls, she needs volume for shorter hairstyles (she's known for styling her hair at a number of different lengths, if you have a similar curl pattern and want to emulate her edgy cuts). So the shape is a lot more voluminous and layered than with a stick-straight bob, but the length is still above the shoulders. For curly hair especially, finding someone who has expertise in your specific hair type is crucial to this type of cut.
Anna Faris
One of our more famous celebrity bob-havers is Anna Faris. With her trademark platinum color, in this iteration she's styled it curled inwards towards her face with a very short bang. Note: Short bangs are not for everyone, and you should absolutely consult an expert stylist before you dive in on your own microbangs. Faris has it cut so that it angles across her forehead and down the right side of her face, which works for her side part. This isn't a novice bob, but it's cute all the same.
Katie Holmes
I will admit to you now that this is not an easy bob to emulate. Frankly, I'm impressed that this looks to be Katie Holmes' actual hair instead of a wig, because when you usually see this cut on a celebrity it's not their real hair. Part of the challenge is also part of its charm: This is a blunt haircut, cut in an impressively exact angle that slants downwards towards the chin. There's also an impressive commitment to bangs (that aren't cut in such an extreme way, to add softness). It's incredibly cute, but for the love of all that is good, make sure it works for your face shape first.
Katy Perry
This is a lovely throwback haircut—and also a highly, highly stylized bob (which is in keeping with Katy Perry's general aesthetic). If you want to dye your hair, great, but the cut will work just as well with any hair color. When it's straight, the hair should fall about to your chin, but if you're going all-in with your curling iron and giving it some serious va-va-voom, make sure you don't get it cut too short. Also, make sure that the style still works when it's not as curled—an everyday style is important too!
Tracee Ellis Ross
Tracee Ellis Ross' curly bob is a glorious example of how people with 3C curls and above can really make use of their curl pattern to make a deeply layered look. This is both a long bob and a bob with lots of layers—which I realize is a very different cut than that of our straight-haired counterparts, but if you have curly hair, the layers ensure that your hair shape doesn't end up looking like a triangle. This is a perfect cut for when you want to cut it into a cute shape and then let it grow out beautifully for a bit.
Drew Barrymore
This bob on Drew Barrymore is so '90s-'00s that it almost makes my head hurt. And yet! She's making it work better than I could. We've got: Lots of dimensional blonde in her hair color with very visible roots. A simple, naturally styled (no curling iron!) texture. A few shorter pieces in front but generally one length. If you can a) pull off a bob like this without having to do too much to it, and b) literally go out on the red carpet looking as good as she does, then you are blessed and should get your hair cut immediately.
Twiggy
Twiggy knew how to rock a short haircut! She was most known for helping to popularize the pixie cut, but when she grew it out, it was a lovely change of pace for the model. This is pretty simple and unfussy: hair generally one length with a little wave to it. If your hair naturally has a little body, this is a low-key, brush-it-and-go style. It's a little tougher if your hair is either curlier (in which case you need layers) or straighter—it's doable but you'll need a little help adding in some waves.
Margot Robbie
I grant you that this is pretty long for a bob. But when Margot Robbie debuted this asymmetric long bob in 2018, people immediately took it to their hairdressers. Most of the hair is at that shoulder-grazing length, then one side (Robbie's left) angles downwards instead of upwards. The key is in the styling consistency, by taking a curling iron and styling a single inward curl at the end, so that the cut looks intentional and not haphazard. Also: Keep the layers to the barest minimum—you want the hair all one length.
Marion Cotillard
French actor Marion Cotillard is well-known for having a bob haircut: She experiments with the length and style (and of course she does go with a longer cut from time to time), but many of her iconic red carpet moments are associated with a bob. This one might be a little harder to style than some of the other options on this list—you're going to need a curling iron and some time to achieve this curled-under look—but it's also a really nice way to style a bob but not keep it pin straight all the time.
Halle Berry
Halle Berry's classic style was the pixie, but she also did a great longer style, too. This bob haircut has a ton of curl in the bottom half of the strands, which is a deeply '00s style that nevertheless has some classic appeal too. It's not the most low-key, since it requires layers and some face-framing pieces that look good when straight. The curling iron is very much your friend here, since it's responsible for the top sleekness and the bottom volume. But it's still a fun throwback that can be styled in other ways when you're not committing to this.
Irina Shayk
Never has a simple, straightforward bob looked better on anyone than Irina Shayk. In the wrong hands, this is a pretty basic look, with minimal layers and a small wave at the bottom—it's put together and sleek, but it's not exactly lighting the hair world on fire, you know? But Shayk's confidence (plus some awesome bone structure, let's be honest) means that it is absolutely giving us face-framing sexiness. To see if this will work for you, experiment with a straight, brown bob wig, and report back to us.
Jennifer Lawrence
While Hunger Games star Jennifer Lawrence is most known for her long blonde hair, she's experimented with shorter styles as well. This light blonde wavy masterpiece is definitely a curated look for her, with layers throughout and a dimensional blonde, but (I think!) her natural hair actually does have a wave to it—meaning that this curled version is an evolution of how she might style it when she isn't walking the red carpet. So, for curly or wavy haired-friends, just know that this would be a fairly straightforward bob to pull off, so long as the layers are good.
Taylor Swift
Taylor Swift's a chameleon not just in musical style but also in hair: Remember when she debuted this fun blunt bob? I actually really love it on her (even though she moved on to other styles), because it's perfectly face framing. There are a couple layers around the face, and the bangs aren't totally straight across. The general effect is blunt, but soft (how does she do it??), in part because the hair color is also soft and sweeter. It helps that the part's a little messy, too.
Taylor Swift
Taylor Swift: fashion chameleon!! A departure from her blunter bob offerings throughout the years, this platinum, piece-y, rock-and-roll, messy but still chic 'do is a look. Committing to the hair color (and the constant upkeep) is already a choice, but then opting for a bob with a ton of layers, side-sweeping bangs, and a ton of soft curls throughout makes this a more high-maintenance bob. And yet I can't deny: It's a great look on her, and one that would look amazing.
Eva Longoria
In her Desperate Housewives days and beyond, Eva Longoria gave us a great long bob haircut to emulate. First, a long bob is an awesome way to work your way up to a shorter haircut, since this one just grazes the shoulders. Secondly, there's some layering in here, meaning that there's volume and body and shorter pieces at the front—it's a dimensional cut that grows out well, in other words. Thirdly, her hair has highlights in it, which gives the illusion of volume even when your hair isn't that thick. It's a nice cut and color for the uninitiated.
Sienna Miller
Sienna Miller has blessed us with many a bob haircut in her time as a celebrity. I particularly love this one (which has just a few pink highlights in there!). It's a short bob, meaning the longest pieces hit just above her chin, with a gentle wave to give body and dimension. There's some layers in here to make the hair fuller and bouncier, and the whole vibe is very much a '50-'60s throwback with a modern twist. Whether your hair is naturally curly or you have to break out the curling iron, it can be a gorgeous look.
Rihanna
Rihanna has worn her hair in every possible configuration (and never shies away from an extension or wig), but I particularly love it when she wears her hair curly. This bob isn't overly styled and gives us a fun "wet" look thanks to some gel, but it's also a perfect example of a gentle curly bob that works well for 2B and 2C hair—minimal layers with an angled fringe at the front to frame the face. Skip out on the volume to keep the curls packed closely together so it doesn't create the dreaded curl triangle.
Saoirse Ronan
Listen up, ladies with very straight hair (curly girlies, keep scrolling). This is a cut that you, and you alone, can pull off. It's a look I like to call the "pure bob": All your hair is one length, with no layering at all. Your hair is in a deeply exact center part. There are no face-framing pieces, and you either let your hair fall forward or tuck it behind your ears as Saoirse Ronan does here. And voila. It's not a cut for everyone, but if it works for you, you're about to rock the heck out of it.
Kaia Gerber
Kaia Gerber, modern supermodel, has played around with a lot of different hairstyles (which makes sense, given her job). But her pretty bob is one of my favorites. Gerber's hair is thin, which means there's not a ton of volume. Nevertheless, this cut doesn't have a ton of layers, and instead adds visual interest with a wave in the middle of the hair strand—usually done with a curling iron, flat iron, or similar tool. Just adding a tiny bit of volume then angling the hair away from the face at the bottom gives a cool, edgy wave pattern.
Blondie
If you're looking for the classic vintage bob, look no further than Blondie. She kept things simple but chic: platinum blonde hair, straight cut to hit exactly at the chin (but not cut severely—it was a chunky, messy cut), thick bangs that could either be pulled in front of the face or swept to the side as we see here, and a general aura of frizzy messiness that nevertheless felt quite feminine. It doesn't work for all hair types—it's probably helpful to have a little natural volume—but still just so cool.
Beyoncé
Oooo, blunt and chunky! Just in case you think you might need to literally be Beyoncé to pull off a cut like this (the potential for it to turn into an unflattering triangle is extremely high), fear not. If you're naturally curly, go to an expert stylist and say that you want a bob, with some layers so you can wear it curly when you want but not too many, and add some bangs in front. The cut may not last you a long time, but it will look amazing. If you have straight hair, ask for a bob with some chunky layers and bangs, then you'll need to add the volume yourself.
Emily Blunt
It makes me laugh that Emily Blunt sometimes loves a bob that's so sweet and gentle (I mean: Blunt is literally her name!!), but it absolutely works for her. She has good hair volume, which means she doesn't need many layers, but she still has some face-framing pieces at the front. Taking a curling iron to those front pieces to give them a wave is a nice touch that softens the overall look. For the person with straight hair who doesn't want to spend hours on their hair, this is nice easy bob styling.
Gwyneth Paltrow
The Gwyneth Paltrow bob is truly a thing of beauty. Here in the '00s, it's a little longer than the one she loved in the '90s, but it feels a little softer and fresher. It's mostly straight across then longer pieces at the front, with no layers. The part isn't too extreme, and it looks to be a full highlight with some darker color underneath (a nice strategy for anyone who has straight and/or fine hair that needs to feel more voluminous). Worn with a little curl or stick straight, it's iconic.
Naomi Campbell
If you're taking inspiration from Naomi Campbell, you're doing something very right. I will admit that this bob is as severe a cut as you're ever going to see. No layers. Rigid exactitude in the cut (which probably needs to be trimmed regularly). Perfectly angled to frame the face. Flawless middle part. Straightened, with no hair out of place. This is hard to do in such an A+ styled way, so ask your hairdresser, but if this is a look you've committed to and it works for you, go forth with this sharp style.
Sandra Bullock
Sandra Bullock gave us a ton of bob inspo in the '90s and '00s (seriously, go back and Google for all the ways she used to style it), but this bob with bangs might be my favorite. The shorter strands at the front are incredibly face-framing—meaning that if a pure bob feels too severe to you, bangs are a perfect way to soften the cut. The bob is also a more "gentle" style, meaning that it's not cut so exactly at the bottom so that the hair is clearly one length. Giving the hair a gentle curl inwards towards the face is a nice finishing touch.
Rachel (Jennifer Aniston)
I realize this is a character, not a person, but remember in Friends season 7 when Rachel (Jennifer Aniston) had a cute bob?? Aniston's hair always got people excited, but this shorter style was a particular standout after the very curly, very layered "the Rachel" haircut from previous seasons. This has a lot of '90s highlights, with a lot of color throughout. There are also long layers, face-framing pieces, and some straightening to give the cut a generally circular shape. It's pretty classic, not gonna lie.
Gabrielle Union
Gabrielle Union has given us a ton of haircut inspiration over her long career, but I particularly love her short hairstylings. To get this look, she's clearly straightened her hair (it's naturally very curly), and the bob is very layered to achieve volume—both when she wears it straight and when she leaves it curly. As such, the straightened bob looks a little piece-y, but that gives a fun, multidimensional effect to the cut. The side-swept bang is the perfect final touch.
Posh Spice
Perhaps the most famous bob of all time belongs to Victoria Beckham: the one, the only, Posh Spice herself. This photo was taken back in 2007, and it's a pretty accurate encapsulation of the haircut that made her famous. It's extremely angled and extremely curated (my guess is that it requires regular upkeep to remain that perfect shape). It also works for her face shape and jawline, gently grazing her chin at the front and swooping up towards the back of her head. It's very '00s, but if you can pull it off it's a really confident look.
Victoria Beckham
In its more modern iterations (this photo's from 2018), Victoria Beckham's bob has a gentler, less rigid structure. It's piece-y and layered, with some shorter, face-framing strands in the front. It's also one color, with fewer if any highlights, and the part isn't so severe either. In the time after she was officially a Spice Girl, Beckham has styled her hair in all sorts of ways, including much longer lengths, but she will forever have the most famous, most fun bob haircuts of all time.
Marie Claire email subscribers get intel on fashion and beauty trends, hot-off-the-press celebrity news, and more. Sign up here.