The Best Haircare Brands of All-Time
It's time to restock your shower.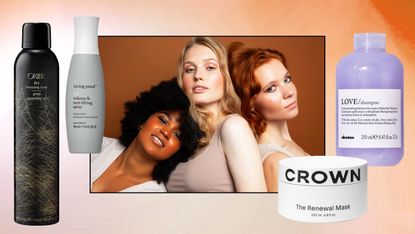 (Image credit: Future)
Marie Claire Newsletter
Celebrity news, beauty, fashion advice, and fascinating features, delivered straight to your inbox!
Thank you for signing up to Marie Claire. You will receive a verification email shortly.
There was a problem. Please refresh the page and try again.
I've tried a different shampoo, conditioner, scalp scrub, or hair serum virtually every single hair wash and styling day for well over a year. I get it: That's an absurd statement—but when on a mission to identify the best haircare brands in existence, it's necessary. I've tapped experts who work across hair types to get their opinions, surveyed industry pros, and factored in my own experience in order to generate an unbiased, best of the best list.
A true five-star haircare brand is going to have success across skus, work with a range of hair types and textures, and leave hair feeling stronger, healthier, and more manageable than before. I'm the first to admit that no single product is perfect for every individual—but I guarantee there is something for everyone on this list. From underrated hair brands that have found success in sustainability to cult-classics I couldn't help but shout out, keep reading for the best 10 hair brands (in no particular order) of all time.
Moroccanoil
A true OG, Moroccanoil has been a staple in my routine for well over a decade. I was first hooked on the Treatment Hair Oil—it continues to work wonders on my split ends and add an abundance of shine even when my hair is in desperate need of hydration. More recently, I've found myself *obsessed* with the brand's latest launch, the High Gloss Shine Color Depositing Mask. It's a color-less deep conditioning mask that leaves hair looking shinier, glossier (obviously), and more hydrated than before. As someone with fine hair, I will say that some of the conditioning can be a *little* heavy, so less product is always better for me. That said, if your hair is on the thicker side, it might just be the one brand to actually keep your hair nourished.
Davines
If Davines isn't on your radar, it without a doubt should be. Personally speaking, I can't live without the Heart of Glass Collection, which is complete with shampoo, conditioner, a sheer glaze, and a conditioning treatment. It makes my blonde look brighter and my overall hair texture look and feel considerably shinier and smoother. My personal color-treated hair aside, I can confidently say that this brand will impress anyone with their range of styling products. They have shampoo and conditioners designed to maximize volume, repair damage, protect color, stimulate hair growth, nourish the scalp—there's something for everyone. On the styling front, their oils, shimmering sprays, hairsprays, and texturizers will forever and always be my go-tos; every single one is extremely lightweight and smells delicious.
Oribe
It is simply impossible to write about the best hair brands of all time without mentioning Oribe, which just so happened to celebrate its 15th year anniversary. Founded by the late Oribe Canales, a celebrity hairstylist who worked with everyone from Naomi Campbell to Cindy Crawford, it shouldn't come as a surprise that the brand is loved by hair professionals across the board. You'll find it in the hands of celebrity stylists, in luxury salons, and backstage during fashion week. Craftsmanship is at the brand's core (especially with their phenomenal hair brushes) and there is understanding across the product range that every single hair type and texture requires a different set of shampoos, conditioners, and styling products. My personal favorites, below.
Mielle
"I have thick, high porosity, type 3 curls that are constantly seeking moisture. At the same time, I have an oily scalp that needs to be clarified relatively often—a phenomenon that's usually at odds with the needs of my thirsty strands. When I started using Mielle products, I quickly learned that the cult-favorite brand is worth the hype. Made with curls in mind, their formulas hydrate hair and define curls while simultaneously cleansing buildup so that your hair and scalp can look—and feel—their best." — Gabrielle Ulubay, E-Commerce Writer
Maria Nila
Maria Nila is my best kept beauty secret. I wax poetic about this vegan hair brand to quite literally anyone who will listen—friends, family, industry pros. It is genuinely my number one favorite brand in existence and I say that without an iota of exaggeration. The Swedish-brand is mission-focused, partnering with a different animal welfare-focused charity every single year. They're Leaping Bunny certified, and endorsed by PETA and the Vegan Society. Plus, the products are no-joke. I keep jumbo sized bottles in my shower at all times because I go through their shampoo and conditioner like crazy. Each range delivers on its promise—the Soft line makes my hair silky, the Volume line provides insane lift, and the Coils & Curls line, while not for my hair type, provides incredible results according to industry insiders.
Living Proof
Fun fact: Living Proof was cooked up in an MIT lab thanks to some very smart scientists and very talented hairstylists. Their mission: Solve the world's most unsolvable hair struggles. Now, 44 products and 120 global patents later, and the brand is easily considered one of the best in existence. Living Proof's dry shampoo is a fan-favorite (Lily Collins previously told me she's *obsessed* with it) and the newer range of styling products, which are designed to add texture, volume, and thickness to hair, have worked wonders to transform my fine, flat texture. The best part? It does so without my hair feeling gritty, dirty, or too stiff.
Bumble and Bumble
I simply cannot live without the Bumble and Bumble Invisible Oil. It was my gateway into the brand, and now I, like the rest of the world, am hooked. The brand has been around since 1991 and has maintained its top tier status thanks to constant innovation. Their product range is hands-down one of the most robust on the market, with options for every hair type, hair concern (and scalp concern), or styling struggle. They're my go-to for heat protection and hydration, but I have so many favorites from the range, it's nearly impossible to pick just a few favorites. Alas, I did my best.
ColorWow
Whether your hair gets large-and-in-charge when humidity hits, or decides to get flat and greasy the second a drop of moisture creeps into your cuticle (hi, this is me), ColorWow is my top recommendation. Their best-selling product, DreamCoat, is the best moisture-repellent you can possibly apply. Don't get me wrong—there is no product on Earth that can leave you unscathed by 100 percent humidity. But this comes pretty damn close—and the Extra Strength iteration comes even closer. The shampoo and conditioner are also some of my personal favorites. They're no-frills, but in the best way possible. They genuinely clean the hair without stripping oils or depositing any gunk onto the scalp or strand. Their mission is simply to create a more balanced, happier environment conducive to growing strong, healthy hair.
Crown Affair
Crown Affair is a new-ish brand, but it's very quickly become a staple line with industry experts. It is formulated without any toxins, prioritizes efficacy, and does so without a luxury-level price tag. The line is small but mighty, with shampoo, conditioner, and a small assortment of styling and protection products. The fan favorites are by and large the company's hair tools, which include a wide-tooth comb, ethically sourced boar-bristle brushes, and a handful of scrunchies that are intent on preserving your style as you sleep.