The 10 Best Liquid Eyeshadows of 2023
From mattes to shimmers.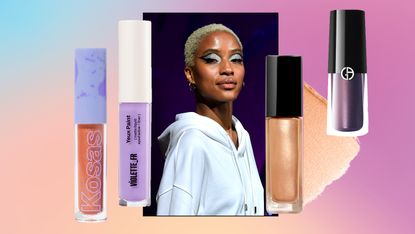 (Image credit: Future )
Eyeshadow application can sometimes feel like an Olympic sport. There's a race to buff and blend before your product dries down and it seems like fall-out is enemy number one. Practice makes perfect with cream and powder pigments, but if you're looking for an easy, efficient, and stunning alternative, the best liquid eyeshadows should be your go-to.
"Generally the appeal of liquid eyeshadows is that they are very user-friendly," says celebrity makeup artist Ehlie Luna. "This means you can go ahead and use it straight from the applicator onto the lid and use your finger to blend out any edges or seams."
Professional makeup artist and entrepreneur Jenny Patinkin adds that liquid eyeshadows are typically formulated to be and marketed as longwear, which adds to their appeal.
There's no shortage of options to choose from—you'll find matte finishes, shimmers, and glitter eyeshadows on the market in just about every shade imaginable. Some offer more play time than others, and a handful will deliver a crazy intense pigment coupled with all-day wear. To determine which swipe-and-go shadows are the best of the best, we tapped a handful of professional makeup artists to share their favorites—and did some extensive testing of our own.
What to Look For
Formulation
"There's a bunch of different types of liquid or creamy eyeshadows, and they're all formulated differently," says Patinkin. Glosses, for instance, are shinier with "more of a slick consistency and texture." She says that the upside of opting for this formulation is that "you're going to crease with a gloss on your eye"—but points out that this option is not as longwear.
On the other hand, she says that very opaque options work for bolder, more matte looks. However, she warns, "those very opaque cream eyeshadows can wind up looking dry and they can pucker on the eyelid and they can accentuate age-related changes to the lids. If your skin is starting to thin or get a little bit looser, they can accentuate some of those issues."
Play Time
By nature, liquid eyeshadows start out with some flexibility. How fast it transforms from a wet liquid to a dry finish however varies greatly. "For liquid shadows with a faster drying time, it's best to do one eye at a time," explains celebrity makeup artist and brand founder Danessa Myricks. "For more opaque coverage with your liquid shadows, choose to build up the color in layers letting one layer dry before applying the next or tap on color with your finger or a brush to build coverage."
Payoff
Liquid eyeshadows are versatile at their core. On the one hand, they can be used as a quick wash of pale color that primes your lid for additional powder shadows or more intense liquid pigments. However, they can also be a one-and-done product that provides a pop of color or shimmer lid. A pro tip from Myricks? Use a "flat, more dense brush for more color pay off." Finger application will inherently give a more sheered out finish.
Longevity
Perhaps the trickiest criteria to nail with a liquid eyeshadow is staying power. By nature of liquid formula, the product is more prone to creasing and fading. Every item on this list however is guaranteed to provide at least 12-hour wear.
Applying Liquid Eyeshadow
Tools
Of course, when using a liquid eyeshadow, you can decide to apply the product with the doe foot applicator it comes with. However, Patinkin says, recommends using a brush for optimal precision, blending, and product distribution.
"I think applying anything with a brush is going to be better than applying with a doe foot," she says. "With a doe foot, you've got one point of contact on your lid. When you're using a brush that's got lots of bristles, you've got lots of points of contact on your lid, and so you can get a much more even, smooth distribution of the product. The issue is that you have to work quickly because so many liquid eyeshadows tend to dry very quickly, but by working with a brush, you can also control the density of the application. You can sheer it out and get a softer look than you might be able to with a doe foot, because the product can cling to the doe foot and it might not spread as evenly on your lid."
But how does one going about transferring the product to the brush? She explains, "I like to either put a dot from the doe foot on the lid and then use a brush to blend, or I put it on the back of my hand and then put the brush into that and then apply."
Finally, the area of your eye where you're applying your shadow will determine which brush is best to use.
"I really love our small angled multi blender brush," she says of the versatile tool from her brand. "It's just the right shape so that you can tap your shadow into the outer corner and get some detail in your socket line." Meanwhile, she adds, "Our small eyeshadow brush is really great for tapping the product just onto your lid. And then either our line smudge brush or our pinpoint liner brush is a great way to get detail in the inner corner."
Strategy
Because liquid eyeshadows tend to dry quickly, Patinkin says that users should work quickly when applying—no matter what style they're going for. Plus, she advises tapping the brush against one's skin instead of rubbing, explaining, "I think that tapping tends to work better so you're not tugging on the delicate skin of your eye."
For those with hooded or deep set eyes, she recommends starting with the socket line "because the lid is not quite as visible," and says to use a loose, flexible brush.
"Start with your socket line, get that shading in first, and then you can go back and tap shadow onto your lid," she says. " I'd save the inner corner for last. After you've applied your eyeliner, you can get a little pop in the inner corner of the eye, which gives a really pretty bounce of light and reflection. You want to use a smaller brush or your pinky for that, just so you're not disturbing everything else that you've applied."
The Best Liquid Eyeshadows