Facial Balancing Is a Holistic Approach to Filler—And the Results Are Wild
It's a "new" trend—that's been around since the dawn of dermal fillers.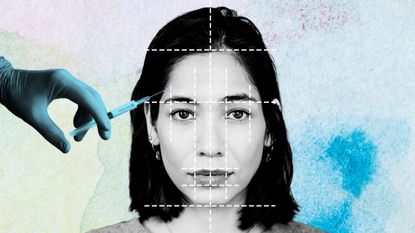 (Image credit: Future)
Marie Claire Newsletter
Celebrity news, beauty, fashion advice, and fascinating features, delivered straight to your inbox!
Thank you for signing up to Marie Claire. You will receive a verification email shortly.
There was a problem. Please refresh the page and try again.
Give me bigger lips. Take away my dark under-eye circles. Hide the hump on my nose. All of the aforementioned are common, I-want-to-inject-this-very-specific-area requests—and all of the aforementioned can be achieved with dermal filler. Make me look better. Tell me what to do, I trust you, is a different ask. It requires a holistic approach to dermal filler, and thanks in part to the wild before-and-afters shared on social media, has been dubbed facial balancing. The hashtag has 8.3 billion views on TikTok. And, as a result of the I-can't-quite-put-my-finger-on-what's-different-about-your-face transformations, it's being asked for by name more and more in practice. But to be frank: The technique itself is nothing new.
"Facial balancing is an approach that seeks to create a pleasing and balanced facial appearance by addressing facial asymmetry and proportions," says board-certified plastic surgeon Dr. Ira Savetsky, who specializes in aesthetics of the face, nose, body, and breasts. "The concept involves evaluating and adjusting different facial features to achieve better balance. This includes considering the relationship between facial elements like the eyes, nose, cheeks, chin, and lips to create overall harmony."
This isn't to say that complete symmetry is the goal. "That makes people look more like robots," points out board-certified plastic surgeon Dr. Ramtin Kassir. "If you make things perfectly symmetric, it takes all the charm and character away." Mirroring a filtered, social media-ified version of yourself (read: smoother skin, more symmetrical features, perfectly contoured angles) in real life should never be the gold standard. It's unrealistic. However, facial balancing, when done by a skilled professional, can create very subtle, albeit transformative, results—without invasive surgeries or extreme downtime. To get familiar with the technique, read on. Top doctors are explaining the pros—and limitations—of facial balancing, ahead.
What Is Facial Balancing?
"Facial balancing is the idea of creating a more structured approach to re-volumizing—instead of chasing a single line or wrinkle," explains board-certified dermatologist and founder of Hudson Dermatology and Laser Surgery Dr. Dhaval Bhanusali. "We take a holistic approach and add volume to various areas to create a more balanced profile." It's a multi-pronged assessment: Your doctor will look at symmetry and proportionality, while evaluating each facial zone (upper, middle, and lower face). "Complete facial symmetry is rare and not always desired, but reducing significant asymmetries can enhance aesthetics and attractiveness," explains Dr. Savetsky. "Balancing the size and projection of various facial features is vital."
For some people, this might mean previous fillers get dissolved. For others, it may look like a strategic few injections to make one "preferred" side match the other. Think: Adjusting the height of your eyebrow or plumping one cheekbone. "People used to say your 'best' side is the side of your heart, which is your left side. We've done some studies, which haven't been published yet, and interestingly enough, people's 'better sides' were their left side," says Dr. Kassir. "When I say that, I mean 'better' according to Western aesthetic standards, so less drooping, less hollowness, and less wrinkles. It's the side they turn to when taking pictures."
What Areas Get Injected During Facial Balancing?
Because facial balancing is a comprehensive treatment, you likely won't have just one area addressed. "A lot of times we look at structural points like the cheeks, rebuilding the arch or the chin to make sure it's strong and aligned and even the temples," says Dr. Bhanusali. Frequently, making these small adjustments decreases the need (or want) for fillers in other areas, such as the under eyes or lips. That all said, the injection pattern will—and should—be different for every single person. "Facial balancing emphasizes the personalized and strategic nature of dermal fillers," says Dr. Savetsky. "Though the injection technique may not drastically differ, the overall objectives set facial balancing apart. It underscores the importance of a personalized plan, viewing the face as a canvas for enhancement beyond isolated concerns."
Who Is a Strong Candidate for Facial Balancing?
As with any cosmetic procedure, it's best to figure out if you're a good candidate following a consultation with your doctor. That in mind, Dr. Bhanusali notes that it's a very popular option for patients in their late-30s. "We essentially look to reverse some of the natural, age-related changes that happen in the face," he says. "We evaluate one to two times a year and the goal is always restorative—not to change an appearance and have someone look like someone else."
The technique can be very beneficial for those with noticeable facial asymmetry as a result of genetics or aging, or ideal for those who want a speedy recovery with minimal downtime. It can work wonders on sunken cheeks, under-eye hollowness, or a receding chin, points out Dr. Savetsky. However, depending on your concerns, alternative treatments may suit you better. "Facial plastic surgery procedures, like facelifts, rhinoplasty, or chin implants, offer significant and long-lasting changes to the facial structure," says Dr. Savetsky. "They may be more suitable for individuals with severe asymmetry, substantial facial sagging, or those seeking permanent transformations."
What Are the Risks Associated With Facial Balancing?
Any time you're getting filler injected into your face, you run the risk of a) not liking the results, and b) complications. "Risks include bruising, swelling, allergic reactions, infection, asymmetry, nodules, filler migration, and vascular complications," says Dr. Savetsky. That said, getting filler is widely considered very safe when done by a well-trained, highly-qualified professional.
What Does Downtime Look Like?
Minimal downtime is a huge pro of facial balancing—unlike more intense procedures, you can go about your normal day-to-day activities pretty immediately. "Avoiding blood-thinning medications and certain activities for the first 24 to 48 hours can help minimize potential complications," says Dr. Savetsky.
How Long Will Facial Balancing Results Lasts?
"Usually we have patients come in once or twice a year," says Dr. Bahnusali. "We add in botox or other neuromodulators as a synergistic treatment to improve results." That in mind, the amount of time you'll wait between touch-ups largely depends on the type of filler your doctor used. "Hyaluronic acid fillers last 6 to 18 months, calcium hydroxylapatite fillers around 12 to 18 months, and poly-L-lactic acid fillers up to 2 years or more," says Dr. Savetsky.
What Does Facial Balancing Cost?
The cost is going to vary depending on where you're located, what practitioner you go to, and how much asymmetry you're trying to correct. It can cost you anywhere between $500 and a few thousand, if you're getting a lot of filler. "I rarely use more than two syringes and often just a single one," notes Dr. Bhanusali. "A little tweak in the right place is far more important than the total amount used, even if it's just a drop."
Meet the Experts
Dr. Ira L. Savetsky is a board-certified plastic surgeon who specializes in aesthetic surgery of the face, nose, breasts, and body. His background includes an unrivaled level of education and training in aesthetic procedures, as well as reconstructive, microvascular, and craniofacial surgery. Dr. Savetsky has trained with pioneers and leaders in plastic surgery at some of the most prestigious medical institutions in the world. In addition, he completed a highly competitive plastic and reconstructive surgery residency at the NYU Hansjörg Wyss Department of Plastic Surgery — ranked as the number one training program in the country. Dr. Savetsky is also one of few plastic surgeons in the country to undergo additional fellowship training in advanced aesthetic surgery at the Dallas Plastic Surgery Institute, particularly in facelift surgery and rhinoplasty. This institution is widely regarded as the top aesthetic surgery fellowship internationally.Dr. Savetsky is extensively published, authoring over 50 peer-reviewed publications in top plastic surgery journals and over 30 book chapters in popular cosmetic surgery textbooks. He is also an editorial board member of Plastic and Reconstructive Surgery, the number one academic journal in plastic surgery. With immense dedication to the field, Dr. Savetsky lectures and moderates at numerous plastic surgery meetings and has been recognized with various awards, including the Aesthetic Surgery Education & Research Foundation Grant and the Snyder Award for "Best Paper" at the Plastic Surgery Research Council annual meeting. In addition, Dr. Savetsky serves on multiple committees — including the educational committee, where he helps develop the aesthetic face curriculum for the annual plastic surgery meeting of the American Society of Plastic Surgeons (ASPS).
Ramtin Kassir, M.D. is a graduate of the University of Texas at Austin. Dr. Kassir went on to the University of Texas Medical Branch at Galveston. A NJ plastic surgeon, Dr. Kassir completed his Post-Doctoral training with a Residency in Otolaryngology, Head and Neck Surgery from the University of Texas Medical Branch and a Fellowship in Facial Plastic and Reconstructive Surgery from the University of South Florida. Dr. Kassir is Triple board certified by the American Board of Facial Plastic and Reconstructive Surgery, the American Board of Otolaryngology, American Board of Sleep Medicine, and is a fellow of the American College of Surgeons.
Dr. Kassir has been in private practice since 1997 and has extensive experience in the fields of facial plastic and cosmetic surgery, endoscopic surgery and laser surgery.
Dr. Dhaval Bhanusali is a leading Dermatologist based in Hudson Yards/ Hells Kitchen. As a member of the prestigious Medical Scholars program at Michigan State University, Dr. Bhanusali was accepted into medical school at the age of seventeen and graduated college in three years. He was awarded both the Spartan scholarship, as well as the Arthur L. Foley, MD PhD scholarships for his outstanding academic achievements. After finishing medical school, Dr. Bhanusali completed his Dermatology residency at Mount Sinai hospital in New York City. His primary focus is hair loss/ restoration, as well as medical and cosmetic Dermatology. During his career, Dr. Bhanusali has been featured on Elite Daily, Buzzfeed, Yahoo, Askmen, the Atlantic, People Magazine, Teen Vogue, Bustle, Self, WebMD, US Weekly, Allure, and countless other media outlets. His novel laser techniques and humanitarian efforts were featured on ABC and FOX. His award winning research has been presented around the world and he currently serves as a medical expert for many companies in the field, including Neutrogena, Clean & Clear, and numerous hairloss companies Dr. Bhanusali has become a go-to for celebrities and fashion models and most recently helped launch Amazon's first skincare line- Fast Beauty Co. He has helped run FDA clinical trials and studies.He has worked with both the NY Mets and NY Yankees to promote safe skin practices and serves as a member of the AAD's media advisory team.
Celebrity news, beauty, fashion advice, and fascinating features, delivered straight to your inbox!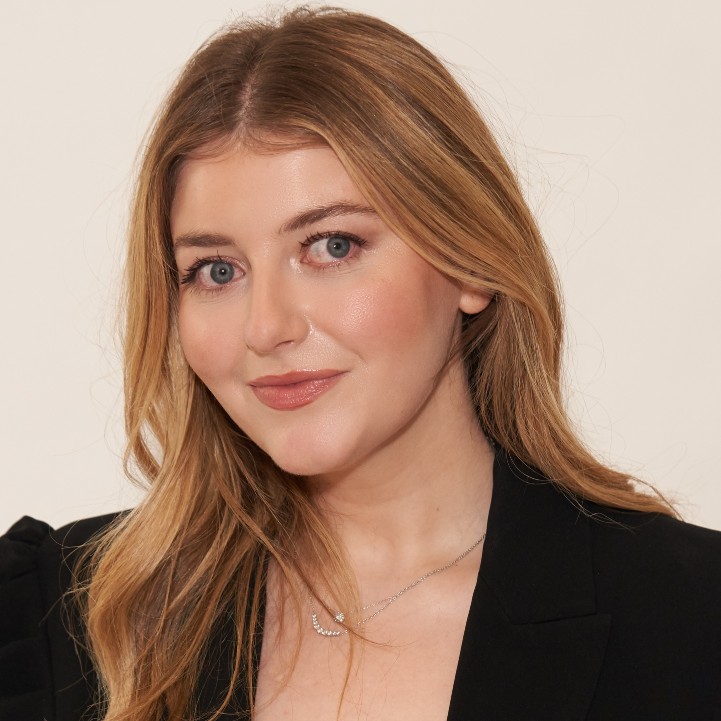 Samantha Holender is the Beauty Editor at Marie Claire, where she reports on the best new launches, dives into the science behind skincare, and keeps up with the latest trends in the beauty space. She has previously written for Us Weekly, Popsugar, Makeup.com, Skincare.com, and Philadelphia Wedding. Follow her on Instagram @samholender.