Editors handpick every product that we feature. We may earn commission from the links on this page.
The Best Teeth Whitening Kits and Products We've Tried and Loved
Your brightest smile yet awaits.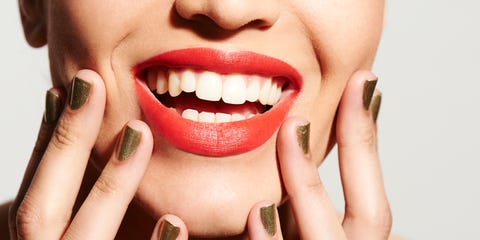 Beauty editors are blessed with access to virtually every new product and gadget that's about to hit the market—and that includes teeth-whitening products. And over the years we've tested a bunch, which makes us the unofficial authority on all smile-related things. Science says that the simple act of smiling has the power to positively impact your mood, lower stress levels, boost your immune system, and possibly even prolong your life. If that doesn't make you want the whitest teeth of your life, I don't know what will.
In-office dental treatments are out of the question for those of us facing COVID-19 stay at home orders; for others, they were too costly to begin with. Thankfully, there are at-home alternatives that deliver professional-level results without your having to sacrifice your savings. And no, they don't require excessive amounts of time and effort. Peroxide, the most popular whitening ingredient, is what makes up most in-office treatments in highly-concentrated doses. However, at-home options also contain peroxide with the same whitening powers. Most of these options ask for 10 minutes or less of your time to grant you lifelong improvements. So to help you get your pearliest whites in the shortest time possible, ahead are the 10 best teeth whiteners on the market that actually, truly work.
This Futuristic Device
GLO Lit Kit
GLO Science
sephora.com
$149.00
Meet teeth whitening 2.0. This forward-thinking, Bluetooth-enabled device is what you call whitening of the future. First, you download and sync the app with the device, which allows you to track results, preview your pearly whites after future usage, and customize your experience. Then, apply the gel and pop in the mouthpiece, which uses LED lightening and heat to grand you "lit results," as the brand says.
This Portable Pen
Pearly Girl Vegan Teeth Whitening Pen
Think of this pen as a Tide To Go stain remover...but for your teeth! This portable pen is free of icky ingredients and instead uses a patented vegan calcium in a gel form that washes away yellow marks. Here's the deal: twist up the pen and brush onto your teeth and smile for 30 seconds before closing your mouth. Avoid eating or drinking for 15 minutes to allow your teeth to fully absorb the product. Do this four times a day to see a noticeable difference.
Dust Whitening Paste Booster
Try pairing this Kendall Jenner-approved powder with your go-to toothpaste for a low-lift way to ensure your teeth are taken care of. It's a vegan formula made of kaolin and bentonite clay that acts as a polisher to brush away discoloration and boost brightness. Two times a week, simply coat your toothbrush with paste then dip the bristles into this powder, which has a minty (not gross) flavor for optimal results.
This LED Light Kit
Optic White At Home Teeth Whitening Kit
Colgate
amazon.com
$185.00
$129.00 (30% off)
I'm sure you won't mind carving just 10 minutes out of your day for teeth that are professionally proven to look six shades whiter in 10 days, right? Thought so. This simple kit features a comfortable mouthpiece equipped with LED Blue Light technology, which erases stains using the power of hydrogen peroxide. Colgate claims that it can even lift stains from your teeth that are 10 years old. And if you're on the sensitive side, you'll appreciate its enamel-safe benefits.
This Five-Minute Fix
Blitzby Teeth Whitening Pen
If you're always on the go or are just looking for a teeth whitening option to take with you when you're traveling, this teeth whitening pen from Blitzby does wonders. Just twist the bottom of the pen, apply the brush to your teeth, wait two minutes before rinsing out with water, and you're all set. Cheers to whiter teeth under five minutes!
This Organic Option
Cali White Vegan Teeth Whitening Kit
All right—when it comes to whitening teeth, sometimes the thought of all those unknown chemicals resting on your teeth for some time can make us shudder. May I introduce you to Cali White, an all-organic option that won't have you second-guessing what you're putting on your teeth. It'll take some effort, since you have to use a mouthpiece and a light, but the payoff is totally worth it.
This Trusty Toothpaste
Professional Whitening Toothpaste
Look, I know a toothpaste is a toothpaste is a toothpaste, but trust me, this one really, truly works in just a few days of twice-daily (i.e. usual) brushing, thanks to its hefty dose of stain-dissolving calcium peroxide. Simply apply a pea-size dollop to your dry—yes, dry—toothbrush, and let the tangy-sweet paste work its magic.
This Reliable Brightener
2-Minute White Treatment Kit
Luster
lusterpremiumwhite.com
$13.99
The claim on the box is that it whitens "six shades in only three days." The claim made by this beauty editor: not really, but close. This two-step system includes a pre-treat mouth rinse and a clear whitening gel that you paint over your teeth after you finish brushing with your usual toothpaste. The result: crazy-bright teeth in under a week, with zero sensitivity.
This Tried-And-True Solution
3D White Whitening Treatment Kit
You've probably already tried the OG Crest Whitestrips, and you probably already know that, yes, they do work, but ugh—how does anyone remember to do them every single damn day? Cue: the next best thing. These white strips (which have been redesigned to really adhere to your teeth without any slipping) also come with a handheld blue light that helps the gel penetrate your enamel, making the whitening powers way more effective (fact: I noticed significantly brighter teeth after one session).
Just apply the white strips for 60 mins—I know; there's the annoying part—and then hold the light up to your teeth for a few minutes until it beeps. Peel the strips off, rinse your mouth out, and boom—you're good.
The Editor's Pick
Deluxe Home Teeth Whitening System
There's a high level of effort involved here—okay, so by "high" level of effort, I really just mean "more annoying than the other methods." But this little kit is pretty much the best at-home whitener I've ever tested, so you weigh the pros with the cons. Just squirt the pre-loaded syringe of gel into the silicone mouth guard, insert it the guard (that has a light attached to it) into your mouth for 30 mins, and you're done! Hella, bright, hella fast. The only downside is the fact that you're biting down on oozy mouth guard for 30 straight minutes. But still, if you can handle the annoyance and discomfort, this kit will take you to tooth heaven.
...
For more stories like this, including celebrity news, beauty and fashion advice, savvy political commentary, and fascinating features, sign up for the Marie Claire newsletter.
This content is created and maintained by a third party, and imported onto this page to help users provide their email addresses. You may be able to find more information about this and similar content at piano.io