I Underwent Professional Teeth Whitening—Here's What to Know
Expect pearly whites (and some zings).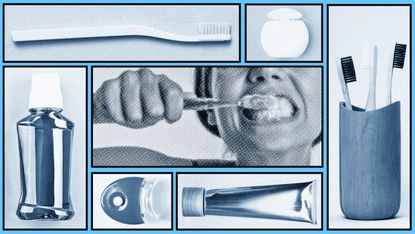 (Image credit: Future)
I brush my teeth twice a day, avoid red wine, and have never, ever had a cavity—despite my love for candy. Still, my teeth have always had a yellow-ish tint that has most definitely contributed in some way, shape, or form to my permanent tight-lipped smile. I've used whitening toothpaste day in and out for as long as I can remember (this is bad, don't do this) and have tried every at-home contraption and teeth whitening kits. They worked—ish; but have historically been accompanied by fun stuff like blistered gums and burning. Then, I had the wonderful opportunity to get my teeth professionally whitened by NY-based cosmetic dentist Dr. Daniel Rubinshtein and his team at Bensonhurst Dental. And let me just say: It was hands-down one of my favorite beauty treatments I've ever received as a beauty editor. I was comfortable, it was quick, my teeth are whiter than the day I came out of the womb, and I got to watch TV while the whitening went down.
I'm a proponent for a multitude of reasons (more on that in a second), but it is an expensive treatment and it's not for everyone. Doing your own research and finding a well-respected provider is important. To get all the information on what you can expect, from the paint to the results you'll see and proper aftercare, read ahead.
First Things First: Why Are My Teeth Yellow?
Let's get something straight: No one's teeth are naturally stark white. Some people might have whiter teeth than others, but it's a big misconception that pure white chompers are naturally occurring. That being said, there are two factors that can contribute to an increasingly yellow hue. "First are the external factors such as smoking, red wine, coffee, teas, turmeric, and other staining ingredients or products," explains Dr. Rubinshtein. Repeated exposure to the above can tint the enamel, which is the outer, protective layer of the tooth.
But let's say you're a perfect angel who has never had a sip of caffeine in your life—and your teeth are still less white than you'd like. It's possible that internal factors are the cause. You could have had a defect in your enamel formation that resulted in missing or extra thin layers. This can create a spotty or uneven appearance. You might have taken an antibiotic called tetracycline at some point in your life that left you with unwanted teeth staining, or you could have a more serious condition called dental fluorosis, which is caused by fluoride, that needs to be discussed with your doctor.
Why Is Professional Teeth Whitening Better Than At-Home Options?
You're probably asking: Why would I ever chalk up hundreds of dollars for a professional whitening session when I can scoop up a whitening kit or strips for $50 at the drugstore? Well, it's A) safer, B) stronger, and C) more customized. "In-office, professional whitening treatments typically have a higher, more powerful, effective level of strength and staying power," explains Dr. Rubinshtein. "They offer stronger, professional-grade whitening gels that can give you a better result." The dentist or dental technician is also able to set your mouth up with cotton inserts and tools to prevent the potentially irritating gel from coming into contact with your gums, which prevents irritation and discomfort.
As far as whitening toothpaste is concerned? It's fine—but only in the very short term and for minimal improvement. "Whitening toothpastes are very abrasive and with extended use, can wear down the enamel and cause more permanent damage to your teeth," adds Dr. Rubinshtein. "If you are going to use it, use it a week before a big event and then stop. Don't make it part of your everyday brushing routine."
What Is Professional Teeth Whitening?
In the same way that an at-home tool like hiSmile or iSmile utilizes a topical gel, a professional teeth whitening treatment will too—it's just super-powered. "The gel is what determines the level of whitening achieved," explains Dr. Rubinshtein. These gels are formulated with either hydrogen peroxide or carbamide peroxide, which work to break down stains on the enamel on a molecular level. They're more highly concentrated in a professional setting because the team has the ability to safeguard the rest of the mouth.
Chances are, you'll also have an LED light in the treatment room. It's going to come via a lamp or a fancy-looking contraption. The purpose? To amp up the lightness you're able to achieve in one sitting. A study published in the Open Dentistry Journal proves that "bleaching is more effective with a hybrid light-emitting diode (LED) and a low-intensity infrared diode laser than without it."
What Can I Expect?
As someone who has received a professional teeth whitening treatment, allow me to walk you through the whole process—start to finish. The session is going to kick off with a consultation by either your dentist or dental hygienist, where they'll assess the shade of your enamel, take x-rays to ensure there are no underlying issues, and likely give you a teeth cleaning. Easy peasy. "In the case you have healthy teeth and healthy gums, the hygienist will first polish your teeth," explains Dr. Rubinstein. "This ensures that whitening gel will be most effective and plaque isn't a barrier." There might be some loud noises or scraping feelings, but overall this step is completely painless.
Then, it's time for the fun stuff: The whitening gel. "The hygienist will have to set up the mouth with special lip retractors, cotton rolls, and liquid dam protection to make sure the whitening gel doesn't spill into your gums," says Dr. Rubinshtein. I won't lie: It's a weird feeling—your mouth is being stretched and stuffed with a bunch of cotton. But it isn't painful and, as someone with a bad case of TMJ, I can confirm that it doesn't require you to open your mouth too wide.
The gel, which is commonly Zoom whitening gel from Philips, is then applied to the teeth via a little syringe. Then, the hygienist will place the LED light towards your teeth. You'll sit like that for around 15ish minutes. "Depending on how sensitive your teeth are, we can re-apply the whitening gels up to 3 times or 3 cycles," says Dr. Rubinshtein. Personally, I felt absolutely nothing during the first session, which was followed by minor zings, which I would compare to the tooth version of hitting your funny bone, in the second session. But it lasted no more than a few seconds.
"After, the hygienist removes the teeth whitening gels and all mouth protection, and takes an after photo with the new shade of your teeth. You can expect to feel slight sensitivity after the procedure," adds Dr. Rubinshtein. "You will be given pain meds if needed and special gels to apply on your teeth to reduce the sensitivity." The whole shebang from start to finish takes anywhere from an hour and a half to two hours.
Am I a Candidate?
"Unless you have very sensitive teeth, anyone over the age of 18 can be a suitable candidate," says Dr. Rubinshtein. That said, there are some nuances that come into play when deciding if a professional whitening treatment is right for you. If you have *very* sensitive teeth, you might want to steer clear as the process can amp up sensitivity.
You also need to decide if professional whitening is actually the best option given the current state of your smile. "If someone has too much damage or missing teeth, it won't make a difference, they should consider opting for veneers which provides a permanent, better solution," he adds.
Are There Side Effects?
Sensitivity and the potential for gum irritation are the biggest side effects to contend with, but extreme discomfort is easily avoidable. "Do your homework! Do not go for the cheapest price! Look at the before and afters on their websites and do not go to a clinic that is a non-dental environment. They are not equipped to provide the correct services," explains Dr. Rubinshtein. "Make sure you are seeing a licensed, board-certified dentist or reputable dental practice."
Proper Aftercare
I have good news and bad news. You will need to avoid red wine and coffee—but only for 24 hours. Other than that, there's really no downtime and you can go about your daily life as per usual. "I recommend using a sensitive toothpaste for the first 24 hours as well. We also give our patients customized oral creams that have vitamins and other desensitizing ingredients in it to use post-treatment," Dr. Rubinshtein explains.
How Long Will Teeth Whitening Last?
I'm about two months post treatment and still can't believe how white my teeth look after just one and a half sessions with the gel. But, it's not a permanent fix. It'll likely last somewhere between six months and two years. "If you are looking for a consistent brighter smile, customized veneers are the best investment and option you can make," Dr. Rubinshtein says. "You will never have to worry about whitening treatments again."
Meet the Expert
Dr. Daniel Rubinshtein has graduated from the prestigious Yale University, where he did his general practice residency. Dr. Rubinshtein also is a graduate of New York University College of Dentistry where he received his doctor of dental surgery degree. At NYUCD Dr. Rubinshtein was a member of the Aesthetic Honors program where he displayed his artistic and keen eye for beauty. He won the Empire State Academy of Aesthetic Dentistry first place for his smile makeover and placed among the top at the national American Academy of Cosmetic Dentistry Conference. Dr. Rubinshtein's desire to help others who are less fortunate has been apparent in his involvement with many charities from oral cancer to feeding the homeless. He also went on several dental outreaches that served under privileged communities throughout the country. Dr. Daniel Rubinshtein is excited to be back in Bensonhurst where he grew up, and help people in his community.
Marie Claire email subscribers get intel on fashion and beauty trends, hot-off-the-press celebrity news, and more. Sign up here.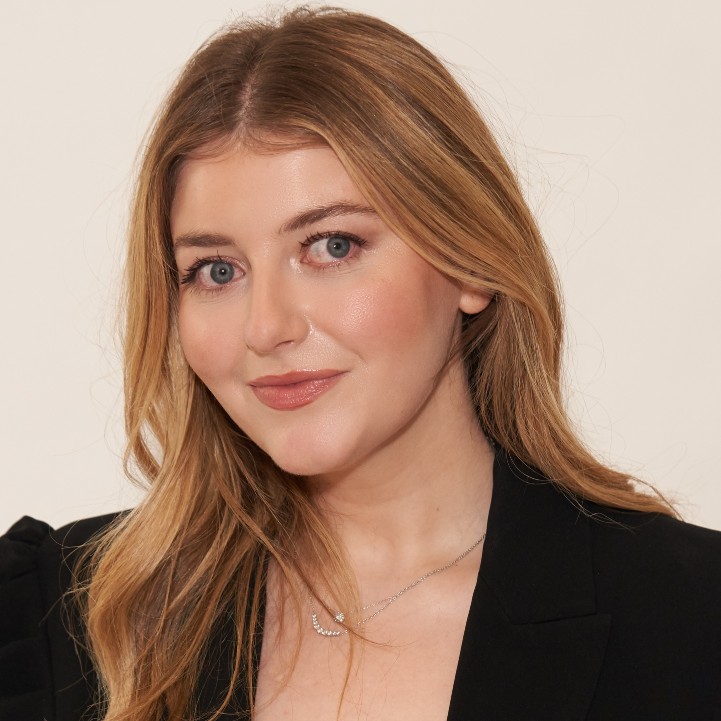 Samantha Holender is the Beauty Editor at Marie Claire, where she reports on the best new launches, dives into the science behind skincare, and keeps up with the latest trends in the beauty space. She has previously written for Us Weekly, Popsugar, Makeup.com, Skincare.com, and Philadelphia Wedding. Follow her on Instagram @samholender.