How to Tint Your Eyebrows At Home
Practice makes perfect, people.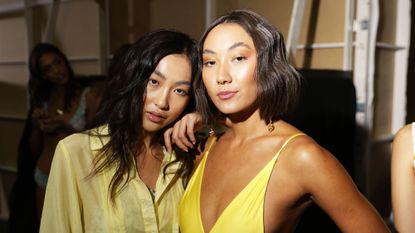 (Image credit: Getty Images)
Even if a professional eyebrow tinting session is out of your reach, you shouldn't give up on your dreams of getting the darker, fuller-looking eyebrows you've always wanted. The best eyebrow pencils can give you a daily fix, but if you're looking for a semi-permanent, more low-maintenance solution, say hi, hello, and welcome to your new favorite product: The best at-home brow tints. "Eyebrow tinting is a non-invasive way to enhance and define existing brow hairs using semi-permanent dye to darken the finer and lighter brow hairs that normally aren't as visible," explains brow expert and founder of Kimiko, Dani Kimiko Vincent. "This increased hair visibility creates a fuller, more defined brow that can last from four to six weeks."
Yes, dyeing your own brows feels intimidating, but with some expert tips and the best kits in the game, you'll be set up for success. Here, we're sharing our favorite at-home brow tints along with expert-approved tips for getting a natural-looking, albeit slightly enhanced, finish.
What to Look For in an At-Home Eyebrow Tint
We're all for a DIY situation, but it's important to set some ground rules ahead of your shopping spree. Picking the best at-home eyebrow tint for you is largely dependent on your skill level. "At-home kits are meant to be safe and easy to use, but they do require trial and error to get right," warns Vincent. "The different types include encapsulated powders with activators, cream with developer, and silver nitrate versions." The latter is going to be the hardest to work with, as the color latches onto the skin and leaves a tint fairly quickly. If you're new to the at-home brow tinting process, we recommend sticking to a powder or cream kit. And by no means should you attempt to tint your brows with hair dye. "All tints made for brows are semi-permanent. You should never use hair dye on eyebrows, as they are much stronger and not deemed safe for use around the eyes," notes Vincent.
Finding the right product is half the battle with at-home brow tints. "The primary challenge is getting the intensity and color right," explains Vincent. As a rule of thumb, pick a shade that's roughly two shades darker than the hair on your head. "Brow tinting is not just for the fair-haired, even dark brunettes have finer, lighter hairs that can be amped up to add natural looking definition to brows."
How to Tint Brows At Home
Let me preface this by saying that instructions differ on every kit, so please read all the instructions—no matter how many pages they may be. But generally speaking, start with clean, dry brows. You may also want to outline your eyebrows with petroleum jelly (over-the-counter Vaseline is perfect) to prevent dye from running into your eyes.
Then, it's time to mix up your tint. "You'll need a small glass dish and an angled brush." Vincent's go-to? The KIMIKO's Essential Brow & Lash Brush (opens in new tab), which is ideal for this type of precision application. Put the product over your entire brow, not just sparse sections, for the most even looking application. Set your timer and let the magic happen.
If you're a beginner, Vincent suggests scaling down the time the solution actually sits on your skin. "There is a learning curve to working with these products, so I recommend first starting with a short tinting session to ensure that you don't over darken the hairs, which is the main risk of at-home tinting," she says. "You can always build the intensity with another tint application, but once brows are too dark, the only option is to wait for them to fade with time."
The Best At-Home Eyebrow Tints
The Best All-in-One At-Home Eyebrow Tint
(opens in new tab)
This set has everything you need: a tint, a cream activator, a mixing dish, and an angled brush. It even comes with brow growth oil that'll keep your hair and skin hydrated after tinting. In terms of at-home kits, this option offers fairly long lasting results—you'll have darker pigment for three to four weeks. Plus, one purchase affords you up to 12 applications.
The Best Drugstore At-Home Eyebrow Tint
Ardell Brow Tint in Light Brown
With a powder and a conditioning developer, this kit is ideal for anyone new to the brow tinting game. There are four colors to choose from, and you can customize the intensity depending on how much product you put in the pan and how long you let it sit. The kit comes with a spoolie for application—which is A-ok to use—but you may want to consider an angled eyebrow brush to get an even application.
(opens in new tab)
Refectocil Sensitive Lash and Brow Tint
Vincent gives this professional-level formula her stamp of approval. She typically uses this baby in tandem with the brand's three percent cream activator. Not only is this one specifically formulated for sensitive skin, but the plant-based composition also gives a softer finish than some other tints. When it comes time for removal, you'll want to wipe the solution off with a damp cotton swab, or use the brand's special RefectoCil Tint Remover (opens in new tab).
The Best Low Commitment At-Home Brow Tint
The Browgal The Weekend Overnight Tint
Tempted, but not ready for a long commitment? This tint is the way to go—it's going to last you a full three days, but not much more. Unlike some of the other tints in this list, this formula doesn't require you to be an at-home chemist. There's no mixing involved; just paint it on your brows, let it sit overnight, and peel or wash it off in the a.m. It's also a fan-favorite, getting an average four out of five stars on Revolve.
The Best At-Home Brow Tinting Kit for DIY Pros
801 Cosmetics Brow Tinting Kit
Because this two-step kit has a silver nitrate-based color, itrequire a speedy application. It's definitely a good idea to line your brows with petroleum jelly so you don't accidentally stain your skin. That said, the final result is really good, with each application lasting two to three weeks. If you want to keep your brows looking fresh around the clock, you can repeat the tinting process every other week.
The Best Henna At-Home Eyebrow Tinting Kit
(opens in new tab)
Mina iBrow Henna Semi Permanent Tint Kit
A best-seller on Amazon, this Henna-based eyebrow tinting kit has been reviewed by more than 16,000 users. Like a henna tattoo, this formula is going to stain your skin, as well as your brow hairs, so make sure you pick a color you feel comfortable with. This kit is especially great for anyone trying to cover gray hairs—the pigment is next level.
The Best At-Home Tinting Brow Gel
(opens in new tab)
Maybelline TattooBrow Peel-Off Tint
You'll need to let this permanent brow gel set for up to two hours, but the results are worth it—your brows will remain tinted in your preferred shade for up to 72 hours. Tip: For more natural-looking fullness, go for a shade a little lighter than the color of your brows.
The Best Peel-Off At-Home Eyebrow Tint
Etude House Tint My Brows Gel
If this one looks familiar, it's because you've seen the paint-and-peel video tutorials on your social feeds for months. Just fill in your brows with one of the five shades, wait two hours, then gently peel off the film (don't worry; it won't stick to your hair) for a stain of color that fades slowly within a week.
The Best At-Home Eyebrow Tint for Sensitive Skin
(opens in new tab)
Godefroy Instant Eyebrow Tint
Oftentimes, harsh chemicals can be found in box dye kits. Not in this one. It boasts a non-toxic formula, free of hydrogen peroxide and synthetic dyes. It's perfect for the brow-obsessed who have sensitive skin. Available in four natural shades, it will tint your brows for up to four to six weeks.
The Best Makeup to Mimic an At-Home Eyebrow Tint
KIMIKO Super Fine Eyebrow Pencil Automatique
If you're not ready to take the tinting plunge, but still want to achieve fuller, thicker brows that resemble a tint, reach for this brow pencil. "It draws single hairs that last and will keep brows looking their most natural," says Vincent.
The Best At-Home Eyebrow Tint Kit for Professional Results
(opens in new tab)
Godefroy Color Tint Kit Medium
What this tint lacks in the fancy, Instagrammable-packaging department, it makes up for with true, salon-level results that last for at least two weeks. Plus, each easy-to-follow kit (available in medium brown, dark brown, and light brown) contains 20 applications, making it shockingly affordable for almost a year's worth of dye.
If you're on the hunt for more at-home treatments that give salon-level results, check out the best LED mask, the best at-home keratin treatments, and at-home gel manicure kits.
Meet the Expert
Dani is recognized for her makeup artistry (as seen in InStyle, Vanity Fair, Marie Claire, Vogue, and Elle ), her skincare expertise, her less-is-more approach towards makeup and helping clients achieve their best brows. Her method involves teaching and empowering clients to "master their brows," to the effect that she's been called the Brow Sensei. Equipped with an expansive and discerning product knowledge, it is no wonder Dani further established her place as an industry authority when she developed her Japanese beauty brand KIMIKO®, known for their precision brow products from Tokyo and their intelligent skin-improving makeup.
Samantha Holender is the Beauty Editor at Marie Claire, where she reports on the best new launches, dives into the science behind skincare, and keeps up with the latest trends in the beauty space. She has previously written for Us Weekly, Popsugar, Makeup.com, Skincare.com, and Philadelphia Wedding. Follow her on Instagram @samholender.