Editors handpick every product that we feature. We may earn commission from the links on this page.
Astro Chic Beauty Products for Every Sign of the Zodiac
Are you a curious Gemini? A fiery Leo? Find out which goods fit your sign perfectly.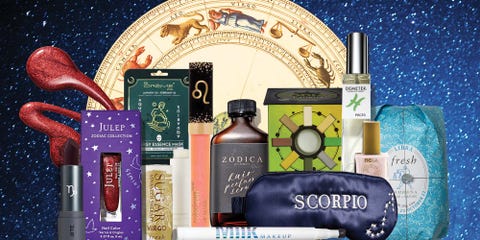 "What's your sign?" has became the question everyone uses to get to know each other better. We're all aware there's no scientific basis for astrology, but it's not like it's not true—right? How else to explain those Sagittarius exes who couldn't commit? Or that Cancer coworker who's always moody in meetings? As a Libra, I feel compelled to get the truth out there: Research shows people do conform to their zodiac characteristics, but only when they know what those traits are (it's an example of a psychological phenomenon called stereotype threat). But I'd hate for that news to upset you. And, like a good Libra, I want to avoid conflict and surround myself with pretty things… So, maybe I'll tell you about these gorgeous astro-inspired beauty finds instead: tattoo stamps; perfumes, soaps, and nail polishes designed for your sign; a black-currant-scented zodiac candle; and a celestial palette with eye shadows for every constellation. Do I share the Truth or Beauty? This Libra just can't decide.

This content is created and maintained by a third party, and imported onto this page to help users provide their email addresses. You may be able to find more information about this and similar content at piano.io