Editors handpick every product that we feature. We may earn commission from the links on this page.
The 15 Best Gel Nail Polish Picks For a Chip-Free Manicure
Time to turn your DIY manicure up a notch.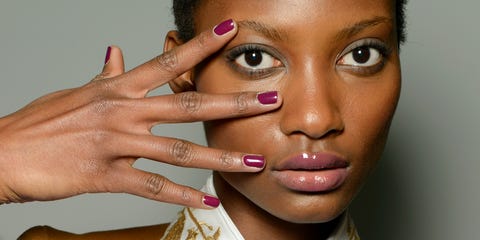 Selin Alemdar
Getty Images
Gel polish has seriously changed the nail game for people who can't go two days without chipping their manicure (i.e. me). Or people who don't want the fuss or expense of a salon manicure but crave similar results at home. A typical gel manicure consists of a gel-based nail polish that hardens via a UV light to reveal crisp, chip-proof nails. A good gel polish from a trusted brand, plenty of which you can find below, can last up to two weeks and seamlessly make it through wear and tear—and plenty don't need a UV lamp at all. But the nail care aisle is flooded with gel polish options as the style grows in popularity, so we scoped out the best of the best to give yourself a salon-worthy coat of polish (or two). Bonus: These polish options are just as easy to remove as they are to apply.
The Super Glossy Solution
Le Gel Coat Longwear Top Coat
Chanel
nordstrom.com
$28.00
Seal the deal with Chanel's Le Gel Coat. Not only does this polish extend the wear of your manicure, but it also has a super glossy payoff so you'll never experience dullness or a lackluster shine. Plus, there's no need to pull out a UV light system with this luxe polish—simply dry your nails with natural light and go.
The 2-Step Solution
Gel Couture 2-Step Longwear Nail Polish
Essie put a twist (literally) on regular polish with impressively longwear gel options. Apply two coats of your color of choice and top it off with their platinum gel top coat for the perfect finish.
The Nail Strengthening Solution
Weekly Top Coat
The beauty of top coat polish is it strengthens your nails overtime, which is ideal if you're dealing with weak or brittle nail beds. Apply your favorite base coat and finish with this top coat. Then, dry your paint job under a UV lamp for 30 seconds and enjoy a week long of perfectly polished nails.
The Easy Removal Solution
Colorstay Gel Envy
The beauty of this polish is the built-in base coat. Skip that prep step and simply apply a coat or two to your nails. For added shine, follow that up with their Colorstay Gel Envy Diamond Top Coat ($5) to ensure a chip-resistant finish. And when you're ready, these will come right off without you having to soak or scrape the polish off.
The Easy-to-Apply Solution
Gel Effect Polish
Treat yourself to a salon-worthy manicure at home with this gel effect polish that'll make you feel like a pro. The wide brush allows you to easily distribute coats of polish to each nail without creating a mess, with a fast drying time. The polish won't wreak havoc on your natural nails thanks to its healthy formula that isn't a hassle to remove.
The Press-On Solution
Press-on Manicure Ultra Gel Shine
imPRESS
amazon.com
$11.99
For the less polish-savvy among us, imPRESS has the perfect no-fuss solution. Simply peel and stick on for weeks of no-chip gel polish. Nobody will believe they're stick-ons.
The Matte Finish Solution
Miracle Gel
Sally Hansen
ulta.com
$9.99
Paint Sally Hansen's colors on like any other polish and top with their new Miracle Gel Top Coat for a cool matte finish. Since the gel polish wipes off with regular nail polish remover, it's ideal for capricious commitment-phobes who like to switch up their color often.
The Soak-Off Solution
Forever Fabulous Marilyn Monroe
Marilyn Monroe's level of elegance and grace is virtually unmatchable, but you can get pretty close with Gelish's new line. Pick from polishes like "Classic Red Lips" or "Some Girls Prefer Pearls," and use their online guide to see what they'll look like on your nails. After you're done, just soak in acetone to remove!
The Highly-Pigmented Solution
Natural Mystic
Deborah Lippmann's Gel Lab Pro set includes 6 purples, ranging from a light lavender to an electric fuschia. Use with any base and top coat for a less damaging alternative to harsh UV lamps.
The Nail Strengthening Solution
Naked Manicure Gelie-Cure System
The Naked Manicure Gelie-Cure is the first ever gel system that supports the nail's natural healing process, so your nails actually benefit from wearing it. Polish can be removed or changed in two minutes (no soaking in acetone!) while keeping the base layer intact.
The All-In-One Solution
Gelaze
China Glaze
sallybeauty.com
$11.69
These gel polishes have a base coat already built in, so you can paint knowing that your cuticles are safe. Pop them under a UV light for 30 seconds for 10 days of chip-free tips. The hardest part is going to be picking between the nearly 100 colors.
The Compact Solution
Le Maxi Deluxe Gel Manicure Set
Le Mini Macaron
leminimacaron.com
$60.00
Le Mini Macaron's gel polishes are 3-in-1, so one bottle is all it takes to have a protective base coat, trendy color, and glossy top coat. There's no easier way to score a week of perfect nails.
The High-Shine Solution
Vernis Gel Shine & Long Wear Nail Lacquer
Dior
nordstrom.com
$28.00
Dior's multitude of color options has a round, easy-to-use applicator to ensure that you can get smooth, full coverage, no matter your nail shape.
The Mood Changing Solution
Thermal Color Changing Gel Nail Polish
In a perfect world, our nails would match our moods 24/7. For now, these temperature color-changing gel polishes are as close as we can get. Simply apply, cure under a UV or LED lamp, and watch as the colors morph before your eyes. Fair warning: it's pretty addictive.
The Stick-On Solution
Gel Nail Sticker Mermaid's Dream
K Beauty's next conquered beauty territory? Gel nails. These super user-friendly strips are 100 percent gel and come in a pre-solidified state, so you only need a 30-second blast under an LED light to dry your nails instantly—no top coat required.
This content is created and maintained by a third party, and imported onto this page to help users provide their email addresses. You may be able to find more information about this and similar content at piano.io