The 17 Best Fall Perfumes, According to Experts and Editors
New season, new you.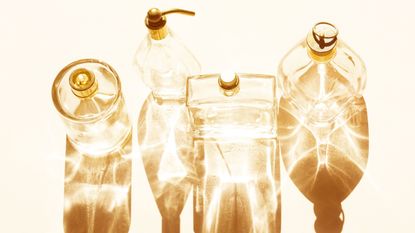 (Image credit: Getty Images)
The arrival of fall means more than simply donning warmer clothes and switching to a different color palette. It also means changing up your beauty look, from opting for a darker lip color to trying out a cozy fall perfume. These fragrances are often warmer and spicier than summer and spring fragrances, conjuring images of crunchy orange foliage and tasty cinnamon treats.
"I wouldn't discourage any scent notes for fall, but I would say that some notes are more popular than others during this time of year," explains Will Brandt, a fragrance expert and cofounder of fragrance brand Brandt. "For example, fresh, citrusy notes are more likely to be worn in the spring and summer, while deep, spicy notes are more popular in the fall and winter."
While Brandt admits that any fragrance can be a fall fragrance (all that matters is that you like it!), there are a few factors to keep in mind for those who want to switch to a more quintessentially autumnal option. Below, the qualities to keep an eye out for while shopping for fall fragrances, along with the best options on the market now.
Classic Fall Scents
Guillaume Flavigny, a world-renowned perfumer who works with The Harmonist, agrees that while the world is your oyster when it comes to picking a fall perfume, there are still a few scent notes that carry especially strong autumn energy.
"I would recommend the intensity of oud and the richness of woody notes that bring this feeling of warmth and comfort that we usually look for when entering the fall season," he says. "I would also recommend gourmand notes that bring a playful facet to the back-to-school season."
Brandt agrees that "fall is the perfect time to indulge in your favorite gourmand notes." He adds, "Whether you want to smell like apple pie, a caramel latte, or a marshmallow, there's a fragrance out there for you. Gourmand scents are warm, cozy, and inviting, and they're the perfect way to welcome the cooler weather."
Understanding Fragrance Notes
When shopping for fragrances, it's easy to become overwhelmed, no matter the season. Not only are there thousands of choices on offer, but there's also a sle of fragrance terminology that might be unfamiliar to the uninitiated. Top notes, mid notes, and base notes, for instance, are terms that may be incomprehensible—especially if you're shopping online and can't smell the perfume yet in real life.
"A fragrance is like a story. It has a beginning, a middle, and an end," says Brandt. He explains, "The top notes are the introduction. They're what you smell first, and they're responsible for making a first impression."
Meanwhile, he calls the mid notes "the heart of the fragrance," saying that " they're what you smell for the most part, and they're what really make the fragrance unique." Flavigny adds that these middle notes "link the top and base notes."
And what are base notes?
"The base notes are the foundation of the fragrance," says Brandt. "They're what you smell last, and they're what give the fragrance its staying power." Flavigny calls the base notes "the trail of the scent," and says that for this reason, they're usually "musky or woody notes."
Brandt also shies away from hard-and-fast rules about how long top notes, mid notes, and base notes tend to last. "Each fragrance is different and will have a different longevity," he says. "That's true of all the notes: top, mid, and base."
For this reason, it's wise to consider customer reviews, ingredients, and scent longevity when searching for and ultimately buying your next go-to fragrance.
The Best Fall Fragrances
Boy Smells Vanilla Era Eau de Parfum
I'm usually not a vanilla fragrance fan, but this one from Boy Smells is enough to convert me. Like all of the brand's popular perfumes, it's a banaced, unisex scent that's perfect for either day or not. Of course, it includes warm vanilla notes that are perfect for the onset of cold weather, but it also incorporates white tulip; a hint of sharp, spicy coffee; and musky black amber. The result is a scent that will have everyone around you wondering—and coveting—what you're wearing.
Pros: unisex; vegan; free of sulfates and phthalates; cruelty-free
Cons: small bottle
Customer Review: "This is the perfect vanilla fragrance to transition into fall. It smells luxurious, cozy, sweet, and a little spicy. It's really long lasting and I've already received compliments on it." -Sephora
Burberry Goddess Eau de Parfum
As you can probably tell from this new fragrance's name, it's formulated to make the wearer feel like an absolute goddess. It's warm, spicy, and has tasty gourmand notes of three different types of vanilla, including vanilla infusion, vanilla caviar, and vanilla absolute. It also includes woody tonalities and a lavender base note, with a subtle overall fragrance that makes it ideal for layering with stronger, muskier scents. Developed as part of a special campaign with Emma Mackey, its meant to inspire confidence and strength in its wearers.
Pros: layerable; vegan
Cons: some users wish it was stronger and lasted longer
Customer Review: "If you love vanilla scents, Goddess hits the mark. It's a delightfully warm scent with layers of vanilla and a hint of lavender. Goddess is a comforting, easy, anytime scent. It's perfect for layering if you enjoy mixing scents as I do." -Sephora
Narciso Rodriguez For Her Musc Noir Rose Eau de Parfum
When I was in search of a new fall scent a few weeks ago, I stumbled on this option by Narciso Rodriguez and immediately fell in love. Whereas my summer scent had been light and airy, I wanted my fall and winter scents to be muskier and more mysterious, and this one certainly hits the mark. With bergamot top notes, musc and tuberose mid notes, and base notes of suede leather, patchouli (my favorite), and vanilla, it's undeniably sexy and works both day and night. I've gotten nonstop compliments since I started wearing it, and the scent lasts all day long and even into the evening.
Pros: editor-approved; long-lasting; a little goes a long way; large bottle
Cons: none found
Customer Review: "I purchased this back in January and fell in love with it! I am halfway through my first bottle, and recently restocked for backups. It did go off the market for awhile which I don't want to risk happening again haha. Hands down a beautiful, everyday, signature scent!" -Macy's
Aesop is one of my favorite fragrance brands of all time—particularly their Othertopias line, which includes scents that are meant to inspire visions of places "simultaneously real and imagined," according to the brand. This new option is unmistakably autumnal, infused with notes of hay, frankincense, and myrrh. The result is a heady, smoky concoction that conjures images of cool fall nights and leaves crunching underfoot. It's the perfect evening scent for when you need something unique yet mysterious, unisex yet sexy.
Pros: unisex; long-lasting
Cons: contains some allergens (be sure to read packaging)
Parisian fragrance house MEMO Paris was launched in 2007 and focuses on making scents inspired by gorgeous global destinations. Their latest product, Inverness, is based on a town at the mouth of River Ness in Scotland. Made with key elements like cedarwood oil, amyris oil, and orris butter, it's meant to remind the wearer of rolling, mossy hills, crashing waterfalls, and ancient castles. I love this airy take on the fall fragrance, and am positively charmed by its appropriately plaid packaging.
Pros: long-lasting; subtle
Cons: expensive
"Our newest release, Klēa is the perfect for the transition from summer to fall," says Brandt of this premium scent that promises to warm up on the skin for optimal fragrance and staying power. It has top notes of mandarin, bergamot, and olive leaf, with mid notes of magnolia, water lily, sea salt, and jasmine. Its musky base notes scream fall, emitting hints of Egyptian musk, cedarwood, papyrus, tonka bean, and amber. Reviewers love it for both summer wear and office wear.
Pros: great for transitional weather
Cons: slightly more summery
Customer Review: "To me this is perfectly blended. It sits squarely between floral, salty, aromatic, sexy, and fresh, with no one quality overpowering the others. [It has] enough rare/creative notes (olive leaf, papyrus) to give it some intrigue and elevate it above other marine white florals. Uniquely evocative yet undeniably crowd pleasing. This might be a new signature for me, definitely a new office scent." -House of Brandt
Gabrielle Chanel Eau de Parfum
I'll admit it: I first gravitated toward this perfume because I wanted a fragrance with my name on it. However, I was quickly won over by the heady floral scent, which heavily features jasmine and ylang ylang, along with orange blossom and grasse tuberose. Much like Chanel No. 5, it's a rich, mature scent that's best evenings out or date nights, but this option is far less muskier. Some reviewers complain that it wears off quickly, but I find that when I apply it to my torso or the backs of my knees, it lasts for hours.
Pros: editor-approved; strong; classic scent
Cons: some find it fades quickly
Customer Review: "It is a bright, romantic floral that I still think smells mature. I could see anyone from their early twenties and onward spritzing this on when they want to smell expensive and luxe." -Sephora
Mizensir Ambre Magique Eau de Parfum 3.3 oz.
Brandt also recommends this popular option from Mizensir for fall. Of the option, which is rich with deep gourmand notes, he describes, "It's deep but fluffy—warm, lightly spiced with cardamom, and grounded with a rich amber and bourbon vanilla." He also explains, "This brand is a creation of Alberto Morillas, who may just be the greatest to ever do it in the perfume world."
Pros: expert-approved; long-lasting; easy to get used to
Cons: expensive
Customer Review: "This fragrance is amazing. It stays on for long hours. I get so many compliments from people. I fall in love with myself every time I wear it and experience majestic feelings." -Bloomingdale's
Brandt is a huge fan of this brand, explaining, "Andrea Maack is a female beauty founder from Iceland, which is an amazing story in and of itself." And like her story, he says, "Her fragrances never cease to amaze." This unisex fragrance is among his favorites, particularly for autumn, because of its warm, complex scent infused with both wody and gourmand elements. He explains, "Dual is a gorgeous ginger that is fresh, warm, and ambery. It's just so good, especially if you like ginger."
Pros: expert-approved; unisex
Cons: not widely available in department stores
This scent from The Harmonist smells of sandalwood, benzoin, and vetiver, making it a perfect balance between masculine and feminine elements. It promises to "energize the wearer," with mid notes of cardamom, honey, and incenses, all of which allow the wearer to channel their inner dark feminine. Flavigny says he loves the scent "for its luminous woody and spicy scent." He continues, "The long lasting citrus notes really bring an energizing and optimistic facet to this intense perfume."
Pros: expert-approved; complex scent; made with organic ingredients
Cons: expensive
Thameen Peregrina Extrait de Parfum
According to Brandt, "This fragrance is beautiful, sensual, and gourmand." His favorite elements of the luxurious option are rose, caramel, and amber, which are complemented by notes of lily of the valley, jasmine, and gardenia, along with mid notes of vanilla, amber, ylang ylang, and myrrh. Brandt raves, "It's unique, stunning, and perfect for a night out on the town or a romantic evening." The deep blue color of its bottle also makes it look striking on any bathroom counter.
Pros: expert-approved; beautiful packaging; rich, lasting scent
Cons: small bottle
Maison Margiela Replica Autumn Vibes
Maison Margiela's Replica scents have skyrocketed in popularity over the last ten years because of their unique fragrances, which are capable of conjuring positive memories and feelings. This one in particular is meant to recall a crisp autumn day, with its woody, earthy top notes of cedarwood, moss, cardamom, and bright red berries. It's meant to feel like "a breath of fresh air," according to the brand, accentuated by the crunching of colorful leaves underfoot.
Pros: popular scent; unisex; made with autumn in mind; long-lasting
Cons: some find it too strong
Customer Review: "Autumn Vibes is my favourite scent from this brand!! So warm and woody yet sweet! It lasts and I always get compliments when I wear it. Definitely need to purchase a full size!!" -Sephora
Fenty Beauty Fenty Eau de Parfum
If you're into florals more than musky or woody scents, never fear—there are plenty of fall fragrances out there for you. This scent from Rihanna's Fenty Beauty, for instance, is meant to be a warm floral, with notes of magnolia, tangerine, Bulgarian rose, and a hint of musk infused within it. A unique scent made to "express itself uniquely on each wearer," it's comprised solely of mid notes so that it lasts longer. The bottle, made with amber and accents of gold, looks perfectly autumnal, too.
Pros: long-lasting; unique scent
Cons: some users find it smells too mature
Customer Review: "Don't be scared to buy this product based off the reviews! I personally love the smell. It smells like 'rich boss.' It smells better after initial spray—let it sit for a few seconds. Best of all, it lasts forever." -Sephora