Editors handpick every product that we feature. We may earn commission from the links on this page.
The Best Fall Scents of 2020
That cool autumn breeze, bottled.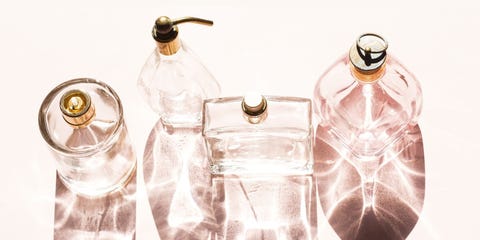 With the change in the seasons comes the inevitable closet swap-out. Throwing shorts, tanks, and sandals in storage makes room for leather jackets, joggers, and combat boots, and bright florals give way to maroons and shades of gray. But there's one less obvious wardrobe that deserves a tune-up with the autumnal drop in temperature: your scent wardrobe. While bright, airy, fruit-forward scents are ideal for withstanding the heat, the cool weather and activities that come with fall call for a shift in fragrance.
I personally tend to lean towards spicy gourmands that intensify that cozy feeling of laying under a blanket or taking a brisk walk with crunchy red leaves beneath your boots. Comfort typically drives my choice in fragrance, and I like to mix and match depending on my mood and the weather. That said, there really are no rules for seasonal scents. Anything is fair game! Stick with tropical fruits if that sparks joy, or spritz on a sea-inspired scent to extend summer for a bit longer in your mind.
But to truly get yourself into the right headspace for a relaxing fall, it might be a good time to change up your scent regardless. That's why we've curated a list of the ten best scents for the new season from rain-inspired mists to dark floral blends to warming, spicy oils that'll instantly lift your mood. Here, MC's autumnal edit, to make sure you smell heavenly straight through winter.
This content is created and maintained by a third party, and imported onto this page to help users provide their email addresses. You may be able to find more information about this and similar content at piano.io