Spring 2021 Makeup Trends From the Fashion Week Runways
Disclaimer: You're going to want to copy every one.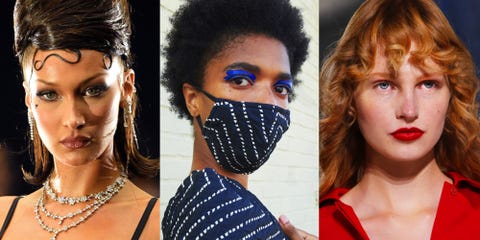 Spring/Summer 2021 Fashion Week looked a little different this year—but brands got creative, from the staging of their shows to the models' makeup looks. We're used to seeing Fashion Week beauty strutting down the runway, but this year it expanded to include digital shows, runways without human models, and brands releasing images without a runway at all. Even so, we were gifted some truly stellar makeup looks to drool over. Fashion Week always show off the best of the best, but this year we have the additional bonus of getting to see makeup artists being truly innovative in their presentation.
While bare-faced models were on trend this Fashion Week, many brands delivered looks that we were so excited about. From the genius minds of makeup artists like Pat McGrath, Isamaya Ffrench, and Tom Sapin, to name a few, we got to see everything from bold lips and blue lids to smokey eyes for days. Whether you're looking to mimic some everyday makeup looks or need some dramatic-eye inspo, this Fashion Week has plenty of that.
This content is created and maintained by a third party, and imported onto this page to help users provide their email addresses. You may be able to find more information about this and similar content at piano.io