20 Marley Twist Looks to Inspire Your Next Protective Style
Low-tension, low-maintenance—what's not to love?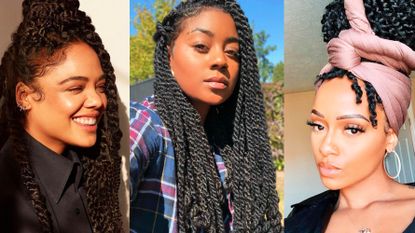 (Image credit: Intagram)
When it comes to styling natural hair, the creative options are endless. From eye-catching braided looks to effortlessly chic twisted styles, there are so many bold looks that also serve as go-to protective styles for natural hair. A popular low-tension style beloved by naturalistas for its versatility and low-maintenance appeal is the Marley twist. These two-strand twists, reminiscent of faux locs or dreadlocks and named after reggae music legend Bob Marley, are created by intertwining your natural hair strands with kinky-textured Marley braiding hair extensions.
The installation process can take up to a few hours and can be achieved at home or in the hands of a professional hairstylist. The style itself lasts between six and eight weeks. From a classic high bun to an embellished two-toned, waist-length number, the styling options are endless. Keep scrolling for a round-up of the most mesmerizing Marley twist looks to try, stat.
1. Two-Toned Twists
Incorporating color into your protective style is the perfect temporary switch-up for your strands. These two-tone golden brown Marley twists are a pretty accent to a sun-kissed glow.
2. Twisted Pigtails
The beauty in Marley twists is the versatility. For a carefree look, pull your Rapunzel-like strands up into two playful pigtails.
3. Imperfectly Perfect Half-Up Half-Down Twist
Tessa Thompson stuns in a half-up, half-down chunky Marley twist style dreamed up by hairstylist Lacy Redway. To recreate this boho look, gather the front half of your twist into a topknot at your crown and leave a twist or two out in front to frame the face.
4. Embellished Twist
Don't be afraid to get a bit dramatic with your Marley twist. Try these tailbone grazing twists with gold cuffs for your next protective style.
5. Lived-In Marley Twists
Let's get out of the notion that our braided and twisted styles have to be sleek and perfect at all times. Live a little and embrace the frizz that comes after a few weeks of wear.
6. Side-Swept Twist
No need to choose between cornrows and twists with this side-swept look. Style out your Marley twists with a few braided cornrows along one side of your head, and round out the look with twists. Accessorize with a few hair cuffs or jewels for a fun accent.
7. Fuschia Twist High Ponytail
Get creative with your style and incorporate hues like burgundy, fuchsia, and violet for a stunning twisted look. Take it a step further and show off the mesmerizing color way by pulling your Marley twists atop of your head into a cascading high pony.
8. Honey Blonde Dipped Twist
Take your Marley twists up a notch by adding in a golden shade of blonde for a gradient ombré finish.
9. Marley Twists with Spiral Ends
Switch up the classic elongated Marley twist style by completing your look with spiraled ends. The process is pretty simple (and something I've done myself at home): Start by applying small curling rods to the ends of your twists, then carefully dip the rodded ends into hot water for 15-30 seconds. Allow them to air dry then remove the rods once set.
10. Decorated Ends
Accessorize the ends of your Marley twists with your choice of hair cuffs or beads, as seen in this waist-length style.
11. Jumbo Marley Twists
Cut your styling time in half with these jumbo twists. And don't worry about perfection when it comes to achieving this look, simply twist the hair just short of the ends and let them naturally unravel for an effortless-looking finish.
12. Blonde Marley Twists
Here's another example of how the incorporation of colored extensions can take your Marley twists to the next level. Switch things up and go blonde with your next protective style.
13. A Twisted Chignon
More proof that the versatility of Marley twists is unmatched. Pull your protective style back and off of your face into an elegant updo.
14. The Middle Part
Keep your look simple and easy by wearing your chunky twists down with a classic middle part.
15. A Twisted High Bun
Here's an old faithful that never seems to get tired. Pull your Marley twists into a ballerina bun at your crown for a bold and beautiful statement look.
16. Half-Up Half-Down Top Knot
Style your jumbo twists in this super easy, classic half-up, half-down look. For added glam, dress up your topknot with hair accessories like cuffs, hoops, and jewels.
17. A Marley Ponytail
Using Marley braiding hair, replace a classic cornrowed look with flat twists for a beautifully designed ponytail style.
18. Marley Twists with Baby Hair
Complement your Marley twist style with subtle swoops of baby hair or go all out and lay your edges into beautiful face framing loops.
19. Head Wrapped Twist
Instead of holding your high bun or ponytail in place with a typical hair tie, add a silk or satin head wrap to accessorize your look.
20. Bobbed Twist
Who says your Marley twists have to be long? Opt for this shoulder length twisted bob for your next style.
Celebrity news, beauty, fashion advice, and fascinating features, delivered straight to your inbox!
Chelsea Hall is the Assistant Fashion and Beauty Editor at Marie Claire, where she covers celebrity style, fashion trends, skincare, makeup and anything else tied into the world of fashion and beauty