The 10 Best Spring Perfumes of 2021
New beginnings in a bottle.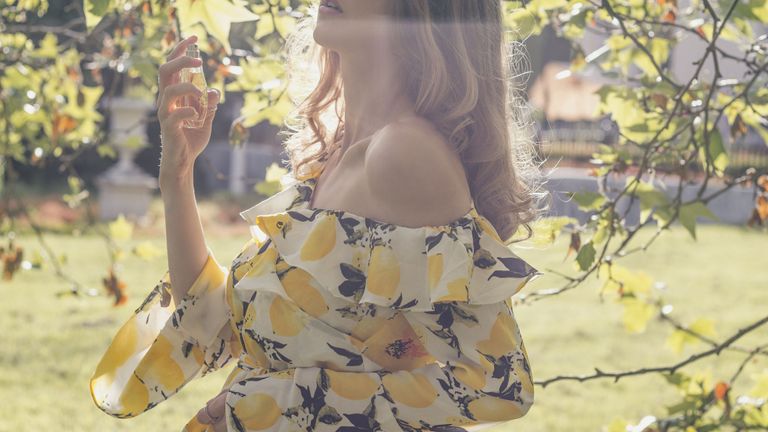 (Image credit: Elena Enea / EyeEm / Getty Images)
If ever there was a season for fragrancephiles, spring is that time. The very backbone of most scents—blooms and blossoms, sprouts and tendrils—are all born in spring. Not to mention, most fashion houses choose to launch their most exciting offerings during this verdant season. Of course, there is no set definition of a spring fragrance—or any other fragrance modifier, for that matter—because what smells good to you, and what qualifies as a vernal victory, is all in the nose of the beholder. But a few pointers.
Most of the offerings below are floral. No getting around it. But rather than the kind of heady bouquets you might encounter in August, during the end-of-summer flower glut, spring fragrances are lighter, more tentative, and slightly more green. White flowers reign supreme, as do traditional first-bloomers like lilacs, lily of the valley, and hyacinth. Often, you'll find a citrus counterpoint, something zingy and exciting, something that encapsulates the promise of spring, of warmer weather, of bikes with baskets, lemonade with honey, and wine with bubbles. This year, novel citrus—Italian lemons, pomelos, blood red oranges—snuck in for an unexpected olfactory experience.
Spring fragrances are about continuity. After a long, dark winter, spring will always arrive, knowing nothing of the blizzards or the cold. Spring arrives with optimism in spite of it all, with persistent growth, cheerful sprigs, and a covenant of what's to come. Ahead, ten fragrances that best embody the inimitable spirit of spring.
1/10
Marc Jacobs Daisy Eau So Fresh Spring Eau de Toilette Spray
The latest in the Marc Jacobs Daisy family is the springiest and most verdant. Green tea blossom, matcha and zippy pink pepper combine for an invigorating but not overpowering blend. Also? As always with the Daisy offerings, the blossom-bedecked bottle works as an evergreen bouquet on your dresser or vanity.
2/10
Gucci Flora Lavender Gorgeous Gardenia Eau de Toilette
The more I learn about fragrance, the more I learn that the white gardenia flower is one of the most foundational scents in all of the olfactory world. And for good reason: It's floral but not heady or strong, and articulates beautifully against other scents. Here, it's paired with red berries and pear for a fantastically fruity but eminently sophisticated overture.
3/10
Chloé Rose Tangerine Eau de Toilette
The first fragrance from Chloé launched in 1975, and in the years since, they've consistently delivered on that experience, but paired it with offerings brimming with modernity. (Hello, pleated glass bottle and hand-tied ribbon.) This year's version combines tangerine, rose, and black currant for a scent that's not unlike wandering through an orchard with a Polaroid camera and someone beloved. Cue the sound of buzzing bees and rustling leaves.
4/10
Parfums de Marly Delina La Rosée Fragrance
If you're after a spring fragrance—which is one that's floral first, and laced with fruit—but still crave something earthy and perhaps a little musky, Parfums de Marly is your answer. Turkish rose is balanced against lychee and pear, plush sandalwood, and soothing bergamot. A comforting reach reminiscent of sunny afternoons.
5/10
Valentino Donna Born in Roma Yellow Dream Eau de Parfum
Contained within the walls of this rock-studded, prismatic bottle is a study in contrasts: Upfront, the rarified white musk and Damascus rose. Not to be ignored: Italian lemon, which is just a touch more flowery and a bit less astringent than the ubiquitous Florida variety. The idea is to evoke the sweeping ancient architecture of Rome, twinkling with neon lights and culture of today. The result is pleasing and evocative, especially in a moment when travel is either a memory or a dream.
6/10
KKW Fragrance KKW Hearts Rose Gold Eau de Toilette
While matters of the heart might elude some members of the Kardashian family, the KKW fragrance family hearts are decidedly more assured. This rose gold success combines lemon pear with pink peppercorns and silk peony that will transport you out of Calabasas to a place that truly matters.
7/10
MIX:BAR Tangerine Squeeze Perfume
A brand new and rather elevated Target fragrance line that allows you to mix and match the scent of yourself. This version contains all the best of spring: frangipani and honeysuckle, plus pink grapefruit and clementine.
8/10
Philosophy Amazing Grace Jasmine
Amazing Grace is one of Philosophy's most long-standing successes, but somehow this delicate EDT improves on the original thanks to the addition of slightly exotic jasmine, coconut water and calming bergamot.
9/10
Juicy Couture Viva La Juicy Le Bubbly Eau de Parfum
Do not judge a fragrance by its bottle—or rather do, and appreciate the unbridled optimism contained within this zippy confection. Pink berries, sweet jasmine and blood orange are as ready to usher in the roaring '20s as you are.
10/10
Kate Spade New York Kate Spade New York Eau de Parfum
Ever the lady, Kate Spade EDT combines strawberries and rose with the rich and spicy notes of ambrox and cashmere. Classy and classic—with a wink.