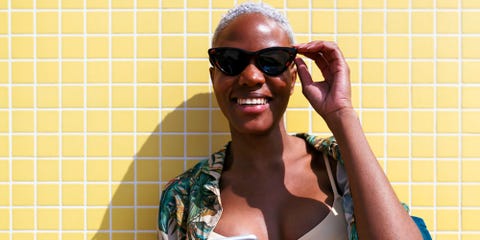 If you're here looking for a natural sunscreen, you probably already know what a natural sunscreen is. But as a quick refresher, sunscreens are divided into two categories: chemical (which use various active chemicals to absorb and disperse UV rays across your skin) and natural (which use active minerals, like zinc oxide and titanium dioxide, to reflect rays off your skin).
Both are equally safe and effective, but if your skin is sensitive, natural formulas are the way to go. And because I know you don't want to be a skin-cancer statistic (sorry to be a Debbie Downer, but one person dies of melanoma every hour), I've rounded up the very best natural formulas you'll WANT to slather on a dozen times a day. Stock up ASAP.
1
This Ultra-Gentle Formula
MDSolar Sciences Mineral Crème Broad Spectrum SP50 UVA Sunscreen, $30
This lightweight sunscreen is formulated with brightening vitamin C and soothing green tea extracts, making it gentle enough for even the most sensitive of skin types.
2
This Wrinkle-Preventing Formula
Lurelux Organic Sunscreen SPF 25, $20

Technically, all sunscreens help prevent the wrinkles caused by sun damage, but this creamy formula is also filled with vitamin D, an antioxidant that hardcore protects against fine lines and inflammation.
3
This Rich, Hydrating Formula
Sunology Natural Sunscreen Broad Spectrum SPF 50, $15

A little dab of this moisturizing sunblock goes a long way, thanks to its moringa-oil base, which lightly hydrates your skin without feeling greasy or sticky.
Andre Lorent Daily Rehydrating Sunscreen SPF 30+, $25

Sunblock has a bad rap for being thick and heavy, but this sheer formula is so lightweight, it absorbs into skin almost immediately after massaging it on.
MyChelle Sun Shield Unscented SPF 28, $20

MyChelle's unscented formula is packed with calming aloe vera and vitamin E, so it's like an extra-soothing (and surprisingly moisturizing) hug for sun-irritated skin.