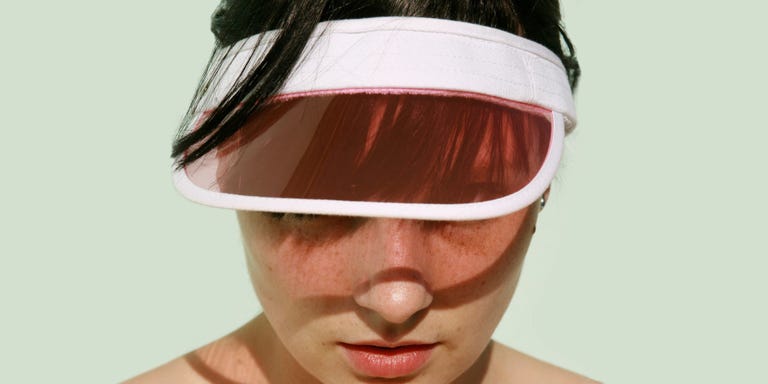 If you have hypersensitive skin, a rule of thumb for protecting it: the fewer chemical irritants, the better. Dr. Patricia Wexler of Wexler Dermatology suggests physical sunscreens—AKA those that use mineral formulations with zinc oxide or titanium—for sensitive skin because there's a statistical difference in the lack of irritation and sensitivity.
Chemical filters are more irritating to sensitive skin because they penetrate the dermis, "causing a cellular release of histamine, and subsequent inflammation and irritation."

Finding SPF options without potential skin irritants like oxybenzone, fragrances, oils, benzophenones, salicylates, and Helioplex can help prevent painful flare-ups and breakouts, she says. "The more complex the formulation, the more reactive it is likely to be."
Below, some of her recommendations for natural sunblocks to shop this year along with some of our favorites.
1
Supergoop! Everyday Sunscreen Broad Spectrum SPF 50
"Free of oils, parabens, fragrance and chemicals, this absorbs quickly on the skin, has no residue, and gives great protection."—Dr. Wexler
$19
BUY IT: sephora.com.
2
Sun Science Sunforgettable Mineral SPF 50 Sunscreen Brush
"This is a mineral-based, easy to carry, and easy to reapply during the day SPF option that I don't leave home without."—Dr. Wexler
$64
BUY IT: sephora.com.
3
Skinceuticals Physical Matte UV Defense Sunscreen SPF 50
"This is a cross between a mattifying make up primer and a sunscreen. It provides an even tinted, shine-free base and happens to deliver great SPF also."—Dr. Wexler
She says that even with a higher SPF sunscreen, it's critical to apply an adequate amount of SPF to all exposed areas, and reapply every two hours since SPF loses stability. Beyond SPF50+, the additional sun protection is minimal so it's probably not worth it to buy the SPF100. "Another reason not to use a higher number SPF is that the formulation can get heavy and uncomfortable, causing irritation from heat and perspiration. "
$34
BUY IT: dermstore.com.
4
Avene Mineral Light SPF 50 Hydrating Sunscreen
"Mineral-based with antioxidants, this is a thin lotion that goes on silky, leaving no residue and no irritation."—Dr. Wexler
$36
BUY IT: dermstore.com.
5
Suntegrity Natural Mineral Sunscreen For Body SPF 30
MC RECOMMENDS: Suntegrity's products consistently earn perfect scores on the Environmental Working Group's ranking system for environmental nasties, so it's some of the best stuff around for keeping irritated skin calm and clear. Trust the aloe vera to soothe skin and the hyaluronic acid to hydrate without leaving a waxy film.
$36
BUY IT: dermstore.com.
6
Vanicream Sensitive Skin Sport Suncreen SPF 35
MC RECOMMENDS: Vanicream's formula comes highly recommended from allergists and dermatologists for skin that's prone to breakouts and hives. It's a winner if you hate the chalkiness of other zinc-based sunscreens since it soaks in cleanly and leaves a dewy finish. Plus, it's safe enough to use on your lips and eye area.
$15
BUY IT: amazon.com.
7
La Roche-Posay Anthelios Mineral Sunscreen SPF 50
MC RECOMMENDS: It's pricey, but this cult-favorite French mineral sunscreen is worth the splurge for its extra sun-shield coverage and feathery touch. La Roche-Posay's formula goes on matte and its super portable size make it ideal for travel.
$34

BUY IT: dermstore.com.
8
Elta MD UV Broad Spectrum Sunscreen SPF 41
MC RECOMMENDS: EltaMD's broad-spectrum sunblock is an ideal choice for people with an olive or tan complexion since it's already lightly tinted—be careful with blending if you're extra pale. People with dry skin or eczema should wear natural oils before applying the sunscreen as it tends to soak up moisture quickly (though it goes on smoothly).
$15
BUY IT: amazon.com.
9
Blue Lizard Australian Sunscreen SPF 30
MC RECOMMENDS: This physical Aussie sunblock leaves a non-oily finish and it won't clog your pores. Apply a little bit at a time, and apply an oil-based remover before showering to get rid of any remaining residue.
$15
BUY IT: amazon.com.
10
Cotz Sensitive Broad Spectrum Sunscreen SPF 40
MC RECOMMENDS: Unlike other heavy zinc formulas, the extra-gentle Cotz blend absorbs quickly and evenly into skin and lasts for hours.
$20
BUY IT: ulta.com.