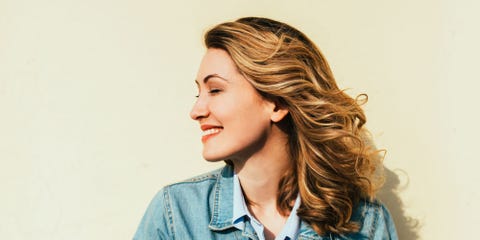 If you have hypersensitive skin, you know the hell that is finding a sunscreen that doesn't turn your face into an itchy, stinging rash. And though it can be tempting to skip the SPF and only venture outside in the safety of night for the rest of your life, I have a better solution: Using a gentle sunscreen specifically formulated for sensitive skin. WOW! So simple! So brilliant! I know—I try.
And to make the whole process even simpler, I handpicked the very best calming, gentle, non-threatening formulas your face needs right now. Find your new favorite, ahead, and please, for the love of all scary skin-cancer statistics, get slathering.
1
This Primer-Like Sunscreen
SkinCeuticals Physical Matte UV Defense SPF 50, $34

This gel-like formula is a cross between a mattifying makeup primer and a lightweight sunscreen, so you can smooth it over your skin before applying your foundation for all-day, slip-proof coverage. It's also a physical formula—i.e. not filled with chemical-based sun protection—so it won't irritate your delicate face.
2
This Damage-Preventing Formula
Suntegrity Natural Mineral Sunscreen For Body SPF 30, $36

Okay, yes, technically all sunscreen will shield your skin from damage, but not all sunscreen will protect you from the inflammation, redness, dark spots, and fine lines that come from pollution. Suntegrity's products, however, consistently earn perfect scores on the EWG's ranking system against environmental nasties, making this fragrance-free sunscreen a warrior at keeping easily irritated skin calm and clear.
3
This Sunscreen-Spiked Powder
Colorescience Sunforgettable Brush-On Sunscreen SPF 30, $19
In an ideal world, you'd reapply your sunscreen every two hours as demanded by the skin gods. But this is real life, and nobody's got time for that. Instead, try dusting your face with a layer of this velvet-y, sunscreen-laced mineral powder, which comes in tints ranging from nearly sheer to bronze, throughout the day. Your dermatologist (and mom) will be proud.
4
This Irritant-Free Sunscreen
Vanicream Sensitive Skin Sport Suncreen SPF 35, $15

No, this isn't the sexiest bottle of sunscreen you've ever seen, but when it comes to your sensitive skin, do you really care? Vanicream's formula comes is a favorite of allergists and dermatologists for skin that's prone to breakouts and hives, since its creamy formula is free of all common irritants (like fragrance, dye, and preservatives).
5
This Lightweight Formula
Supergoop! Everyday Sunscreen Broad Spectrum SPF 50

If the thought of added fragrance makes your skin crawl into a ball and cry, try this lightweight, scent-free sunscreen, which uses fruit oils to lightly hydrate skin, without leaving it irritated or greasy.
6
La Roche-Posay Anthelios Mineral Sunscreen SPF 50
La Roche-Posay Anthelios Mineral Sunscreen SPF 50, $34

It's pricey, but this cult-favorite French mineral sunscreen is worth the splurge for its feather-light finish. The fact that it was made with sensitive skin in mind is a bonus, but the real draw is the fact that the moisturizing lotion dries down to an almost-matte finish, so you'll never look shiny.
7
This Silky-Smooth Lotion
Avene Mineral Light SPF 50 Hydrating Sunscreen, $36

Ask a dozen derms what their favorite brand is for sensitive skin, and you'll get a dozen love letters to Avene. This sheer, lightweight lotion is no exception—it's formulated with soothing vitamin E and fatty acids to keep sensitive skin happy, while also protecting against damage with a high dose of SPF 50.