20 Natural Deodorants That Actually Work
No earthy stink here.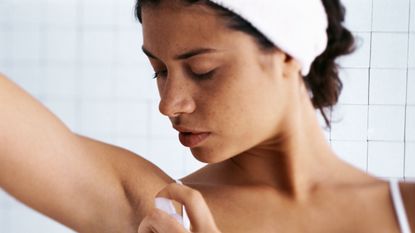 (Image credit: Frederic Cirou)
If you've ever ditched your favorite drugstore deodorant to dabble in a natural version, you understand why people are cautious about it: It's totally different from natural makeup products. Simply put, it's tough to find a natural deodorant—from paste to stick to cream—that actually does the job. My first experience with the non-aluminum stuff was in high school, thanks to my mom's health kick. The Crystal kind (the "original natural mineral salt deodorant") was a great idea in theory, but in practice, I smelled terrible and felt like everyone around me knew it (and were probably talking about it, because #highschool).
But product technology changes so much—what a time to be alive in the Glossier era—that I thought it was time to reconsider natural deodorants, especially right before prime sweat season. So I tested out everything I could get my hands on to see how far we've come. The good news? We've come far. Guys, this stuff is good. Here, 20 natural deodorants you should seriously consider.
1/20
Kosas Chemistry AHA Serum Deodorant
The Hydrating Choice
Kosas, one of the most popular gatekeepers of clean beauty, has entered the deodorant space with two amazing formulas. Available in both a fragrance and fragrance-free option, this deodorant hydrates and exfoliates the skin underneath your arms while of course keeping funk at bay. The best part? It won't stain your clothing.
2/20
Megababe Rosy Pits Aluminum Free Deodorant
The Smell-Good Option
Formulated without baking soda, which some people are highly sensitive to, this deodorant soaks up sweat without causing irritation. The calming rose scent keeps you smelling good, while tea tree and green tea help deodorize.
3/20
lululemon selfcare Anti-Stink Deodorant
The Hands-Free Spray
Lululemon understands active women. This deodorant, which comes in two signature scents, works to eliminate musk-causing bacteria with prebiotics, while zinc soaks up any unwanted moisture. This product pairs perfectly with a pair of yoga pants and sports bra. No need to cover up your pits!
4/20
Kopari Natural Coconut Original Deodorant
The Coconut Protector
This vegan deodorant will make you smell like you're on a tropical vacation from the comfort of your yoga mat. It reduces odors while keeping your underarms hydrated and fresh. This non-sticky formula also comes with a good cause: For each purchase made, Kopari donates to the community in the Philippines where the coconuts are harvested.
5/20
Farmacy Freshen Up All-Natural Deodorant
The Sweat-Absorbing Deodorant
With the trio of papaya, moringa, and clay, this stick deodorant purifies the underarms while absorbing odor-causing moisture. Formulated without zinc, this product detoxes the skin from bacteria and stains.
6/20
Aesop Spray Deodorant
The Clean Spritz
This chic, essential-oil infused spray has a wonderful vetiver scent that will make you smell very good, instead of musty. After spraying and letting it dry, you can look forward to a day without worrying about your underarms.
7/20
Biossance Squalane + Bamboo Deodorant
The Non-Clogging Formula
Unlike standard deodorants that controls odor by clogging pores, this deodorant uses bamboo extract to absorb sweaty scents without causing any added skin irritation. Plus, this formula will never stain your skin unlike many standard deodorants. Instagram-worthy armpits, coming right up.
8/20
Clarins Gentle Care Roll-On Deodorant
The French Roller
This fragrance-free French deodorant works to keep your underarms smelling fresh without including any masking scent. Buchu leaf is naturally antibacterial, which helps keep unwanted odors away.
9/20
Origins No Offense Deodorant
The Twist-Up Clean Choice
This alcohol and aluminum-free deodorant won't overly dry your underarms, but it'll still keep you smelling lovely. Formulated with a mix of essential oils, this stuff smells lovely and feels nice on your skin.
10/20
Briogeo B. Well Tea Tree + Eucalyptus Clean Deodorant
The Tea Tree Deodorant
With a blend of tea tree and eucalyptus, body odor stands no chance against this. Coconut oil keeps the underarms hydrated and irritation-free. And with the help of eucalyptus, you won't have to worry about smelling bad halfway through the day, or about your underarms getting stained—a win-win!
11/20
Blume Hug Me Best Deodorant Ever
The Fresh Scent
To prevent the bacteria that causes odorous underarms, this deodorant is formulated with probiotics to stop unwanted scent in its tracks. Working together with baking soda and coconut oil, you can look forward to dry, freshly-scented, and hydrated pits. No need to worry about unexpected hugs anymore.
12/20
CLEAN RESERVE Classic - Shower Fresh Deodorant
The Perfumed Deodorant
Just because you're wearing a natural deodorant doesn't mean you can't still smell mysterious and sexy. This product, which contains a floral, musky scent, keeps your underarms dry and smelling nice. Though formulated for men, all genders can take advantage of this aluminum-free product.
13/20
MALIN+GOETZ Bergamot Deodorant
The Cult Classic
The cult classic eucalyptus deodorant from MALIN+GOETZ now comes in a soothing bergamot scent. With probiotics and corn starch, this product will keep your underarms safe and bacteria-free. The sleek packaging will become a staple in your morning routine.
14/20
Curie All-Natural Deodorant Stick in White Tea
The Athlete's Pick
Curie, run by a marvelous female founder who named the company after Marie Curie, is all about these three principles: clean, safe, and effective. They can add "yummy" to the list, too. Their range of deodorants are made for humans in motion, without the harmful chemicals in many other anti-perspirant products. If you prefer a spray deodorant, they've got one for you.
15/20
Native Coconut & Vanilla Deodorant
The Sweet Scent
Curie, run by a marvelous female founder who named the company after Marie Curie, is all about these three principles: clean, safe, and effective. They can add "yummy" to the list, too. Their range of deodorants are made for humans in motion, without the harmful chemicals in many other anti-perspirant products. If you prefer a spray deodorant, they've got one for you.
16/20
Nécessaire The Deodorant
The Parisian Pick
This deodorant uses multi-acid and multi-mineral ingredients to keep your underarms smelling like you just stepped out of the shower (and washed up with Nécessaire's signature body wash $25). This clean product will make sure you don't get mid-afternoon smelly, and will help prevent any uncomfortable wetness. Plus, the eucalyptus scent might remind you of a Parisian woman's shower. Nothing wrong with that!
17/20
Drunk Elephant Sweet Pitti™ Deodorant Cream
The Creamy Stick
While this deodorant is certainly creamy, it's still in a stick formation, meaning you don't need to apply it with your fingers. You still get that hit of moisture, without having to wash your hands after. The hero ingredients in this product help de-odorize your underarms while keeping them dry, too. If your pits suffer from razor bumps or irritation, this deodorant can help replenish those woes.
18/20
Meow Meow Tweet Baking Soda Free Grapefruit Deodorant Cream
The Citrus Scent
One of the first products I tried—and my uncontested favorite—is a citrus-y formula called Meow Meow Tweet. The cream had the texture of cake batter, and feels like you're about to taste-test a batch of frosting as you dip your finger in. The grapefruit scent has the added benefit of smelling like lemon cream pie, and lasted me through an entire sweaty, panicky news day. Bonus: baking soda-free formulas like these are less likely to irritate skin and cause rashes. I promise I wasn't heavily biased by the ridiculously cute non sequitur name.
19/20
Soapwalla Deodorant Cream
The Classic Cream
A similar batter-y texture to Meow Meow Tweet's, this classic cream formula—supposedly the OG one that launched a natural deodorant craze—from Soapwalla smells like tea tree oil and applies easily. Other ingredients include lavender, sweet orange, and citrus-y bergamot, for a clean, refreshing scent that stays strong through hours of sweating.
20/20
Lavanila The Healthy Deodorant in Pure Vanilla
The Healthy Choice
This stick deodorant preferred by French beauty editors and celebrities alike goes on smoothly and comes in a range of scents. Lavanila has a sport variation specifically designed for hotter, sweatier days, but I prefer this light coconut variety that's small enough to stick in a tiny clutch, or better, in your travel makeup bag.
...
For more stories like this, including celebrity news, beauty and fashion advice, savvy political commentary, and fascinating features, sign up for the Marie Claire newsletter.
Celebrity news, beauty, fashion advice, and fascinating features, delivered straight to your inbox!