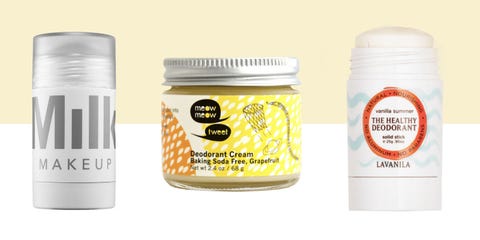 "Fair warning, I'm trying out natural deodorants for a while," was the announcement I made to my co-workers two weeks ago. The news was met with mumbled well wishes and some guarded side-eye. If you've ever ditched your favorite drugstore deodorant to dabble in anything natural, you understand why.
Simply put, it's tough to find a natural deodorant—from paste to stick to cream—that actually does its job. My first experience with the non-aluminum stuff was in high school thanks to my mom's health kick. The Crystal kind (the "original natural mineral salt deodorant") was a great idea *in theory*, but in practice, I smelled terrible and felt like everyone around me knew it (and were probably talking about it, because #highschool).
But product technology changes so much—what a time to be alive in the Glossier era—that I thought it was time to reconsider natural deodorants, especially right before prime sweat season. So I tested out everything I could get my hands on to see how far we've come.
The good news? We've come far. Guys, this stuff is *good*. Here, five natural deodorants you should seriously consider.
One of the first products I tried—and my uncontested favorite—was a citrus-y formula called Meow Meow Tweet. The cream had the texture of cake-batter, and feels like you're about to taste-test a batch of frosting as you dip your finger in. The grapefruit scent has the added benefit of smelling like lemon cream pie, and lasted me through an entire sweaty, panicky news day. Bonus: baking soda-free formulas like these are less likely to irritate skin and cause rashes.
Meow Meow Tweet Deodorant Cream, $14; meowmeowtweet.com.

*I promise I wasn't heavily biased by the ridiculously cute non sequitur name

2
Milk Makeup Natural Deodorant
Milk Makeup's full collection is truly game-changing, and this pint-sized natural deodorant stick is no exception. The trick to the formula is soothing lavender oil that doesn't burn pits, and is virtually odorless (a common complaint of natural deodorants is the heavy scent). If needed, apply at the half-day mark for the best coverage.
Milk Makeup Natural Deodorant, $14; milkmakeup.com.
3
Soapwalla Deodorant Cream
A similar batter-y texture to Meow Meow Tweet's, this classic cream formula—supposedly the OG one that launched a natural deodorant craze—from Soapwalla smells like tea-tree oil and applies easily. Other ingredients include lavender, sweet orange, and citrus-y bergamot, for a clean, refreshing scent that stays strong through hours of sweating.
Soapwalla Deodorant Cream, $14; soapwalla.com.
4
Lavanila the Healthy Deodorant
This stick deodorant preferred by French beauty editors and celebrities alike goes on smoothly and comes in a range of scents. Lavanila has a sport variation specifically designed for hotter, sweatier days, but I prefer this light coconut variety that's small enough to stick in a tiny clutch, or better, in your travel makeup bag.
Lavanila the Healthy Deodorant Vanilla Summer Mini, $8; lavanila.com.
From Primal Pit's selections, I tried the new coconut lime stick, though the deodorant also comes in jar form (it'll get your fingers stickier, but the paste is more forgiving than the hard stick option). The best feature of Primal Pit's products are that the baking soda products range from light to heavy formulas depending on your sweat type. The coconut lime had a pleasant scent and lasted through most of a warm-weather day.
Primal Pit Paste Natural Deodorant Stick in Coconut Lime, $11; primalpitpaste.com. Primal Pit Paste Natural Lavender Jar, $11; amazon.com.