25 Unmissable Beauty Moments From the Spring 2022 Runways
The first in-person Fashion Week since COVID-19 did not disappoint, turning out beauty looks reminiscent of the '90s, Y2K, and Mad Men.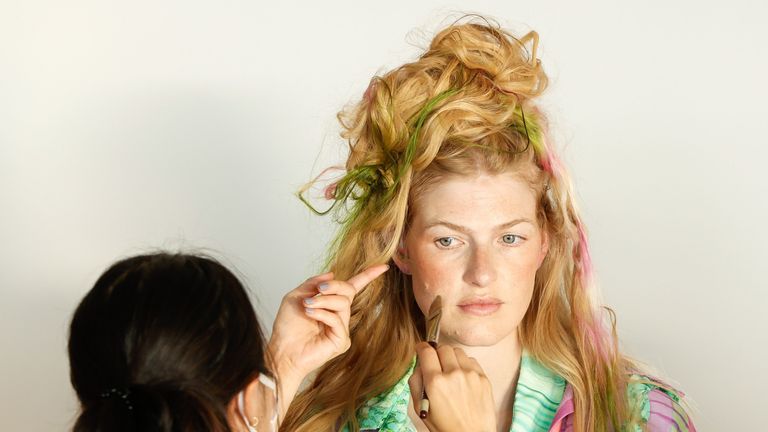 (Image credit: Arturo Holmes)
New York Fashion Week kicks off the month-long fashion extravaganza that brings fashion and beauty lovers to New York, Milan, and Paris to see the newest designs from favorites like Christian Siriano, Prabal Gurung, Chanel, and more. The COVID-19 pandemic put a temporary stop to in-person Fashion Month, but designers are finally back to present their Spring 2022 collections. This year, '90s nostalgia, Y2K realness, and acid brights were seen all over the runways—simple, bold beauty looks you'll want to recreate for TikTok or random Zoom meetings (because we're still doing those, apparently). We collected some of our favorite hair and makeup moments from the runways that encompass the subtle-but-bold vibes of Spring 2022.
Framing Neons at Prabal Gurung
Makeup artist Sil Bruinsma showed that you don't need an intense cut crease—or dare I say, glitter—to make a beauty statement at the Prabal Gurung show. Models wore neon shades of electric blue, neon pink, and golden yellow that subtly stood out on the corners of their lids. Using M.A.C Cosmetics, Bruinsma's reference was "bronzed, sultry skin and neon highlights."
Caged Braids at Christian Siriano
Quick question: Does Christian Siriano know how to take a day off, ever? The answer is clearly no, because when he's not mentoring on Project Runway he's designing killer runway looks. The beauty vibe for the models was clearly all about giving face, with glowing skin and what I would argue is the perfect wing, courtesy of Charlotte Tilbury Cosmetics.
Diamonds are a Girls Best Friend at Siriano
All hair was kept out of the face in a sleek updo that turned into intricate braids, elegantly done by hairstylist Jawara Wauchope using Dyson products. Oh and that diamond piece on the model's hair is actually Luminous Diamonds sewn into the hair for an added glitz.
Altuzarra
It's already been established that the grunge of the '90s is making a bold impact on the runway and this goes doubly for the vampy looks at Altuzarra that are reminiscent of Buffy the Vampire Slayer.
The Cool Girl at Alturzarra
As seen on model Jill Kortleve the "cool girl" middle part and braids were done by hairstylist Odie Gilbert using Tresemme while the smudged cat winged shadow was achieved by Dick Page using MAC Cosmetics.
Alice & Olivia
If there's one thing Stacey Bendet is going to do, it's to have an upscale version of a raccoon eye on models during NYFW. The almost glossy black lid was painted by Etienne Ortega using Deck of Scarlet and their new Mirror Glaze Highlighting Trio for the glow finish of the face. Hairstylist Justine Marjan used Tresemme to keep the hair in place with zero lingering strands.
Alien Edge at Luar
Honestly, where isn't there a Beauty moment at the Luar show? From the gel slicked hair parted in curves to the multiple high ponytails cascading on the model's head. The edgy hair is clearly the work of Evanie Frausto who used Redken to achieve a sleek look. Giving major Star Trek vibes, dramatic cat eyes and blue to purple shadow round out this alien-like look courtesy of Jen Myles and MAC.
70's at Anna Sui
In true Anna Sui fashion, the makeup of the models had a matching moment with the equally vibrant patterns and styles. Seemingly forever in the '70s (and we're all for it) the citrus glossed eyes were created by Dame Pat McGrath using Anna Sui cosmetics.
Anna Sui
Always about the shine, R and Co Bleu was used by co-founder and hairstylist Garren for the luxurious hair on the runway.
Revamped Y2K at Collina Strada
Every hairstyle that you remember being popular in the early '00s happened at the Collina Strada show. We're talking about Colored streaks, crimping, messy top knots, and hair with a lot of body. The runway was packed with bright earth tones, in line with Strada's goal of showing off high-fashion upcycled looks.
Ear Makeup at Collina Strada
Hairstylist Evanie Frausto created this e-girl-envious hair using Redken while makeup artist Alice Smith enhanced the model's natural skin using M.A.C. Cosmetics for a radiant fairy vibe. If ear makeup becomes a thing, then the M.A.C. Pigment is a good place to start.
Beehive at Moschino
Moschino creative director Jeremy Scott brought epic pastel nostalgia with this collection, which stayed on-brand from head to toe. Models Gigi Hadid, Aaron Philips, and Precious Lee all donned beehive hair looks that would make any character from Mad Men proud.
Hair Beads at Moschino
If you have ever experienced both the pain and also joy of having beads in your hair as a kid then this is for you. We have Danilo to thank for not only the beehive hair but also this gorgeous beaded moment that truly bring me back to my childhood. If it wasn't clear from Gigi Hadid literally carrying a baby bottle down the runway, this collection from Moschino is like a chic baby shower, plastic crib mobile included.
Naeem Khan
If you get the vibe from this collection that you should be on a beach drinking from a coconut, thanks to the sun-kissed beauty and florals, you're not alone. Bold lip colors seem to be making a breakout on the runway, and makeup artist Fabiana Graziani added to that giving models a sunset shade of orange.
Vampy Lips at Coach
It's official, we're wearing lipstick again, and clearly the bolder the better. There was a time when Onyx blood shades were everywhere and I am more than happy for it to make its return. Makeup was done by none other than Dame Pat McGrath herself while the softly tousled strands were perfected by Guido Palau.
Dramatic Lips at Michael Kors
See! Another bold lip, this time seen on model Irina Shyak at the Michael Kors show. If you're also having the urge to buy red lipstick, we compiled a few for every skin tone.
Middle Part Supremacy at Proenza Schouler
There wasn't a stray hair in sight at the Proenza Schouler show, thanks to the talents of Guido Palau. Using bumble and bumble, the middle part was alive and well, just the way Gen Z intended.
Proenza Schouler
More neons you say? Okay! Diane Kendal went to the next level painting the entire eyelid with a bright blue, orange, or pink hue and pairing it with a flawless, dewy skin base.
Icy Blue at Jason Wu
With a matte foundation base, frosty blue eyeshadow, and thick brows, I think it's safe to say the beauty trends from the '90s are back.
Edgy '50s at Batsheva
All hail the '50s updos that would make anyone from the movie Hairspray jealous. Definitely a more modern take on the quaffed looks from jukebox diner days, the models were given more edge with a sharp, dark eyeshadow wing.
Cat Eyes at Markarian
There's nothing like a good cat eye, especially when they're both even. And we saw another blue eyeshadow moment—I think the color is here to stay, so stock up now.
Embellished Nails at Markarian
Who says you can't match your nails to your earrings? Probably no one, but the jeweled nails by Kiss pair with the statement earrings for double glamour. Celebrity nail artist Gina Edwards created the gemmed nails using KISS Nails, and added a wispy eyelash with theKISS MLBB Lashes in 'No Filters.'
Colored Brows at threeASFOUR
Two words: Colored. Brows. All of a sudden I have an urge to bleach my brows and color-match them to all of my outfits, as seen at the threeASFOUR show. With a completely neutral face base, even down to the lip, models' brows were colored to match the main color of the collection they were wearing.
Just Kissed Lips at Ulla Johnson
In true Ulla Johnson fashion, the models' makeup and hair were done to enhance their natural beauty and create a strong look that lures you in. Makeup artist Romy Soleimani used Bobbi Brown Cosmetics to enhance the natural beauty of the models with a fluffy brow and lightly pinked lips.
Getting Futuristic at Private Policy
Bleached brows aren't going anywhere, and I'm okay with that. The entire look at the Private Policy show was reminiscent of a sci-fi series with a character so beautiful, they must be an alien. That's the effect of the white brows, glitter skin, and wet hair. I'm just hoping the models have a good makeup remover.
Alexis Gaskin is a Freelance Beauty Writer for Marie Claire who can often be found painting her nails to match every outfit. She covers beauty, skincare, and fat fashion and will get distracted by any and all Halsey-related content or anything glittery.