25 Unmissable Beauty Moments From the Spring 2022 Runways
The first in-person Fashion Week since COVID-19 did not disappoint, turning out beauty looks reminiscent of the '90s, Y2K, and Mad Men.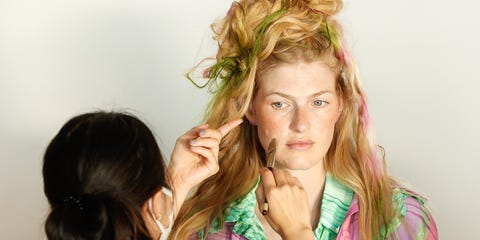 New York Fashion Week kicks off the month-long fashion extravaganza that brings fashion and beauty lovers to New York, Milan, and Paris to see the newest designs from favorites like Christian Siriano, Prabal Gurung, Chanel, and more. The COVID-19 pandemic put a temporary stop to in-person Fashion Month, but designers are finally back to present their Spring 2022 collections. This year, '90s nostalgia, Y2K realness, and acid brights were seen all over the runways—simple, bold beauty looks you'll want to recreate for TikTok or random Zoom meetings (because we're still doing those, apparently). We collected some of our favorite hair and makeup moments from the runways that encompass the subtle-but-bold vibes of Spring 2022.
This content is created and maintained by a third party, and imported onto this page to help users provide their email addresses. You may be able to find more information about this and similar content at piano.io