The 13 Best Acne Patches to Banish Pimples Fast
Pop 'em on any time of day.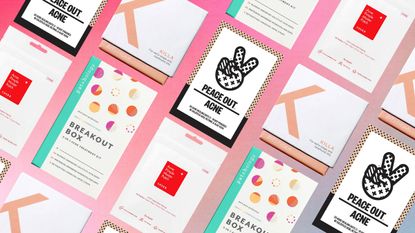 (Image credit: Brittany Holloway-Brown/Future)
Popping a pimple may be satisfying (trust us, we get it)—but it's a huge no-no. Picking at and pressing on whiteheads, cysts, or pus-filled breakouts is just one big ol' recipe for infection and scarring. So, exercise that willpower and pop on one of the best acne patches. These little stickers work like magic to absorb all the gunk from your pimple and promote a *much* faster healing process—they're the best spot treatment for acne.
The biggest pimple patch pro? They can be worn around the clock. Some of our go-tos (cough cough COSRX) are not only invisible but can also be layered underneath makeup. Others, like Starface, are so cute you'll want to wear them out and about. Regardless of which pimple patch you decide to go with, just remember it needs to be placed on clean, dry skin. "Do not apply [acne patches] over makeup, serums, or moisturizer, as some skin textures cannot successfully absorb the active ingredients or keep the acne dots fully applied to the face with a layer of product under them," explains Peace Out Skincare founder Enrico Frezza.
So, without further ado, keep scrolling to shop the best acne patches out there, from hydrocolloid options to dots that fade post-inflammatory pigmentation.
What to Look for in an Acne Patch
When picking the best acne patch for your skin, there are two things to consider: The ingredient list and the stage of your pimple.
"There are different patches to help at different stages of the life cycle of a pimple, from its earliest stage to post-pimple marks," says board-certified dermatologist Dr. Caroline Robinson. She recommends looking for hydrocolloid patches with ingredients like tea tree oil, salicylic acid, or niacinamide if your pimple is starting to form or has already reached a head. There are also special microneedling acne patches to help fade dark marks left behind from your breakout.
How Long Does It Take for a Pimple Patch to Work?
While a pimple patch will likely shorten the lifespan of your pimple, the time it takes for your pimple to disappear is going to vary. "Sometimes it takes one acne dot, and other times it has taken two to three acne dots to achieve this," says Frezza. "It depends on your acne, the depth of your pimple, and the amount of gunk your pimple is producing."
The Best Acne Patches
The Best Acne Patch for Fading Dark Spots
Mighty Patch Mighty Patch Micropoint for Dark Spots
If you've ever had a pimple (hi, yes, everyone), then you're familiar with the dark marks and hyperpigmentation that get left behind. While a traditional pimple patch can take care of inflammation and pus, these should be used in the recovery process to help fade discoloration at a quicker rate. "Not only do they have an innovative blend of pigment fighting ingredients such as niacinamide, tranexamic acid, and vitamin C, but they also have 173 dissolving micro points to help deliver the ingredients exactly where they're needed," explains Dr. Robinson.
Pros: Dermatologist-approved; Contains micro-darts
Cons: Need multiple patches to notice a difference
The Best Acne Patch for Dry Skin
When I want to get the job done, I reach for one of these patches. After an all-day/night-wearing session, I am amazed at how much has been absorbed. The best part? There's nothing toxic on the ingredient least. "We are the only clean, FDA-approved, over-the-counter (OTC) acne dot on the market. This allows us to differentiate ourselves from the rest of the acne dots on the market as we are the only brand with that FDA-approved claim," says Frezza. "We are also clean! We reformulated hydrocolloid to create the first and only clean, acne hydrocolloid patch. "
Pros: Hydrating; Doesn't slip or budge
Cons: Expensive
The Best Hydrocolloid Acne Patch
COSRX Acne Pimple Master Patch
One word: Powerful. Another word: Sticky. If you're prone to oily skin and can't seem to keep your patch on, Cosrx is about to be your go-to—it doesn't budge. The waterproof design will stand up through workouts, errands, and even a restless night's sleep. The hydrocolloid patches come on one large sheet that conveniently features multiple size dots, so you'll have the perfect match for every kind of blemish. Let it do its anti-inflammatory thing overnight, and you'll wake up with a less angry, less red, and, god willing, much less inflamed blemish.
Pros: Stay on; Hydrocolloid dressing
Cons: Doesn't do anything for unpopped pimples, blackheads, or cysts
The Best Acne Patch for Body Acne
Rael Miracle Patches XL Cover
While a salicylic acid body wash or spray is going to be your primary line of defense against body breakouts, a body acne patch is a great supplement to your routine. A typical acne patch might be a bit too small, but these Rael options are super sized. And, since back or chest breakouts are typically clustered, one sticker will treat a large portion of your breakout in one shot. It flattens out bumps, soaks up oil, and extracts pus like nothing else.
Pros: Big enough for body; Hydrocolloid
Cons: Pricy; Don't always reduce size of acne
The Best Acne Patch for New Zits
By and large, pimple patches are going to work best on whiteheads or juicy pustules that have already been popped. That said, these babies can swoop in and save the day way before pus starts to ooze. Because they're designed with itty-bitty microneedles, they're able to puncture the surface of the skin and get acne-fighting ingredients directly into the pimple before it surfaces. The little darts will dissolve within two hours, and effectively infuse your budding acne with a dose of salicylic acid, niacinamide, and hyaluronic acid.
Pros: Contains microdarts; Infuses salicylic acid
Cons: Expensive
The Best Acne Patch for Daytime Wear
Starface Hydro-Stars Starter Pack
You've probably seen these patches on your favorite influencers or celebs on Instagram and TikTok, and it's not just because they make for a great Instagrammable moment. You can feel the pimples meeting their match, one star at a time. They come in a travel-friendly, refillable container that also has a mirror in case you need to swap out patches throughout the day. Another call out? The unique shape of the star design. Sure, it's a play on the brand's name, but the corners of the star also ensure your patches adhere to hard-to-reach areas like the corners of the lips or around the nostrils.
Pros: Cute; Hydrocolloid; Refillable case
Cons: Not infused with any treatment ingredients
The Best Acne Patch for Whiteheads
Peach Slices Deep Blemish Microdarts
Fair warning: You'll feel a little prick when you press these microdarts onto the skin. But once your patch is on, it's game over for your pimple. Salicylic acid penetrates the skin to attack the blemish, while niacinamide keeps skin from becoming inflamed and protects the barrier of skin. Because that can dry out the skin, the brand also added two calming, soothing, and anti-inflammatory ingredients into the mix: Tea tree oil and centella asiatica.
Pros: Microdarts; Infuses salicylic acid
Cons: Pricy; Doesn't stick
The Best Acne Patch for Pimple Clusters
HANHOO Custom Blemish Patch
While pimple patches come in all shapes and sizes, sometimes you just need to do a little DIY to craft the perfect acne fighting patch. Enter HANHOO. They give you a massive rectangular patch that you can cut to your liking and stick to your chin, cheek, or forehead. It does soak up pus and reduce inflammation, but you might be tempted to reapply more frequently than you like—they can be a little slippery.
Pros: Customizable; Hydrocolloid
Cons: Not infused with any ingredients; Not very sticky
The Best Invisible Acne Patches
Peter Thomas Roth Acne-Clear Invisible Dots Blemish Treatment
If you're a regular acne patch user, you've likely experienced the somewhat inevitable downside of them. On occasion, you're left with dry, irritated skin where you placed the patch. The chemists behind this 72-pack however made the genius decision to counteract the drying effects of salicylic acid with soothing, hydrating hyaluronic acid. While these little guys are invisible on the skin, they're best saved for a nighttime treatment as they can't be layered under makeup or skincare.
Pros: Contain salicylic acid; Hydrating
Cons: Can't be worn under makeup
The Best Acne Patch for Inflammation
Neutrogena Stubborn Acne Ultra-Thin Blemish Patches
We don't recommend popping your pimple (it can lead to scarring), but we also know it happens. And when it does, apply this drugstore patch, ASAP. The hydrocolloid sticker is going to provide the ideal healing environment, flatten your blemish in the quickest possible manner, and most importantly, prevent you from picking. I'm a fan of popping these on before bed—it's oddly satisfying to see how much fluid is absorbed by the time morning rolls around.
Pros: Hydrocolloid; Invisible; Thin
Cons: Not medicated