How to Use Tea Tree Oil for Acne, According to Dermatologists
It's basically the holy grail.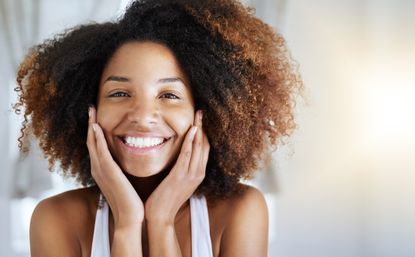 (Image credit: Getty)
To say acne-prone skin is annoying is putting it mildly. Finding an effective spot treatment is a real feat, whether you deal with sensitivity, dry skin, hormonal acne, or all of the above. But all-natural tea tree oil for acne is a remedy to consider—especially if you've attempted to treat zits with classic over-the-counter products that result in rashes, irritation, and flakes. And while the wonderful world of tea tree oil can be smelly, it's one of those non-irritating acne treatments worthy of interweb praise.
Tea tree oil sounds like one of those hippie-dippie alternative skincare treatments that surely can't be as effective as tried-and-true ingredients like salicylic acid or benzoyl peroxide, right? Wrong. Once you dab it over whiteheads and bumps at night, you'll wake up with, well, the same zits, albeit much smaller and visibly less irritated. Hey, nothing topical is going to get rid of your acne in a few hours, regardless of what the packaging may claim.
Still, as anyone with sensitive skin knows, it's a big deal to find a pimple product that doesn't irritate the hell out of your face. And tea tree oil isn't just a magical acne-fighter. Studies show that tea tree oil can be as effective as benzoyl peroxide at treating acne, but with fewer irritating side effects. So it's no surprise that many acne-busting products use the hero ingredient in their formulas.
Overview
How Does Tea Tree Oil Work on Acne?
As a quick refresher, benzoyl peroxide—or BP—is chemically formulated to kill the acne-causing bacteria on your skin quickly. The downside: said speediness often comes at an irritating cost. However, tea tree oil (TTO) uses natural antibacterial properties to kill off bacteria at a slower, gentler rate. So why use TTO if it's slower? Because "it's also a natural anti-inflammatory," explains dermatologist Mona Gohara, M.D., associate clinical professor at Yale University, meaning it'll help calm the redness and irritation already on your skin without causing more. For anyone with hyper-sensitive skin, that's a huge, huge deal.
Of course, there are some caveats. "Tea tree oil can be really drying on some people," says Dr. Gohara—namely, if you use it undiluted, which is the biggest of no-nos. Moreover, for something that sounds so harmless (oil! tea!), it's surprisingly irritating when applied to clean, dry skin, thanks to how intensely concentrated tea tree oil is. But don't freak—as long as you dilute it before you apply it, you'll be fine.
Meanwhile, Ramya Viswanathan, Biossance's Director of New Product Development, is partial to combining tea tree oil with squalane. "Tea tree oil is a quite potent ingredient on its own," she says. "We love pairing it with squalane to harness the purifying benefits while nourishing, hydrating, and replenishing the skin."
How to Apply Tea Tree Oil to Skin
One of the most effective ways to apply tea tree oil is with a damp Q-tip (to further help dilute it) after applying moisturizer at night, so there's a buffer between it and your skin. Then, swab the inside of the TTO lid with the damp Q-tip to pick up a small amount of product before dabbing it over zits. Easy, peasy. Be forewarned, though: Tea tree oil has a strong medicinal smell that may or may not make your roommate or S.O. whine loudly.
Additionally, (diluted) tea tree oil can be applied to another problem area other than your face: your scalp! "My patients love to use it as a scalp antiseptic to decrease flaking due to psoriasis on their scalp and in their ears," says Dr. Jeanine Downie, MD and co-host of the skincare round table talk, The Gist.
As for how often to apply, that's up to your skin. "There is no correct answer for this question because everybody reacts differently," explains Julia Bao, founder and director of BAO Laboratory. So if you're looking to add the essential oil to your skincare regimen, test it on a patch of skin first to make sure you don't face any skin-tingling side effects. Once you've done a patch test, you can apply the oil to any trouble spots once a day as an evening spot treatment.
Are There Any Risks to Tea Tree Oil?
Most people can use tea tree oil for their acne without any side effects, but for some, an allergic reaction (such as redness, itching, and irritation) may occur. Always do a small patch test before applying to any acne and stop use if you notice any reaction.
"Tea tree oil is also photosensitive, so make sure to avoid direct sunlight or only use at night time," adds Bao. When in contact with the sun, tea tree oil changes, but not for the better. Results range from sunspots and blisters to rashes or even burns. To play it safe, stick to using it with your nighttime skincare routine only.
What to Look For in Tea Tree Oil Products
You can easily find tea tree oil on the market in two forms: on its own in an oil formula or in the formulas of skincare products such as cleansers, serums, spot treatments, and moisturizers. Again, ensuring you're using small amounts of this stuff is key. Don't go overboard. Purvisha Patel, a board-certified dermatologist and founder of Visha Skincare, explains, "It's best when mixed in or diluted in other oils and skincare formulations to prevent irritation of the skin."
If you want to go the DIY route, make sure you are choosing the purest oil available—it should say "100 percent tea tree oil" on the label—and dilute. And if you're eyeing a skincare product, look for complementary ingredients such as salicylic acid, benzoyl peroxide, and niacinamide for even more acne-busting action.
The Best Tea Tree Oil Products for Acne
Best Budget Tea Tree Oil Product
MAJESTIC PURE Tea Tree Essential Oil
If you're looking for a no-fuss, budget-friendly tea tree oil, just turn to Amazon. This top-rated product is 100 percent pure essential oil with no additives, toxins, or chemicals. It also contains lots of product, so while you're using this as an acne spot treatment, you can also use it around the house for a calming scent. Over 80,000 Amazon shoppers gave this oil a 5-star rating, so you know it's worth it.
Pros: Good value; Can be used multiple ways; Smells great.
Cons: Needs to be diluted before use.
Best Multi-Use Tea Tree Oil Product
Briogeo B. Well Organic Australian 100 Tea Tree Oil
For pure tea tree oil you can count on, you can't go wrong with Briogeo's formula. As the only ingredient listed, this is the perfect product to test out the tea tree oil waters on your skin. Rest assured that this oil is 100 percent organic, non-GMO, and sustainably sourced right from Australia to ensure maximum potency. Add a few drops to your favorite shampoo for extra-soothing power or dilute with water to clear up a bad pimple.
Pros: Can be used multiple ways; Smells great.
Cons: Expensive; Needs to be diluted before use.
Best Tea Tree Oil Product for Cleansing
The Body Shop Tea Tree Skin Clearing Facial Wash
A simple switch-up in your routine (i.e. your cleanser!) could make a world of difference in your skin. If your skin is acne-prone or on the oily side, try this top-rated cleanser out for size. Infused with the hero ingredient, this face wash fights breakouts and reduces oil with every use. It also leaves a mattifying effect, a huge draw for oily skin.
Pros: Gentle; Easy to use; Smells great.
Cons: May be drying for some.
Best Acne-Clearing Tea Tree Oil Product
Sunday Riley U.F.O Salicylic Acid BHA Acne Treatment Face Oil
If you have oily or acne-prone skin, a face oil may sound like the last thing you need in your routine. But trust us, this oil won't further congest your skin or cause breakouts. In fact, it's meant to do the opposite. With acne-fighting salicylic acid, this oil helps to clear blemishes, blackheads, and oily pores to reveal clearer, smoother skin. Tea tree oil is combined with black cumin seed oil to combat any dryness you may experience with salicylic acid. The result? Clear, nourished skin without any greasiness.
Pros: Fast-absorbing; Hydrating; Brightening.
Cons: Expensive; Strong scent.
Best Moisturizing Tea Tree Oil Product
Dr. Jart+ Teatreement™ Moisturizer
Dr. Jart+ has an entire line of products with tea tree oil at the forefront of their formulas. The line's moisturizer contains the highest concentration of the extract (at 81.5 percent) to rebalance skin's pH and clear blemishes. Additionally, the brand's signature Green Calming Complex, a blend of plant and flower extracts, works to tone down the redness often experienced by acne-prone skin.
Pros: Lightweight; Soothes redness; Reduces oil production; Dermatologist-tested.
Cons: Can be drying for some; Expensive.
Best Tea Tree Oil Product for Painful Acne
Tula Go Away Acne Spot Treatment
Sometimes a salicylic acid treatment doesn't cut it, especially when you have one of those big, deep pimples. In those times, benzoyl peroxide may be your savior. This spot treatment uses the famous acne-fighting ingredient in conjunction with tea tree oil to fight angry blemishes and soothe skin. And because big pimples have a tendency to leave behind scars, this treatment uses licorice, niacinamide, and azelaic acid.
Pros: Brightening; Soothes redness; Works great for inflamed, hormonal, or cystic acne.
Cons: May be too harsh for sensitive skin.
Best Tea Tree Oil Product for Soothing
belif Problem Solution Toner
Irritated, problem skin will love the gentle formula of this toner. It's chock-full of herbal ingredients like tea tree oil and white willow bark to soothe blemishes and gently exfoliate skin. After every use, skin looks and feels refreshed, soothed, and more even-toned. This toner even works well for sensitive skin because of its gentle, non-irritating formula. If you're worried about how your skin will react to tea tree oil, this is a great first step.
Pros: Soothes redness; Smells great; Great for sensitive skin; Dermatologist-tested.
Cons: May leave skin a tad sticky after use.
Meet the Experts
After graduating from medical school with AOA honors, Dr. Mona Gohara did her dermatology training at Yale New Haven Hospital, where she served as chief resident. Dr. Gohara continues to teach at Yale where she holds a faculty appointment as an associate clinical professor. Dr. Gohara and her husband have two tween boys. Besides mothering and doctoring, she spends time watching her son's basketball games, educating the public on skin health, skin cancer, and sun protection. She has done this through writing, lecturing on the local, national, and international level, and by engaging popular media.
Dr. Gohara serves as a medical expert for ELLE, Cosmopolitan, Vogue, O the Oprah Magazine, Good Housekeeping, Allure and Real Simple. She is on the advisory board of Women's Health Magazine. Dr. Gohara serves as Vice President of the Women's Dermatologic Society. She is an active member of The American Academy of Dermatology, where she chairs the Social Media Task Force, and The American Society For Dermatologic Surgery, where she chairs the Media Relations Work Group.
Ramya has extensive experience in product development and research and development chemistry. Ramya began their career in 2012 as a Research & Development Chemist for Allure Labs, Inc. In this role, they were promoted to Senior Research & Development Chemist. In 2017, they joined Amyris as a Product Development Manager for Biossance. Ramya was then promoted to Senior Product Development Manager, followed by a promotion to Director of New Product Development for Biossance & JVN Hair.
Ramya Viswanathan obtained a Bachelor of Science (BS) in Cell/Cellular and Molecular Biology and Chemistry from California State University-Sacramento.
Dr. Jeanine B. Downie of image Dermatology P.C. is licensed to practice in New Jersey, California, and New York. Board Certified by the American Board of Dermatology; she is also a fellow of the American Academy of Dermatology.
Dr. Downie graduated from Tufts University with a Bachelor of Science in Psychology and Biology. She then completed a Master of Arts program at American University. She received her medical degree in 1992 after completing a rigorous course of study at the State University of New York, Health Science Center in Brooklyn. Her extensive background in dermatology includes a residency in Pediatrics at Cornell Medical Center, New York Hospital, and a residency in Dermatology at Mount Sinai Medical Center, where she also served as the Chief Dermatology Resident. In addition to her private practice, Dr. Downie is a staff member at Overlook and Mountainside Hospitals.
Six years ago, Julia Bao, a chemist from Toronto, felt frustrated and discouraged by the skincare products she was picking off the shelves. Laden with chemicals and characterized by long lists of ingredients that sounded anything but natural, the vast majority of skincare products on the market just didn't feel right. Julia was looking for natural solutions, not products that might do more harm than good.

Julia set out to redirect her career, doing what she does best: research, experiment, mix and develop. She started BAO because she knew skincare could be – and should be – better. Julia's purpose was as clear as blemish-free skin itself: use a science-based approach to develop high-quality, Canadian-made, natural products designed to improve the skincare industry and help people across the globe to enhance their skin's health.
Dr. Purvisha J. Patel, M.D.
Born in London, raised in Wales and medicine trained in the States, Purvisha Patel quickly found her passion for skin and the treatment of skin cancers. While running a busy dermatology practice, Mohs surgery center and Medi Spa, it became clear that skincare regimens were too complicated, labor intensive and expensive for her patients. Working with a team of chemists she was able to formulate, test and approve Visha Skincare products, and now bring them to market.
Celebrity news, beauty, fashion advice, and fascinating features, delivered straight to your inbox!