The 14 Best Face Moisturizers, According to Marie Claire Editors
"This moisturizer has saved my skin (and confidence) more times than I can count."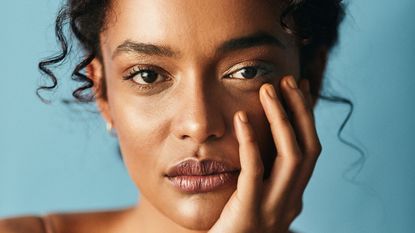 (Image credit: Delmaine Donson)
On a scale of one to personal, picking the best moisturizer for you and your skin tops the chart. Your skin type plays a major role, textural preference is a huge factor, and other products in your routine come into play. For example, you may want a do-it-all moisturizer with SPF and retinol to boot or a bare-bones cream with a sole job to hydrate. There are oil-free moisturizers, vegan formulations, even moisturizers specifically formulated for rosacea, eczema, and acne-prone skin. The options are plentiful, but keep your skincare standards high and don't settle for less.
To help guide you on your journey, the Marie Claire editors are here to point you in the right direction. We've tried hundreds of moisturizers—partly, well, because it's our job, but more importantly, because we're on this quest for good skin with you. Ahead, team MC gets candid about the face moisturizers we absolutely love, which are equal parts hydrating, glow-inducing, and about to be your overactive sebaceous glands' worst nightmare.
Do I Need a Moisturizer?
There's no world in which you don't need a moisturizer. Guy, girl, oily, or dry—it's a must. "Everyone has skin, so everyone should use a moisturizer daily," says board-certified dermatologist and founder of Spring Street Dermatology Dr. Sapna Palep. The whole point of a moisturizer is to keep the skin barrier, aka the outermost layer of our skin, healthy, hydrated, and intact, so it can do its job protecting the body from external factors (read: pollution, free radicals, UV rays. "If the skin barrier is compromised, skin may look and feel uncomfortable and irritated," she adds.
What to Look For in a Face Moisturizer
Every moisturizer is going to be different and therefore, feature a unique ingredient list. Moisturizers for acne-prone skin may have acids, like salicylic, glycolic, or lactic, that are designed to speed up cell turnover, while moisturizers for people with eczema might have colloidal oatmeal. But at baseline, there should be a handful of hydrators. "You want to look for a moisturizer that has a mix of humectant, emollient, and occlusive ingredients, all of which work together to add maximum hydration," advises Dr. Palep. "Humectants like hyaluronic acid and glycerin attract water from the air or from within deeper layers of the skin to add moisture. Emollients, like shea butter and cocoa butter, are ingredients that add moisture to the skin when applied. Occlusives like jojoba oil and argan oil also add moisture while also adding a physical barrier to help prevent water loss."
This is in part personal preference, but practicality certainly comes into play. "If your skin is severely dry, I recommend considering a cream-based moisturizer," says Dr. Palep. "For deeper hydration, look for a moisturizing cream, versus a gel. A cream tends to be thicker and will add more hydration." If your skin errs on the oily or acne-prone side though, you're best off looking for a light water cream or gel.
Shop Deals on The Best Face Moisturizers
The Best Facial Moisturizers, According to Marie Claire Editors
The products on this list have all been vetted by Marie Claire's Beauty Editor, Samantha Holender (aka yours truly) and Marie Claire's Beauty Director, Deena Campbell; have been hand-selected by a board-certified dermatologist; or tried and tested by one of our editors over the course of a few weeks. Each and every one includes hydrating ingredients, is highly rated by reviewers, and provides hydration. While the *best* moisturizer for you will vary based on personal preference, you truly can't go wrong with one of the items on this list. For a more personalized recommendation or if you have any concerns, check with your board-certified dermatologist.
The Best Moisturizer for Sensitive Skin
Embryolisse Lait Créme Concentré
"This French pharmacy staple has been around for years and has a long-standing cult-favorite status among makeup artists. But it wasn't until a few months ago that I actually decided to test it for myself and joined the bandwagon. It hydrates my sensitive skin like nothing I've ever experienced—I haven't had dryness or irritation in weeks. My overall complexion looks brighter, healthier, and glowier without the added oily sheen that can pop up with rich creams. Pilling is non-existent and it doubles as a primer under makeup. In sum: I fully understand the world's obsession." — Samantha Holender, Beauty Editor
Pros: Good for sensitive skin; Affordable
Cons: Contains fragrance
The Best Moisturizer for Mature Skin
ReVivé Moisturizing Renewal Day Cream
"If there was only one skincare brand I could use for the rest of my life, it would be ReVivé—and this day cream is a huge reason why. The entire line is powered by epidermal growth factor, which is essentially a protein that stimulates cell growth and works as an anti-aging, line-reducing warrior. Add SPF, antioxidants like vitamin C and E, minerals, and marine adaptogens into the mix, and this moisturizer is a multitasking wizard. It makes my skin look brighter, plumper, and healthier in just a few weeks time. I quite literally can't function without it." — Samantha Holender, Beauty Editor
Pros: Anti-aging; Multi-benefit
Cons: Can be irritating for some
The Best Moisturizer for Redness
Dr. Barbara Sturm Face Cream Rich
"I have rosacea and red tones, but when my skin starts to freak out this cream saves the day. It feels cooling and calming as soon as it touches my face and within a few days is able to take my skin back to baseline. It's powers come in large part from ingredients like avocadin and purslane, which together provide antioxidant protection and calming, soothing benefits. For a "rich" cream, I also have found that this particular product has a relatively lightweight and easy-to-rub-in texture. It's definitely on the pricier side, but I can't say enough positive things about it—100 percent worth the investment." — Samantha Holender, Beauty Editor
Pros: Good for redness; Soothing
Cons: Expensive
The Best Luxe Moisturizer
La Mer The Moisturizing Soft Cream
"I hoard this moisturizer as if it's going to be discontinued (don't worry, it's not). It's seriously one of the best products to ever exist and I can't imagine my winter beauty routine without it. The texture is dreamy and leaves my skin looking and feeling baby soft. Any dry patches are instantly resolved and makeup goes on—and stays on—better than ever. The formula obviously contains the brand's proprietary miracle broth, which focuses on strengthening the skin barrier, and includes a handful of antioxidants to protect against environmental aggressors." — Samantha Holender, Beauty Editor
Pros: Hydrating; Anti-aging
Cons: Too greasy for some
The Best Derm-Recommended Moisturizer
Cetaphil Moisturizing Cream
"I really like Cetaphil's Moisturizing Cream; it instantly soothes, hydrates and protects skin from dryness. It helps restore the skin barrier in one week. It has a mix of niacinamide and panthenol that soothes sensitive skin, while glycerin hydrates the outer layer to maintain the skin barrier. Plus, it rubs in easily and doesn't feel heavy or sticky." — Dr. Sapna Palep
Pros: Dermatologist-recommended; Nice texture; Affordable
Cons: None
The Best Facial Moisturizer for Dry Skin
Ole Henriksen Strength Trainer Peptide Boost Moisturizer
"I've gone through three tubs of this face cream, that's how much I love it. Not only does it smell amazing (like sweet lemons!) but the icing-like formula immediately melts into my skin and keeps it hydrated all night long. The magic ingredients in this vegan formula are the eight different amino acids and the eight different peptides, which strengthen skin from the inside out and keep fine lines and wrinkles at bay. My skin is the winning combination of both dry and dehydrated—lucky me!—so it needs anything that will give it life overnight. I don't think I will ever use a different night cream in the winter, period." — Julia Marzovilla, E-Commerce Editor
Pros: Hydrating; Vegan
Cons: Fragrant
The Best Lightweight Facial Moisturizer
Laneige Water Bank Blue Hyaluronic Cream Moisturizer
"Recently, I've been obsessed with LANEIGE's cream/water moisturizer. It's lightweight but nourishing, and perfect for mixing and matching with your other products during the day—I like to combine it with sunscreen for low-key days, or with CC cream or foundation when I'm heading out into a cold night. It doesn't clog my pores, it gives me a gentle glow, and it comes in the cutest baby-blue bottle." — Jenny Hollander, Director of Content Strategy
Pros: Lightweight; Glowy
Cons: Not great for dry skin
The Best Moisturizer for Oily Skin
The Ordinary Natural Moisturizing Factors + HA Daily Moisturizer
"I used to think that spending more money would equate to a quality moisturizer, but now I've become convinced that that's not the case. Instead, I like to splurge more on serums chock full of active ingredients and stick to a more basic moisturizer. This daily moisturizer from the Ordinary does the trick for me day and night. It feels extra lightweight, which is great for wearing underneath makeup, and it doesn't add any extra oil to my already oily skin. I love it so much, I'm already on my third bottle." — Brooke Knappenberger, Editorial Fellow
Pros: Affordable; Lightweight
Cons: Some say it's drying
The Best Moisturizer for Acne-Prone Skin
Dr. Dennis Gross Vitamin C Lactic Oil-Free Radiant Moisturizer
"City slickers, take note: This moisturizer protects your skin from the elements with the strength and consistency of The Queen's Guard. My acne-prone, ultra-oily skin tends to react poorly to protective ingredients like Vitamin C, but this oil-free formula is a non-comedogenic dream." — Lucia Tonelli, Social Media Editor
Pros: Multi-benefit; Oil-free
Cons: Some report irritation
The Best Moisturizer for Combination Skin
FaceTheory Supergel Oil-Free Moisturizer MC for Oily and Acne-Prone Skin
"I have combination skin, so I often find it difficult to balance my need for moisture with my fear of excess oil breaking me out. This moisturizer from FaceTheory suits my skin during any season, with its lightweight, scent-free formula and matte finish. Plus, it's made with Vitamin C, giving me a glow that's garnered tons of compliments and questions about my skincare routine." — Gabrielle Ulubay, E-Commerce Writer
Pros: Balances oil production; Multi-benefit
Cons: Little bit of a tacky texture
The Best Moisturizer for Stressed Skin
Neutrogena Oil-Free Acne Moisturizer
"I swear by this moisturizer by Neutrogena, which is specifically made with acne-prone skin in mind. When it's particularly hot out, when I'm PMSing, or when I'm feeling stressed, the skin on my face and back tends to explode into acne, and this moisturizer calms it down within a few short days without drying me out or inducing uncomfortable stinging. I always keep a bottle of it in my medicine cabinet, and it's saved my skin (and confidence) more times than I can count." — Gabrielle Ulubay, E-Commerce Writer
Pros: Affordable; Great for blackheads
Cons: Not hydrating enough for some
The Best Moisturizer With Retinol
Blue Lagoon BL + Retinol Cream 0.3%
"I love all things retinol, and strongly believe that your anti-aging regimen should begin while you're in your twenties and thirties. However, many users find the drying and purging effects of prescription-strength retinols to be too much to handle, leading them to eschew this handy ingredient completely. In those cases, I recommend this gentle yet effective formula from Blue Lagoon Skincare. It's made for first-time retinol users, and is coupled with hydrating ingredients like microalgae, silica, and minerals that can only be found in Iceland's famed Blue Lagoon. Try it out in the evenings, starting one or twice a week until you're able to tolerate using it every night. Over time, it'll help smooth out wrinkles and blemishes. Just be sure to wear extra sunscreen during the day while you're using it—retinol makes your skin more sensitive to the sun." — Gabrielle Ulubay, E-Commerce Writer
Pros: Contains retinol; Gentle
Cons: Not ideal if you have another exfoliant in your routine
The Best Moisturizer for Eczema
First Aid Beauty Ultra Repair Cream Intense Hydration Moisturizer for Face and Body
"It's a little heavy for summertime use, but for fall, winter, and spring—so, most of the year—I reach for First Aid Beauty's Ultra Repair Cream more often than any other moisturizer. I get on-off eczema around my eyes and forehead when it's chilly out, and this is the only cream that soothes my skin when it's at its itchiest and grouchiest. You can use it all over your body—I apply it to mosquito bites to stop the itching—and it soaks into your skin in a way that feels nourishing, rather than superficial or irritating." — Jenny Hollander, Director of Content Strategy
Pros: Good for eczema
Cons: Too thick for some
The Best Moisturizer for Large Pores
Avène Cicalfate+ Restorative Protective Cream
"This rich-but-not-heavy moisturizer has all the magic powers of Elizabeth Arden's Eight Hour Cream, but without the stickiness. A little goes a long way, and it leaves my skin hydrated and soothed for hours without feeling greasy or shiny or clogging my (easily cloggable!) pores. It's my go-to for dry, cracked winter skin that needs a shot of moisture." — Jenny Hollander, Director of Content Strategy
Pros: Lightweight; Matte finish
Cons: Expensive
Meet the Expert
Dr. Sapna Palep has been recognized as one of New York's leading board-certified dermatologists for over a decade. Since founding Spring Street Dermatology in 2010, Dr. Palep has helped countless patients achieve clear, healthy skin with her safe, effective, and highly individualized treatment plans. Dr. Palep conducts annual skin cancer screenings and treats all dermatologic conditions, including acne, eczema, psoriasis, and rosacea. She is also highly sought after for her skill in cosmetic treatments, including Botox, chemical peels, dermal fillers, microneedling, and resurfacing lasers.
A native of Florida, Dr. Palep completed her undergraduate studies in biology and chemistry at the University of Miami in 1999. She attended the University of Miami School of Medicine for two years before relocating to New York in 2000. She completed her medical degree at New York Medical College in 2004. The same year, Dr. Palep graduated with a Master's of Business Administration from the Lubin School of Business at Pace University, where she majored in Health Systems Management.
Samantha Holender is the Beauty Editor at Marie Claire, where she reports on the best new launches, dives into the science behind skincare, and keeps up with the latest trends in the beauty space. She has previously written for Us Weekly, Popsugar, Makeup.com, Skincare.com, and Philadelphia Wedding. Follow her on Instagram @samholender.