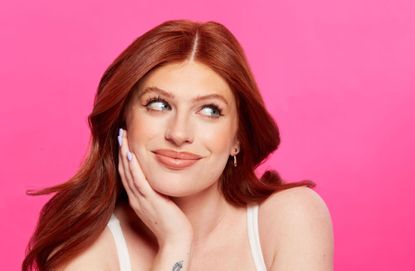 (Image credit: Grande Cosmetics)
There's a reason everyone wants thick, voluminous eyelashes. Long, full lashes make you look awake, energized, and ready to seize the day. Obviously, falsies and lash extensions are an easy fix for instant lash gratification—but what if you could get longer-looking lashes from a liquid eyeliner infused with lash enhancing serum? Sounds too good to be true? It's not. Enter: Grande Cosmetics GrandeLINER Liquid Eyeliner, a two-in-one, ultra-black liquid eyeliner infused with lash serum that helps promote the appearance of naturally longer-looking lashes in four to six weeks.
If you're already a fan of GrandeLASH-MD Lash Enhancing Serum, the sister to the liquid eyeliner, then you'll know the formula is loaded with amino acids and botanical extract blends that actually work. And in a similar fashion, the eyeliner is charged with cruelty-free ingredients like lipids and peptides that work hard to deliver thicker-looking lashes.
But don't just take our word for it—the pros are fans, too. Look no further than Mai Quynh, the celebrity makeup artist who created Chloë Grace Moretz's look at the 2022 Met Gala.
"GrandeLiner Liquid Eyeliner with Lash Enhancing Serum is a Sephora exclusive and is my favorite because you're getting a perfect long-wearing liner and enhancing the look of your natural lashes at the same time," she says. "It truly is a makeup product that is working for you while you wear it!"
What's more: The eyeliner features 12-hour staying power without fear of smudging, flaking or fading—basically, everything you're looking for in a liner. And if you aren't well-versed in eye makeup, don't worry: The fine-tip precision brush makes it easy to create a fuss-free smooth, thin, or dramatic eye look.
As for Grande Cosmetics, it's the brainchild of CEO + Founder Alicia Grande, who founded the brand in 2008 with the goal of creating a natural solution for longer-looking lashes. Grande wanted her products to enhance natural beauty, not mask it—basically, to encourage women to be their most authentic selves. "I'm excited to share with you our products that have empowered millions of women around the world to live bolder, and confidently, with enhanced lashes, brows, hair, and lips," says Grande.
Ready to try the GrandeLINER liquid eyeliner? Head to your nearest Sephora store or visit Sephora.com to shop the exclusive product.