What Does Your Hair Say About You?
Marisa Meltzer finds that swapping bouncy curls for a sleek new 'do requires a style—and attitude—adjustment.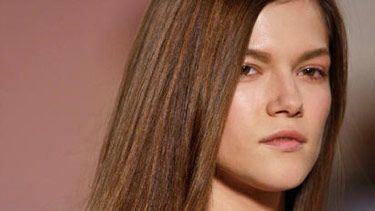 (Image credit: Dan Lecca)
When left to its own devices, my hair is sort of a cross between Shirley Temple's and Sarah Jessica Parker's: long, blonde, and full of ringlets. In the '80s heyday of spiral perms, having naturally curly hair seemed kind of cool.
People always assume my personality is just as bouncy and cheerful as my hair. When I'm lost and need directions, or when I'm trying to charm a new boyfriend's mom, that persona certainly works in my favor. But to some, curly hair just looks, well, unserious. During one of my first job interviews after college, to be an assistant at a foreign consulate, my potential new boss gave me a backhanded compliment about how "brave" I was to come in without a blowout. She proceeded to explain that she rose early every morning to straighten her own hair. I didn't get the job.
Now, as a single 31-year-old, I wear my hair long and coiled for more practical reasons. Chiefly because, after so many years of going au naturel, I suspect I might not be dexterous enough to blow it out myself--or maybe I'm just too lazy.
But a few weeks ago, while getting my highlights touched up, seated across from a woman with the most glorious pin-straight mane, I was struck with hair envy. What would such a sleek look do for me? To find out, I booked a series of blowouts with stylist David Evangelista at his salon in Manhattan's Cornelia Day Resort.


Get straight hair at home with these 12 Favorite Products for Curly Hair
I get cold feet on my first visit—am I betraying my curly roots? Will I look like I'm trying too hard?—but David says I should embrace my advantage: "When you're curly, you can go straight. But when you're straight, curls don't always hold. Be versatile—that's how your style evolves."
I'm amazed at how little time it takes—less than a half-hour with a T3 Tourmaline Wet-to-Dry Flat Iron, no blowdryer needed—and even more in awe of my hair. My usual long layers, shaped for my curls, work just as well stretched out. Styled straight, my hair projects everything natural curls don't: It looks silky and expensive, not cute and quirky. It's like turning a monogrammed L.L.Bean tote into a Birkin. I appear a lot more polished and professional—and with hair that now falls halfway down my back, I feel pretty sexy, too.
I walk (OK, strut) out of the salon, swinging my mane back and forth as I make my way down Fifth Avenue. A woman on the street even snaps a photo of my hair with her camera phone to show to her stylist.
Back at home in Brooklyn, I run into my first straight-hair problem: None of my clothes suit me anymore. As much as I love my ringlets, they are attention hogs—it's what everyone immediately notices about me. I tend to stick to a wardrobe of dark colors and minimal makeup to let my curls be the star. But with my new straight hair, I can pull off something edgier than the usual minidress-with-cardigan look. So I put on suede ankle boots, skinny jeans, and a shrunken leather jacket. I'm also wearing eyeliner for the first time this decade.
That night I get a call from N., the brother of an old friend whom I've harbored a minor crush on since high school; he wants to catch up over a drink. "Whoa, you don't look like yourself," says N. when I arrive at the bar. And I'm not acting like myself, either—after a few drinks and much hair tossing, we end up kissing good-bye and promise to do it again next time he comes to town.
Realizing the impact my new 'do is having on my personal life, I update my profile photo on Facebook. Dozens of friends weigh in with comments on the new me. My friend Joon tells me I look like Mariah Carey. Another friend says I remind her of Whitney Port from The City. Guys I haven't talked to since the mid-'90s are suddenly eager to see me in person.
But straight hair is labor intensive, and my life soon revolves entirely around maintenance. Forget Spin class—I cancel all workouts in the name of hair preservation. In the mornings, I start taking baths instead of my usual invigorating showers and cover my head in a shower cap and a towel, just to keep the frizz at bay (so much for sex appeal; I'm channeling my grandmother). Moisture of any kind becomes my mortal enemy. I even take a cab to a party that's just a few blocks away to shield my hair from a slight drizzle (then reap the rewards, as it becomes the talk of the party).
Alas, at $85 per blowout—plus the extra cab fare, new wardrobe, and missed workouts—my straight hair is becoming an expensive, time-consuming, ladies-who-lunch habit. So I resolve to buy a T3 iron and straighten it myself. Faced with a thick, soaking mop, I feel like I will need to grow a few extra sets of Indian goddess arms to get through it all. But I dutifully section the hair off like David taught me and dive in. I learn it's something that doesn't require skill so much as patience. And at $200, the iron is an investment, but it's a price I happily pay for the freedom to summon my alter ego any time I need it.
SMOOTH MOVES
A new semipermanent salon treatment promises slick, shiny hair without harsh chemicals and damage. Sarah Z. Wexler straightens up.

WHAT IT IS: Keratin Complex Smoothing Therapy by Coppola
HOW IT WORKS: After a shampoo and blowdry, a stylist applies the cream formula to my hair, then seals it in with a superhot flatiron. It coats my strands with keratin, a protein that strengthens hair and nails. And to ensure the keratin adheres properly, I can't wash my hair or even put it in a ponytail for the next three days. Hello, flat, greasy locks.
THE PROS: It contains no formaldehyde, compared with high levels found in the original Brazilian keratin treatment, and it doesn't make hair brittle like the Japanese method can.
TIME INVESTED: 2.5 hours in the salon
THE RESULTS: While I still don't have wash-'n'-go TV-commercial hair, my once coarse, fuzz-wrapped curls are now easier to tame, reducing my prep time from an hour to 20 minutes.
LASTS FOR: 3 to 5 months
COST: From $450 at NYC's Chris Chase Salon; for other salons, call (888) 409-4445.
DIY: The formaldehyde-free Liquid Keratin 30 Day Straight Smooth & Long Treatment Starter Set, $69 at Ulta stores, is a surprisingly easy, at-home alternative to the salon service. For best results, enlist a friend to help flat-iron the hair at the back of your head.
Celebrity news, beauty, fashion advice, and fascinating features, delivered straight to your inbox!