10 Commandments of Sinfully Rich Hair Color
Expert tips for sinfully rich hair color.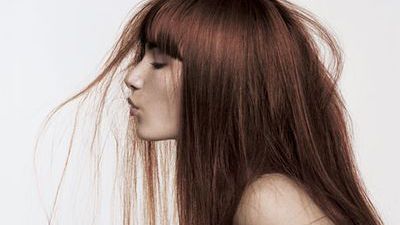 (Image credit: Ralph Mecke)
Tempted to try a DIY dye job? Whether you're headed toward blonde, red, or brunette, don't even crack open the box until you've read these expert tips.
1. HONOR THY hue
"Use your current color (even if it's dyed) as a gauge when selecting your formula — and never lighten or darken your hair more than two shades at one time," says Rachel Glenn of Chicago's Prink Salon.
2. THOU SHALT KEEP THY cool
Lightening tresses with a "warm" formula may leave you brassy. "Opting for a color described as 'cool' or 'neutral' is a safer bet for first-timers," says Jason Backe of Manhattan's Ted Gibson Salon.
3. THOU SHALT NOT skimp ON DYE
Imagine running out of dye halfway through color application. Not good. The amount in most kits is sufficient for the "average" head of hair (about shoulder-length). So, cautions Patty Slattery, director of L'Oréal Technical Center, "If your locks are longer or very thick, stock up."
4. THOU SHALT SPLURGE ON tools
The application tools supplied by most kits are pretty flimsy. If you want the job done right, says Backe, pick up pro tools at any beauty-supply store.
MC RECOMMENDS: SPONTEX VINYL GLOVES, COLOR TRAK CADDY BOWL AND BRUSH
5. HONOR THY strand test
Save yourself after-color anguish (and a hefty color-correction bill) by doing a strand test on your underlayer before coloring your entire head, says Slattery.
6. THOU SHALT touch up WITH CAUTION
"Mismatched roots and ends are a dead giveaway that you dye your own hair," says Backe. "This happens when dye dribbles down from the roots and oversaturates already-colored ends." Better to get a friend — or a three-way mirror — to help you confine dye to the regrowth area. Need to refresh the rest of your hair too? Wait until the last five minutes of the process, then run color down the shaft.
7. THOU SHALT NOT trash THY TRESSES
"The more you baby your hair, the better it maintains new color," says Slattery. So choose shampoos formulated for color-treated tresses and deep-condition at least once a week.
MC RECOMMENDS: KÉRASTASE REFLECTION BAIN MIROIR SHAMPOO AND CHROMA REFLECT MASQUE
8. THOU SHALT age GRACEFULLY
"To cover grays, choose an allover shade that falls between your new silver strands and the color you had as a child," says Slattery. "This softens your face and camouflages regrowth."
9. THOU SHALT CODDLE THY curls
Coloring curly hair is a delicate business, says Ouidad, of Manhattan's Ouidad Salon. Because it's naturally dry and porous, it absorbs color faster and is more susceptible to damage than straight strands. Ouidad says to dilute the dye by replacing a quarter of the activator with distilled water. Then proceed as usual.
10. THOU SHALT play THE COLOR FIELD

"Hair color is like an accessory," says Marcy Cona, Clairol's color director. "Play with shades lighter, darker, or redder than you usually choose. You might make a pleasant discovery." For real commitment-phobes, try a tinted gloss or washout color-enhancing foam.
MC RECOMMENDS: MATRIX SHADE MEMORY FOAMS, JOHN FRIEDA LUMINOUS COLOR GLAZE
Marie Claire email subscribers get intel on fashion and beauty trends, hot-off-the-press celebrity news, and more. Sign up here.