5 Things I Learned from My Hairstylist
The top tips I've picked up thanks to my obsession with blowouts, highlights, and my favorite hairstylist.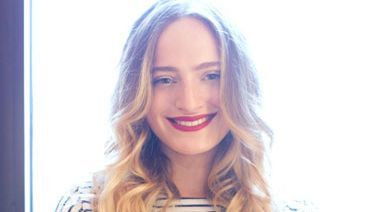 (Image credit: Courtesy of the Company)
Throughout time, there have been billions of BFF relationships between celebs and their trusted hairstylists. We've got Jennifer Aniston and Chris Mcmillan, who created the iconic "Rachel," Kate Hudson and David Babaii, and Hallie Gould (that's me!) and Halli Bivona. Okay, so maybe not so much the last one, but Bivona, of the John Barrett Salon, and I are a fantastic duo—we're just not famous yet. Plus, we have the same name!
I've been seeing Bivona for advice on my hair (and my life) for years and she's taught me millions of tips and tricks to getting my hair as first-class as possible. I've decided to let you in on her, and now my, little secret, so here are the top five most important things I've learned from my hair guru.
1. Split ends won't go away just because you ignore them.
I've always thought it seemed counterintuitive that if you want your hair to grow, you have to cut it. I would often go months (read: years) without a trim, expecting to look like Rapunzel. But my one and only hairstylist finally urged me to give up my stubborn ways, and it turns out she was right all along. "To grow your hair, it is best to wait a little longer in between cuts," says Bivona. "However, if your ends feel dry and brittle, get rid of them—the longer you wait, the further the split ends creep up your hair shaft and the more length you'll need to chop off at your next haircut."
2. Your color can always be fixed.
I freak out about basically everything: my hair's too light, my hair's too dark...you get the picture. I always need Bivona to tell me to calm down and explain, "When you first color your hair, it's at its most drastic," she says. "Take a day, wash your hair, and then decide if you're not into it."
3. Your natural texture is better than you think.
We all want the hair texture that we don't have. I have crazy curls and my mother has super straight hair, and we've always fought over who got the short end of the hair stick. They don't say the grass is always greener, you know, for nothing. Luckily, Bivona imparts her wisdom on me at our weekly appointments. "We convince ourselves that because our hair can't hold a curl or frizzes up easily that it's totally awful! However, if you treat your hair like you treat your skin—use specific products to help problem areas—you can improve the look of your natural texture." Embrace those curls, girls.
4. Not all shampoos and conditioners are created equal.
This is the most shocking thing I've learned. Basically, some of the drugstore-brand products we've been using all our lives are doing some real damage to our hair. I'm always trying to save money (have you tried paying rent in NYC these days!?), but splurging on a good shampoo and conditioner is necessary when it comes to reversing all the damage from pollution, styling tools, and hair dye. "While some brands have improved over the years, many use silicones, sulfates, and parabens. These are quick-fix ingredients, and they don't improve hair over time."
5. Investing in a good blow out is always worth it.
I'm a beauty editor, so I've learned a thing or two about a good hairstyle—but there is nothing better than a fresh, bouncy blow dry from a salon. So sometimes, it's worth it to splurge and let a professional take over. When you're preparing for a big interview, networking at an event, or presenting at an important meeting, your hair should be the last thing you're worried about. I have gotten flustered countless times thanks to styling mishaps that could have been avoided (has anyone else ever gotten their hair stuck in a round brush?). "With the introduction of blow dry bars, it's easier and cheaper than ever to look polished and avoid vanity-related stress," says Bivona.
Related Video: Lazy Girl Hair Hacks
Celebrity news, beauty, fashion advice, and fascinating features, delivered straight to your inbox!
Hallie has worked in beauty editorial for ten years and has been editorial director at Byrdie since 2021. Previously, she was a senior editor at Byrdie since 2016. During her time at Byrdie, she's written hundreds of high-performing stories on skincare, wellness (including fitness, diet, mental health, body image, et al) makeup, and hair. She's a regular on set, helping to source inspiration for makeup and hair looks, as well as interviewing celebrities, models, and other notable women and men in the beauty space.
Before that, Hallie ran Marie Claire's social media and wrote beauty and culture stories for the site, and helped launch Time Inc.'s digital-only beauty brand, MIMI. After college, she contributed to Time Out New York's Shopping & Style section before landing her first beauty editor gig at Hearst's Real Beauty. Hallie's writing has also appeared in ELLE, Cosmopolitan, and InStyle. Hallie graduated with a BA in Communication Arts from the University of Wisconsin-Madison.