Editors handpick every product that we feature. We may earn commission from the links on this page.
The Best Hair Mask For Your Hair Type
In a world full of options, here are our top recommended products.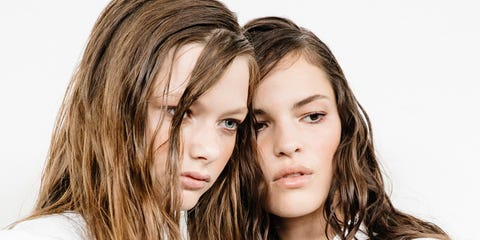 Air pollution, hard water, hot tools—we put our hair through a handful. But many women are still hesitant about applying hair masks on a regular basis, in part because it's hard to know why we need them. You might think that your regular conditioner fix can suffice, but a mask—in all its creamy, goopy glory—is essential to your routine. Think of a hair mask like a conditioner on steroids: a conditioner covers the hair cuticle with a protective coating, but a mask goes deeper to nourish the cuticle and target specific hair concerns at the scalp. "I think people forget that the scalp is an extension of the skin on their face," says Dr. Rita Linkner of Spring Street Dermatology. "Since it's usually covered completely with hair, they tend to neglect this area and only treat the hair itself. A healthy scalp is the key to healthy hair."
And you don't have to be a licensed trichologist or kitchen beautician to get in on the action—the beauty market has come a long way since the days when you'd have to whip up a concoction yourself. If you have a hair concern, there's a mask for it. Lackluster color? Hair mask. Flaky scalp? Hair mask. Thinning strands? Hair. Mask. The right ingredients can do all this—revive brassy tones, purify an oily scalp, or fortify fried ends—all within a matter of minutes. We've made finding the perfect formula a bit easier by breaking down the best masks for your biggest hair woes.
This content is created and maintained by a third party, and imported onto this page to help users provide their email addresses. You may be able to find more information about this and similar content at piano.io