The 19 Biggest Hair Trends of 2021, According to Celebrity Stylists
Stay home, stay stylish.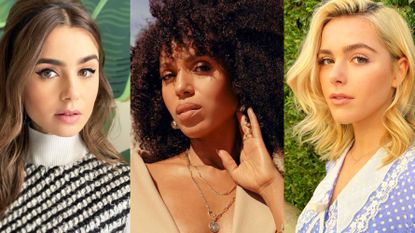 (Image credit: MarieClaire)
Marie Claire Newsletter
Celebrity news, beauty, fashion advice, and fascinating features, delivered straight to your inbox!
Thank you for signing up to Marie Claire. You will receive a verification email shortly.
There was a problem. Please refresh the page and try again.
We'll be honest: 2020 wasn't exactly a banner year for hair. Salons were shuttered. Red carpet events cancelled. And keeping your hairs pressed and laid was the furthest thing from your mind. But the pandemic wore on. And on. And most of us slowly came to realize that good hair can, at times, help usher in a good mood. Good hair days are a thing for a reason. Which is, after all, why you've likely clicked this link in the first place. Welcome: We are happy to share that 2021 hair forecasts are sunny, with plenty of good hair days on the horizon.
We checked in with all our favorite celebrity hairstylists who have been, in spite of it all, bringing their clients COVID-safe waves, blowouts, cuts and trims. And what do they think the new year holds? Flattering haircuts that can grow out effortlessly, requiring very few in-between touch-ups. Waves that don't fall into any particular category. Hair color that's more natural than not. And of course, as always in the twilight of international turmoil, there's a little whimsy in there too. Retro styles with a costume-y wink. Updos with plenty of pomp and circumstance. And hair color that makes a statement (of caring or not caring—you get to choose). And in the end, that's what the joy of hair is all about: Choice, agency, beauty, and freedom. Ahead, 19 of the most on-trend hairstyles for 2021.
1.'60s Styles
The '60s were a time of revolution and reinvention, and so too will be 2021. This time around, expect styles to be less crisped with hairspray, more geometric, and all-around more fun. (Peep the black ribbon in this look just behind the front layers.)
2.Blunt Ends
Maybe it's because nobody got a haircut in 2020, but there's something about precision ends that hairstylists like Kahh Spence find deeply appealing—and we couldn't agree more.
3.Crimped Waves
Call it what you want to call it, waves that were definitely created by a curling iron but do not look like they were created by a curling iron are and will continue to be all the rage.
4.Purposeful Roots
Here's one thing the pandemic taught us: Roots are fine, desirable even, and shouldn't be hidden away. Here, hairstylist Clayton Hawkins parted Kiernan Shipka's strands deep and on the side—all the better to show off those cool roots.
5.Long Layers
If you didn't get your haircut for the better part of a calendar year, chances are you're sitting on some seriously long strands. One trip to the stylist can clean that up into something with shape and structure—and plenty of grow-out potential.
6.Natural Curls
Today. Tomorrow. Always. Natural curls that have been quenched with oil and diffused into springiness are having a moment for eternity.
7.Instagram Waves
I used to call these deep sets Hollywood waves, but I'm rebranding. Tumbling, shiny, and purposeful waves aren't going anywhere, and I for one am here for it.
8.Natural Hair Color
The way Mother Nature intended...is very likely a very good idea. Here, bleached-out tips from a hypothetical summer in the sun melt seamlessly into cool brown roots.
9.Long Bangs
You need a change? I need a change! Everyone needs a change! And long, swingy bangs—the kinds that graze your lashes and make you feel instantly ten thousand percent cooler and more polished—are a great option.
10.Unfussy Updos
The higher the hair, the closer to God. And the less fussy and fraught it looks in the meantime, the better.
11.Two-Step Cuts
While this looks like a million bucks, it's actually a haircut with two very simple bones: A layer of hair cut a few inches below the chin, and a second one just above the chest. Bent ends give it the movement dynamism we all crave.
12.Lighting Highlights
Quick jags of color wherever you—or your colorist—see fit can be a welcome injection of fun into otherwise one-note hair tones.
13.Sliced Strands
Remember what we said about blunt ends? Yeah. Take it one step farther like Julianna Hough and her longtime stylist Riawna Capri by styling it stick straight and letting those angles sing.
14.Grown-Up Bedhead
Mariah Carey would never...leave the house without a full face and a set. Here, irregular curves and bends give the appearance of effortlessness while still being supremely on point.
15.High Ponies
I don't know who needs to hear this, but...you don't need to be Ariana Grande to rock a ponytail. Gather it at the highest point of your head, flatiron the length, and get ready to serve.
16.Face-Framing Layers
The 2021 version of Jennifer Aniston's famed face-hugging crop? This modern take by hairstylist Mark Townsend. Rather than cutting diagonally, Townsend went long and choppy on the ends for plenty of movement and no stiffness.
17.Braids 2.0
Is is an A) braid, B) updo, C) cornrow, or D) a definition-defying masterpiece? If you answered D, congratulations, you get it. Don't put this, or any hairstyle, in a box.
18.Voluminous Roots
There's just something about a little added oomph at the root that can make any cut, color, or style feel just a skosh more polished.
19.Imperfect Texture
So you just took a shower. Or you just worked out. Or you got a blowout a few days ago, slept on it, and wore a wool hat. Lived-in textures have a humanist vibe that will be everywhere in 2021.
Celebrity news, beauty, fashion advice, and fascinating features, delivered straight to your inbox!
Hannah Morrill is a writer and editor based in Portland, Maine. She's an avid reader, an indifferent face-washer and a sunscreen/retinol evangelist.