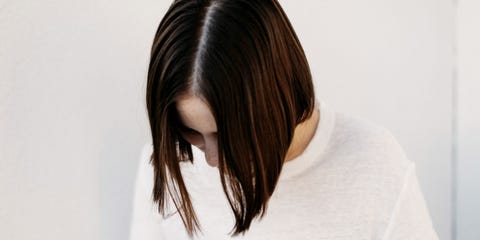 Trust us when we tell you: The key to beautiful hair is maintaining clean, healthy skin underneath. Here are five products that will whip your scalp into shape on the regular.
For a next level cleanse, try a pre-shampoo scalp scrub, which helps contribute to cell turnover and hair growth while giving your scalp the exfoliation it so desperately needs if you, like us, are a dry shampoo addict. But just be careful not to overdo it as this can strip your hair of the natural oils that are good for it.
Christophe Robin Cleansing Purifying Scrub with Sea Salt, $52; sephora.com.

In Jen Atkin we trust, and according to the Kardashian's go-to stylist, her new Ouai supplements can transform your scalp and hair in three months time. Offered in three different formulas—Thin, Dry, and Oily—the vitamins are packed with ingredients, like primrose, niacin, and vitamin A, that "feed" the scalp to yield stronger and shinier strands.
Ouai Hair Supplements, $28; sephora.com
Tap into ancient Japanese geisha traditions and "Swiffer" your scalp daily with these dryer-sheet-like hair brush liners. They help absorb oil, dirt, and product debris that can contribute to dryness and flakiness.
Mirai Clinical Deodorizing Hair Brush Liners (30 Pack), $6; miraiclinical.com.
Proper scalp health begins with keeping aggressors, such as pollution and free radicals, out. This concentrate nourishes the scalp and keeps sebum levels in check while preserving its natural protective barrier.
Aveda Pramasana Protective Scalp Concentrate, $45; nordstrom.com.

Your scalp needs stimulation to boost blood flow, which promotes scalp healing and hair growth. This brush, which is specifically designed for the shower, has rounded tips that declog the pores of dirt, oil, and whatever else lies beneath. It also feels heavenly.
S Heart S' Scalp Brush, $79.99; amazon.com