Cynthia Nixon Excited to Return to Her Blonde Roots
The star explains why she got rid of her red hair after Sex and the City 2.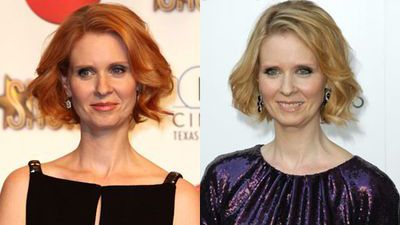 (Image credit: Ryan Miller/Getty Images (left); Neilson Barnard/Getty Images (right))
For those unfamiliar with the sometimes-complicated personality traits of the four main characters of Sex and the City, they may simply classify Miranda Hobbes — played by Cynthia Nixon — as "the redhead."
Well, that's no longer the case.
Nixon caught up with Marie Claire at the New York Women in Film & Television "Designing Women" awards gala Tuesday night and admitted to returning to her roots...which happen to be blonde.
"I am not a redhead, I'm a blonde," she tells Marie Claire of her new look, which she debuted at the Sex and the City sequel's New York City premiere on Monday. "Right now, this isn't my natural blonde color. I had to dye it in order to get the red out of it."
(She confides, however, that she doesn't have any trademark hair and makeup tips because she's been "in good hands" with her Sex and the City beauty team — stylist Donna Marie Fischetto and makeup artist Kerrie Plant-Price — for the past eight years.)
Why the big change?
"I go red for the film, but I go back to my own hair as soon as I possibly can," the star — in a purple Peter Som dress — says. "I like the red very much...I certainly feel like I look like myself in the poster and in the movie, but it's a lot of work to maintain."
And her lighter locks come with an added benefit of helping Nixon dodge the paparazzi.
"The recognition factor is so much higher when I'm a redhead, so when I'm a blonde I can pass under the radar a lot more easily," she reveals.
Tell Marie Claire: Do you prefer Cynthia Nixon as a blonde or a redhead? Share your opinion in the Comments section below!