Beauty Product Overload
Beauty Product Overload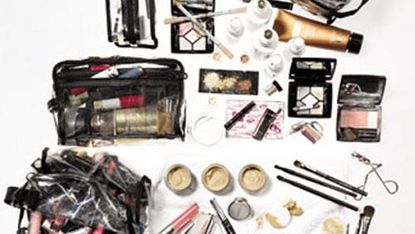 (Image credit: Jeff Harris)
One late-summer evening a few months ago, I was about to steep myself in an Aveeno oatmeal bath. Opening the doors to the vanity below my bathroom sink, I reached around a mountain of beauty products for my Lady Gillette. It was a regrettable move. I unleashed The Great Avalanche.
Out tumbled Supersmile whitening toothpastes, Nivea hand creams, four different models of Tourmaline Wetto- Dry Ceramic Flat Irons, five sets of Vincent Longo "La Dolce Vita" false eyelashes, as well as umpteen tubes of anatomically specific (lower vs. upper back, foot vs. elbow) exfoliants, polishers, and scrubs.
There was no Lady Gillette, of course, but there were enough skin cleansers, sunscreens, and astringents to stock a Walgreens. How did I wind up with multiples of the same, pristine Guerlain Terracotta bronzing powder, Stila grapefruit lip glaze, and YSL lilacto- violet eyeshadow wheel? When it comes to beauty products, what prevents me from using up, scaling back, or--dare I say--tossing out?
A paranoid sense of preparedness, for starters. Besides a battery-operated radio, bottled water, and an Eveready flashlight, my survival kit includes a make up bag weighted with eight pounds of orphaned cosmetics. Should an airline confiscate my toiletry case or a blackout precipitate mass looting of every makeup counter in town, I've got backup. It makes me feel safe. My disaster mentality is at its fiercest in the face of product extinction. A decade ago, when I learned that my beloved Elizabeth Arden facial mask-- a creamy pink clay--was to be discontinued, I splurged on 10 containers, which I calculated would last me an equal number of years. Unfortunately, the mask had a short shelf life. Two years later, my backup stash had turned as dry and gray as cement. I understood why they discontinued it.
With similarly afflicted women, nostalgia seems to play a role as well. "I've still got my first eyeliner. It's Lancôme 'Blue Teal,'" my friend Peggy Schneider, 42, a yoga instructor, says wistfully. "It represents another part of my life."
Writer Daphne Merkin, age 50, believes her own obsession with cosmetics is a form of compensation for the love she was denied by an icy mother and an indifferent father growing up. The momentary perfection, the fleeting sense of gratification can be hard to resist. "The notion that total transformation can occur in a peel-off mask is very alluring," she says.
Stuffed in shopping bags hidden in the backs of closets, lining bathroom countertops, and wedged into several cabinets below the sink, as well as on shelves that are mounted on the walls, Merkin's inventory numbers in the thousands. "I'll die beneath a barrage of aged blush-on," she shudders, recalling New York's legendary
Collyer brothers, reclusive hoarders who in 1947 were found dead amidst 103 tons of trash in their Harlem brownstone.
Surrounded by the debris littering my own bathroom floor, I finally realized the time had come for a Hefty bag. With a mixture of shame, guilt, and sadness, I chucked a small fortune in beautifying merchandise. By 3 a.m., my bulldozing had paid off: There, in the clearing, lay my Lady Gillette.
DON'T THROW IT AWAY!
When you're purging your makeup cabinet, rather than toss unused products, donate them to Dress for Success, a nonprofitorganization that provides clothing and style tips to disadvantaged women who want to enter the workforce and change their lives. Products must be less than six months old. There are 78 affiliates in the U.S. and overseas; to locate the one nearest you, log on to http://www.dressforsuccess.org.