Jessica Alba, Clean Beauty Advocate, Wants More Transparency in the Industry
"Consumers think they're buying something that's better for them, and it isn't most of the time."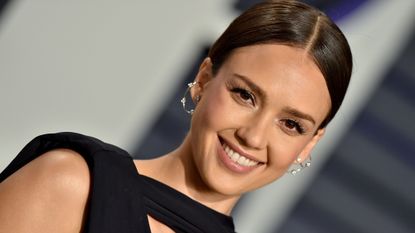 (Image credit: Getty Images)
Jessica Alba wants you to do your homework. When it comes to beauty products, Alba, the founder of ethical lifestyle brand The Honest Company, believes educating yourself on harmful chemicals and ingredients is the only way to make sure you're getting what you pay for. "Clean beauty is trending," the actress tells me at a Manhattan event celebrating the launch of her clean liquid lipsticks. "Frankly, in beauty, there are lots of gimmicks on natural, organic, and clean beauty," she continues. "Consumers think they're buying something that's better for them, and it isn't most of the time. Unfortunately, there are no rules, laws, or standards that are keeping beauty brands from using this type of marketing language. There's no real government oversight on what exactly is considered clean and natural. The oversight even on what is organic in America is loose. Because we don't have the government regulation, you have to use your discretion, do your homework, and research."
The actress-turned-mogul is well-versed on the topic, herself. She's a pioneer in the clean beauty space. She started The Honest Company in 2011 with an emphasis on incorporating good-for-you, naturally-derived ingredients in baby and household products. In 2015, she launched Honest Beauty, Alba's clean color cosmetics and skincare range. Alba's been ahead of the eco-friendly wave, but not everything's easy when you're one of the first to create a billion-dollar clean beauty company.
Honest Company has had overcome controversy in the wake of several lawsuits for product efficacy. Four years ago, a consumer claimed Alba's sunscreen wasn't "effective" (opens in new tab) and was mislabeled as natural. The following year, the Organic Consumers Association filed a lawsuit (opens in new tab) claiming the ingredients found in the baby formula weren't really organic. Those lawsuits have since been settled, and in 2018 Alba started fresh with a relaunch of her company. Alba cut Honest Beauty's inventory in half, from 83 to 40 beauty products. Her new vision is one of a streamlined collection of clean products available at an accessible price point.
Her line of vegan liquid lipsticks are a reflection of valuing quality over quantity. The collection includes seven thoughtful shades created with every skin tone in mind. "We started by figuring out how to give a range of neutrals and provide a true nude for different skin tones with a few pops of color," Alba explains. "Everyone wants that perfect nude. I really struggle with nudes myself. It's like one extreme or the other. I usually look like a corpse when I'm wearing other people's nudes. Or, it looks like I'm wearing a '90s brown mauve color. If you want a true nude for your complexion, it's hard to find. Especially when you have a different skin tone that isn't always accommodated for. So, we wanted to address that."
On top of the inclusive shade range, the long-lasting formula has an impressive lineup of ingredients, like avocado oil, hyaluronic acid, and nourishing plant-powered botanicals, crafted by the brand's in-house chemist. Transparency around "clean" ingredients is the one thing Alba wishes she could change about the industry. "When you see companies use the language 'made without x, y, z...' but then they don't tell you it's also made with…it's impossible to know what to look out for," Alba explains.
Shop Honest Beauty Products
Alba argues that America needs to catch up when it comes to clean beauty. "The baseline of Europe is way more stringent than this country. There are over 1600 chemicals Europe doesn't allow companies to use in personal care or beauty. In this country, there are only 11 ingredients that are banned. It's crazy!" she says. Honest, meanwhile, bans 3,000 chemicals. She's optimistic about the future of the industry, though. Consumers are demanding more. "There's a certain consciousness you need to have to even think about wanting something different from what's already out there. And having a consciousness that expects a better standard is great. As Gen Z and millennials do their homework and research more, they'll be able to cut through the noise when it comes to false beauty marketing."
Try the Best Honest Beauty Products
As for the future of her own company, Alba says we can expect an exciting launch coming down the line: a clean foundation, which she reports has been in the works at Honest for a very long time. "What I love about a foundation is a buildable formula. I want a sheer coverage that's still doing a little something something. But if I'm going to an event and need a different canvas, I want to be able to wear a few layers of it. How do you the most out of one product? It's a challenge, but we're working on it. We've been working on it." In other words, stay tuned in 2020.
For more stories like this, including celebrity news, beauty and fashion advice, savvy political commentary, and fascinating features, sign up for the Marie Claire newsletter.
RELATED STORY
Jessica Alba And Gabrielle Union Play 'How Well Do You Know Your Co-Star?'
Maya Allen is the former Digital Beauty Editor at MarieClaire.com where she covered makeup, skincare, haircare, wellness, you name it! She has a 15-step skincare routine, owns over 200 red lipsticks, and enjoys testing the latest and greatest in beauty. On most weekends, you can find her at her happy place, which is her makeup vanity. There, she's usually blasting her speakers while singing along to lyrics at the top of her lungs, and making sure her highlighter is on point.