I Did My Own Wedding Day Makeup
Here's what I learned.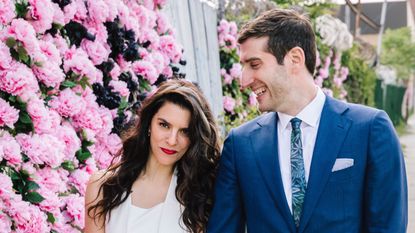 (Image credit: Joel Barhamand)
Marie Claire Newsletter
Celebrity news, beauty, fashion advice, and fascinating features, delivered straight to your inbox!
Thank you for signing up to Marie Claire. You will receive a verification email shortly.
There was a problem. Please refresh the page and try again.
Let me just start by saying that Daniel Martin did my best friend's makeup for her wedding—and, no, my best friend is not Meghan Markle. Like me, she's a beauty director (here she is with Daniel on her wedding day). When I got engaged about a year after her, I probably could have asked Daniel if the Duchess would be able to spare him for a day, or I could have reached out to Erin Parsons or Rachel Goodwin, or any of the dozens of other high-profile makeup artists I've worked with over the years. But I didn't. From the beginning, I knew I wanted to do things myself.

This decision was controversial. Almost every person I shared my plan with looked at me like I was crazy. Or, more accurately, they looked at me with a mixture of pity and confusion. Most people love having their makeup done by a professional, but I do not. I kept explaining that I knew my face better than anyone and that I actually had the skills to create the look I wanted. But people would tell me how stressful weddings are, and as my date drew closer, doubts started creeping in.
Then, two months before the big day in May, I had makeup artist Patrick Ta on my podcast, Fat Mascara.
Patrick works with Gigi Hadid, Priyanka Chopra, Camila Cabello, Joan Smalls…basically everyone. While we were hanging out, I told him my plan to do my own makeup, and he immediately started nodding. He said some people find doing makeup stressful, but others find it deeply calming.
Finally, someone understood! It wasn't just that I knew I'd be happy with the finished look, it's that applying makeup actually relaxes me. The ritualistic motions, the satisfying click of the compacts, the smells of the powders and creams—it's all deeply soothing. Plus, the fine-motor skills take so much concentration that it's impossible to think or worry about anything else during the process. Patrick said he knew that feeling well, and completely supported my decision. Then he gave me his blessing—and one of his Major Glow Setting Fans—and sent me off to get married.

3 Things I Learned Doing My Own Wedding Makeup
1.Build in extra time.
It takes me about six minutes to do my makeup every morning. For my wedding, I did my usual look—glowy skin, major brows, a bit of brown eyeliner, red lips—and it took 35 minutes. The difference was the time I took to blend in the face products and really let them settle (with a little fanning to speed up the dry time) before I applied the next thing. The technique helps with longevity, sure. But it also creates a more dimensional look, so the makeup appears less mask-y. Here's what I used on my face:
2.Use gel eyeliner.
An eye pencil allows you to work the color between your lash roots, while a liquid liner lets you create a crisp, even line. Applying a gel eyeliner with a super-tiny brush is the best of both worlds. (My all-time favorite combo is Bobbi Brown Long-Wear Gel Eyeliner in Caviar Ink applied with the Bobbi Brown Ultra Fine Eye Liner Brush.) Plus, gel formulas last longer than any other type of liner, according to one of my makeup artist buds (hey, Sir John!).
3.Get a lash lift and tint.
I didn't wear mascara at my wedding. There, I said it. I knew I was going to be crying, and I don't like waterproof mascara (it always looks clumpy on me), so I got a Sugarlash Pro Lash Lift and Tint two days before. My lashes looked dark, thick, and curled and they stayed that way all day—and for the next 5 weeks. Check out the before and after:

Here's Everything Else I Used
When I think back to the weekend I got married, I only have one regret, and it has nothing to do with my makeup: I wish I had remembered to try some of the food at our Saturday night party at The Castle by Marlow Events because everyone said it was amazing. Plus, I know my long-lasting red lip combo (Beauty Pie Moisture-Lock Wondergel Lip Liner in Racy + Chanel Rouge Allure Ink Matte Liquid Lip Colour in Experimenté) would have held up just fine.
For more stories like this, including celebrity news, beauty and fashion advice, savvy political commentary, and fascinating features, sign up for the Marie Claire newsletter.
RELATED STORY
Celebrity news, beauty, fashion advice, and fascinating features, delivered straight to your inbox!
Jennifer Goldstein is the former beauty & health director of Marie Claire and co-host of the award-winning beauty podcast Fat Mascara. In her quest to uncover the world's beauty secrets, she's gotten tattooed in New Zealand, dug up turmeric in India, harvested shea nuts in Ghana, and squeezed enzyme-rich eggs from salmon in Norway. She can pluck eyebrows like a pro and has read the FDA monograph on sunscreen labeling and effectiveness—but she still can't get liquid eyeliner to look the same on both eyes.