What's in Laura Linney's Bag?
The Golden Globe-winning star unloads the contents of her purse.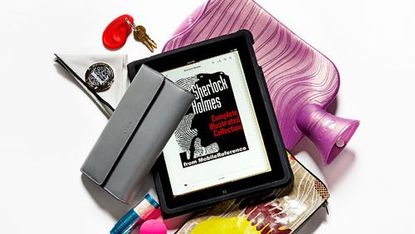 (Image credit: Jeffrey Westbrook/Studio D)
Key ring: "My key ring is a rubber replica of Van Gogh's ear. I got it in a store in Great Barrington, Massachusetts, last year. I do like Van Gogh, but really the ear just feels comfortable to hang onto."
Purse hanger: "My mother-in-law gave me the most fantastic gift: a portable purse hook from Cambria Cove, so you never have to throw your bag on the ground at a restaurant again. They come in a tiny, little pocket of a thing. Mine has an 'L' on it."
Handkerchief: "I like a real, old-school handkerchief. My favorite one is embroidered. My family is from the South, and I can remember all those ladies I grew up with, like my great-aunts, who had handkerchiefs. There's something sweet about them."
Lodis wallet: "In my wallet, I carry a picture of Stanley DeSantis, a very good friend of mine who's no longer alive, so I get to see him every day, which makes me happy."
Colorscience Powder Sunscreen: "It comes in a neat little tube with a brush on the end of it that dispenses the powder — the sunscreen is water-resistant, and you don't even feel it."
By Terry Baume de Rose: "My everyday lip gloss, which comes in a little pot — it's easy, subtle, and pretty."
Pink egg sponge: "I use it when I need to 'zhuzh' my makeup a little bit. It helps redistribute it and does a little fine-tuning."
Robert le Héros cosmetic bag: "In my cosmetic bag I keep Tweezerman tweezers and Canadian hair clips — I have a lot of hair, and it's hard to get up, so these are the only things that work. Also, a Tide stick that I use a lot, and a small tube of Neosporin, and wintergreen Altoids."
Hot-water bottle: "I get cold — really cold — when I travel. I met Anne Bancroft once on a plane, and she had a hot-water bottle with her, so now I tend to travel with one. Restoration Hardware makes fantastic cashmere covers for them. It sounds so terrible to travel with a hot-water bottle, but it keeps me warm!"
iPad: "I always have my iPad set on Things, which is a super-duper organizing application. I also have the complete edition of Sherlock Holmes on here. I had a weird obsession with him growing up."
Adora: "Delicious chocolate calcium chews, so I remember to eat one every day."
Chewable Pepto-Bismol: "Always good to have in case of an emergency."
Halls: "I love my strawberry-flavored Halls."
Band-Aid Blister Block: "The most important thing in my first-aid kit is this. It's a soft, cushy pad that goes over a blister and completely protects it so it won't burst. If you're getting a blister, it will stop it from happening. So whenever I have new shoes that might be a little iffy, I always carry this with me. Always."
The bag: Tod's. "I'm very hard on my bags because I tend to carry a lot of stuff with me. I got this purse a year ago, and it's my most favorite bag I've ever had — it's big, but it's elegant. I just love it."
Celebrity news, beauty, fashion advice, and fascinating features, delivered straight to your inbox!