Nail Art How-To: Dipped in Gold
Accessories don't just mean bags, shoes, and jewels, we're talking about your nails, too! Here nail artist Alicia Torello shows us how to achieve this gorgeous gold foil manicure!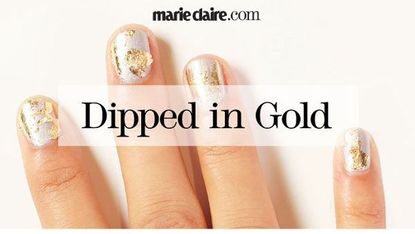 (Image credit: Marie Claire)
1. Apply Silver Polish. Before beginning, file your nails to the desired shape and apply a base coat (we like Orly's Rubberized Base (opens in new tab)). Then, apply two coats of silver nail polish (we used Sally Hansen's Celeb City (opens in new tab)).
2. Add Gold Foil. While your nails are still tacky (in between wet and dry), place a sheet of gold foil—which you can pick up in craft stores—onto your nail.
3. Adhere the Gold Foil. Press down to attach it, and then peel it off. You will be left with random pieces of gold foil attached to your nail.
4. Finish With a Top Coat. Apply a top coat over the gold foil. This will stop it from peeling off.