Minimal Effort, Maximum Results
We all have the best of intentions come New Year, but more often than not, we end up channeling Bridget Jones instead of a Stepford wife. Luckily these five products make looking great easy.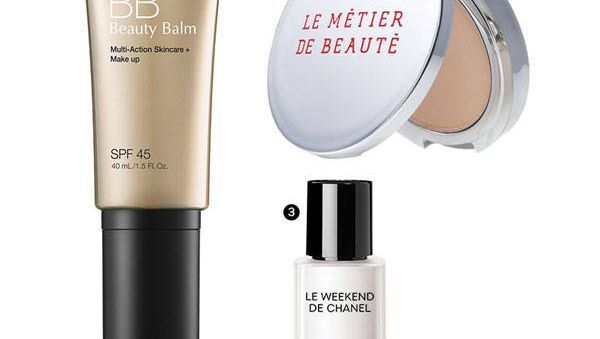 (Image credit: Archives)
1. Dr. Jart+ Premium Beauty Balm, $39; sephora.com.
We're sure you've heard the benefits of BB cream, but Dr. Jart's premium formula not only covers imperfections and redness, it contains SPF 45 for sun protection, is a moisturizer, and contains bio-peptide complex infused with white gold to prevent aging! If there's only one thing you have time to apply in the morning, make it this.
2. Le Metier de Beaute Eye Brightening & Setting Powder, $36; nordstrom.com.
Everybody needs a little eye brightening, and this setting powder is basically a miracle worker. The almost invisible powder works to immediately open eyes, giving the illusion that you had more sleep, and naturally have bigger, brighter, more beautiful peepers.
3. Le Weekend De Chanel, $115; chanel.com.
While it may seem decadent, this wonder product will truly transform your skin. Named 'Le Weekend' as you should only use it twice a week (and it's Chanel, so come on), the combination of glycolic acid and rose water exfoliates and rejuvenates skin. We guarantee you'll see results in one to two weeks.
4. BLISS Triple Oxygen Instant Energizing Mask, $54 for pack of 4; sephora.com.
You sleep through your alarm, have five minutes to get ready, and look terrible. The answer to looking like you spent 8 hours in bed and got up for a 6 a.m. yoga class? Slapping on a pair of these under-eye masks while you brush your teeth, get dressed, and grab your bag.
5. M.A.C. Retro Matte Lipstick in Ruby Woo, $15; maccosmetics.com.
We're sure you've heard it before, but red lipstick really is transformative and essentially, the fastest way to look like you made an effort. Not only does it detract attention from tired eyes, it makes your teeth appear brighter, and looks amazing (and so French!) with a pair of oversize sunglasses.