Broken Heart Beauty: Makeup for a Breakup
When the look of lost love is in your eyes, it's surprising what a new polish or lipstick can do. Julia Jones chats up the experts who help celeb clients survive heartache in style.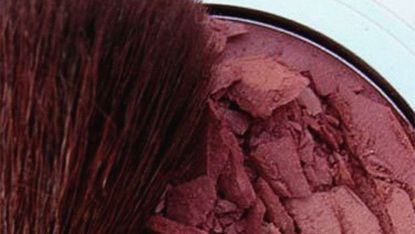 (Image credit: Carrie Winegarden)
Never is a celeb's beauty more fascinating than when she's suffering a breakup. When there's a big change in her appearance, whether good or bad, it's always news. We winced when born-blonde Michelle Williams went on a mousy-brown binge after calling it quits with Heath Ledger; we cheered when Ellen Barkin got buff during divorce proceedings from billionaire Ron Perelman. Back in the '60s, near the end of her tempestuous liaison with Frank Sinatra, Mia Farrow infuriated Ol' Blue Eyes by having her long, golden hair chopped off by Vidal Sassoon. Alas, love had fled, but the pixie cut hung in there — and made Farrow even more famous.
Oddly enough, when the whole world knows you're splitsville ('cause the tabloids chronicle your every move), you get a chance to see yourself as others do, and how heartache takes its toll. Most of us who pine in private don't have that luxury. Take my friend Sandra, a 34-year-old stunning brunette PR exec who, after a messy break from a much-younger Italian boyfriend, was last seen sobbing, "I'll never have sex again!" while working her way through a pint of Ben & Jerry's Half Baked. Shampoo hadn't touched her hair in days. Sonya, on the other hand, whose 14-year relationship with her college sweetheart abruptly dissolved, now spends every nanosecond training for marathons. Never has her body been so toned, but damned if she slows down enough to let any new guy admire it.
Since there's both art and science to putting on a brave face, we thought we'd ask the beauty experts who help the celebrities do just that. They can't mend a relationship, but they sure as hell can get you ready for the next one.
HAIR
WHAT YOU'RE TEMPTED TO DO:

Fry it, dye it, even Britney-fy it.
WHAT YOU SHOULD DO:
"Put down the dye bottle," insists Laurie Daniel, of Manhattan's hipster haven OC61 Salon. "You'll most likely regret drastic changes made in the first month or so after a split. Besides, damage control for a bad dye job can be brutal on hair and really expensive." As for pre-breakup goldilocked Michelle Williams, it was painfully obvious that her murky tresses were a cry of anguish — and not necessarily a good career move. "Ninety-five percent of my clients who go darker want to go back to being blonde almost instantly," says Daniel. "They want to change how they're feeling, so they change their hair." Truth is, this can work — if the change is subtle. Daniel attributes Reese Witherspoon's post-Ryan Phillipe It-girl status to having her bangs cut and just slightly brightening her blonde. "Cutting bangs is still a bold move, but it's not as drastic as lopping off six inches." As far as color is concerned, consider a few highlights around the hairline and crown to give an instant mood lift. "And don't drop into a salon you've never heard of," advises Daniel. "Go to someone you admire and trust — who can also offer a sympathetic ear."
MC Recommends:

Freeze 24-7 & Go Instant Smoother and Brightener and Elizabeth Arden Intervene 3-in-1 Daily Cleanser Exfoliator Primer
SKIN
WHAT YOU'RE TEMPTED TO DO:
Book appointment with cosmetic surgeon; tan yourself silly.
WHAT YOU SHOULD DO:
"Don't run to the surgeon for a dramatic overhaul," advises New York dermatologist Dr. Frederic Brandt. "You might want to enhance your pout slightly, but your lips should never enter the room before you do" (i.e., not the time to ask for Lisa Rinna pillow lips). "And you may be depressed, but don't get lazy about sunscreen," adds Brandt. "It's still the most important skin-care step to follow year-round." Taking good care of your skin in general is paramount when you're stressed. "I often see unusual acne and redness develop," notes Brandt. If this is the case, he recommends booking an appointment for a series of Isolaz laser treatments to clean out your pores and kill bacteria. Keep your skin radiant and ready for future romance by exfoliating weekly using a topical at-home peel or microdermabrasion. A good cry can be therapeutic, but you'll want to lessen facial puffiness with a cool mask or compress. Finally, even though you may feel like tossing out the birth-control pills, convinced you'll never have sex again, trust us, you will — and playing with your hormone levels means risking acne flare-ups.
MAKEUP
WHAT YOU'RE TEMPTED TO DO:
Not bother wearing any.
WHAT YOU SHOULD DO:
"It's no time to be a wimp; it's about putting on a brave face," says Nick Barose, Clarins's celebrity makeup artist whose client list includes Mischa Barton, Jessica Biel, and Anne Hathaway. Start with a silicone-based makeup primer to swipe the sleep-ravaged look (new lines and visible pores) from your complexion. Dark circles? Use a small, flat brush to dust a light-reflecting powder under the eyes. As for eyebrows, take your cues from sexy relationship survivors like Nicole Kidman and Jennifer Aniston: Lustrous, shapely, well-groomed brows are flirtatious — and prove that you haven't let yourself go. Subtly highlight dark brows with a golden brow gel and play up fair ones with an auburn pencil. Want sultry bedroom eyes like Kate Moss? Add liner (tear-proof, of course) along the bottom half of the inner rim, from the outer corner to the pupil. Maybe experiment with a jewel-tone liner to change up your look. And why not acquire a just-back-from-the-Bahamas glow by dusting a shimmery bronzer around the perimeter of the face, apples of the cheeks, and bridge of the nose? Wait till the ex sees you like this! Desirable lips, naturally, are essential, although Barose advises: "You want to appear nonchalant, like you just applied your lipstick in the back of a taxi. I'd suggest a sheer, plumping stain to give a hint of color."
MC Recommends:

Physicians Formula Plump Potion and Prescriptives Here to Stay 24-Hour Longwear Mascara
NAILS
WHAT YOU'RE TEMPTED TO DO:
Bite 'em down, paint 'em black
WHAT YOU SHOULD DO:
"Book yourself a really good manicure," advises Deborah Hardwick, founder of BuffSpa at Equinox. And now's not the time to swap Ballet Slippers for Vamp or vice versa. "Nails are also one of the first places to show stress," she adds. Ragged cuticles, chipped polish, and mismatched nail lengths reveal that you've been nervously biting and fidgeting with your fingers. But don't even think about picking up those cuticle nippers. Heal hangnails by dotting New-Skin Liquid Bandage right on top. "Take advantage of your time alone and do pampering treatments at night," suggests Hardwick. Layer rich cuticle cream on your nail beds, and while you're at it, slather your soles with an emollient salve. "It doesn't make up for a boyfriend, but at least by the time you get one, your feet will be nice and smooth."
DIET
WHAT YOU'RE TEMPTED TO DO:
Break out the Toll House cookie dough. Who can be bothered to bake?
WHAT YOU SHOULD DO:
According to psychologist Stephen Gullo, Ph.D., author of Love Shock: How to Survive a Broken Heart and Love Again, moods and foods are a lethal combination. "When going through a breakup, rather than using adult wisdom, we revert to childhood thinking, which equates eating with feeling better." Of course, overdoing highly caloric ice cream compounds the problem of feeling unattractive and out of control. If you gain significant weight, your outsides then start to mirror your inner misery. Gullo treats many celebs, who, he says, can teach us a lot about coping. Naturally good at acting and always in the public eye, they create a plan almost immediately to look better and get back in action, starting with hiring a hot personal trainer. (Damaged goods — as if!) "Strengthening ourselves physically makes us feel better inside," says Gullo. As far as diet goes, no one really "needs" chocolate. Gullo advises keeping your home low carb and junk-food-free, especially during stressful times. "I always say to clients, 'Do you like it enough to wear it? Better bikini than linguini.'"
Celebrity news, beauty, fashion advice, and fascinating features, delivered straight to your inbox!