#BigLipstickEnergy: My Favorite Lipsticks from Black-Owned Beauty Brands
#BigLipstickEnergy: Lipsticks I Love From Black-Owned Beauty Brands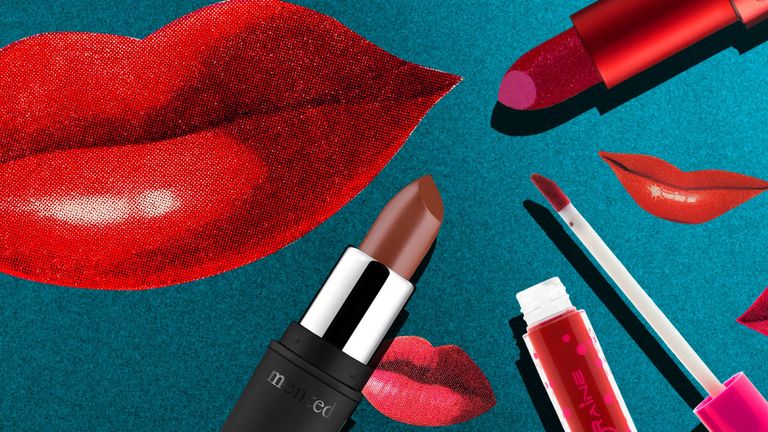 (Image credit: Design: Morgan McMullen)
I'm a serial lipstick dater. So many lip products slide onto my desk. Some I double-tap and have all the heart eyes for. Others I ghost and leave on seen. This is #BigLipstickEnergy, an honest breakdown of how I feel about the latest lip launches. Read on for the three lipstick flings I'm keeping in rotation for now. Next week, I'll have a new roster.
Matte Lipstick in Foxy Brown
Mented Cosmetics Matte Lipstick in Foxy Brown
THE DETAILS: Long gone are the days when nude was wrongfully deemed one-shade-fits-all. Thanks to thoughtful black-owned brands like Mented Cosmetics, nude has been reimagined to complement all complexions. This caramel brown color has soft red undertones to bring out every inflection of your lips. It offers a velvety matte texture in a clean, vegan formula. WHY I'M OBSESSED: Finding the perfect nude for my deep skin tone is the equivalent of finding treasure—I'll never let this go! Mented Cosmetics is a brand founded by KJ Miller and Amanda Johnson created to fill a void in the complexion category. "When it comes to beauty, no one deserves to be an afterthought," the founders state on their website, and I couldn't agree more. I love the way the red undertones bring out the faint rosiness in my complexion. And it's a nude that never looks or feels ashy on my skin tone, which is a win-win in my book.
Liquid Lipstick in Cherry Blossom
Coloured Raine Liquid Lipstick in Cherry Blossom
THE DETAILS: Meet Coloured Raine's best-selling shade: Cherry Blossom. This head-turning red is one of those in-your-face lipsticks that'll steal the show. So don't even bother with your eye makeup. It has blue undertones to suit all skin tones and a super matte texture. In fact, it's so matte that the brand suggests using an oil-based remover to take it off. Don't worry, it isn't drying. You'll just forget it's even there because of the weightless texture. WHY I'M OBSESSED: I know a good red lipstick when I see one. My close friend and colleague, Essence Gant, the beauty director at Buzzfeed and I were on a press trip together and she showed up for dinner wearing this shade. Before I even looked at the menu I had to know: "What is that lipstick?!" She pulled Cherry Blossom out and I've been hooked ever since. I researched the brand and discovered it was created by Loraine R. Dowdy, a black woman who left a high-level job in finance to work in beauty. It dries down in seconds and doesn't budge. Plus, the color is so vibrant—I owe all my favorite selfies to this red.
Black Magic Metallic Lipstick in Savage
Uoma Beauty Black Magic Metallic Lipstick in Savage
THE DETAILS: Glitter got upgraded in a major way with Uoma Beauty's Black Magic Lipsticks. The packaging in itself is a wonder to look at, but even beyond that, this is no typical shimmer formula. It uses a multitude of glitters for a dazzling finish that reads multi-dimensional...and far from basic. This soft red shade has a sparkly sheen and is made with minerals and Brazil nut oil so it doesn't skimp on hydration. WHY I'M OBSESSED: I've been a fan of Uoma Beauty since the brand launched last year 2019. It's the first Afropolitan beauty brand that's all about self-expression, African Pride and inclusivity. Founded by CEO and creative director Sharon Chuter, each product has a purpose and is made with care, which you'll notice in the messaging and when you experience the products. (Chuter is also behind the #PullUpOrShutUp movement on Instagram, which calls for transparency and progress in employee diversity by beauty companies.) What I love about this metallic red is it's surprisingly subtle, which you wouldn't be able to tell from the tube. You can build on the texture, and the metallic hue is iridescent but not too overpowering. ... For more stories like this, including celebrity news, beauty and fashion advice, savvy political commentary, and fascinating features, sign up for the Marie Claire newsletter. SUBSCRIBE HERE