A Chocolate Treat...For Your Skin
Melt away stress, indulge your senses and soften skin head-to-toe with a decadent chocolate massage.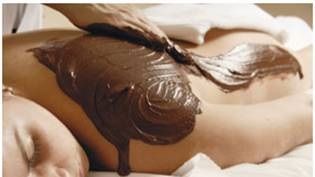 (Image credit: Body by Brooklyn)
Marie Claire Newsletter
Celebrity news, beauty, fashion advice, and fascinating features, delivered straight to your inbox!
Thank you for signing up to Marie Claire. You will receive a verification email shortly.
There was a problem. Please refresh the page and try again.
For a truly delicious way to treat yourself that will leave you smelling as good you feel, ditch your shiatsu appointment in favor of a chocolate massage. That's just what I did at luxury New York spa Body by Brooklyn.
Before starting the treatment, their B3 Signature Chocolate Massage, massage therapist Dorothy Kim talked me out of sneaking a taste, explaining that the liquid confection was melted down from sheets of 100% pure chocolate, not dripped out of a bottle of Hershey's syrup. Fair enough. We started with a body scrub (goodbye, tan!) to prep my skin to soak up the chocolate, and then I got to close my eyes and relax as the smell of cocoa filled the room. Dorothy assured me that my nose would adjust to the smell and it unfortunately did just as she finished up the massage, just in time for the next phase of the treatment. Dorothy wrapped me up in plastic and towels and left me to nap while the antioxidants in the chocolate did their thing. The plastic wrap, aside from making me feel like a Saran-wrapped dessert, helps open up the pores so that the natural antioxidants of pure cocoa are better absorbed, helping to flush out impurities, reduce cellulite, improve circulation and help stimulate cell regeneration.
Thirty blissful minutes later, I was showered off (right there on the massage table...not for the shy!) and whisked away for the second massage of the treatment. Dorothy worked her magic with cocoa lotion this time instead of chocolate, working out kinks in my back that I didn't know I had. Walking home later, I couldn't help but keep touching my skin, silky smooth and super soft, with just a hint of a chocolate scent that hit my nose with every breeze.
To book a B3 Signature Chocolate Massage or to learn about other treatments available at Body by Brooklyn, go to bodybybrooklyn.com.
Celebrity news, beauty, fashion advice, and fascinating features, delivered straight to your inbox!