Rihanna Hearts MAC Summer Collection Arrives Online Next Week
Rihanna Hearts MAC Summer Collection hits stores June 18, 2013.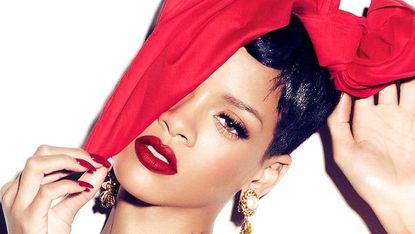 (Image credit: Unknown)
When Rihanna's RiRi Woo lipstick — a cool twist on the MAC Cosmetics classic Ruby Woo — first hit the Web in early May, her fans logged on in such a frenzy that the limited-edition shade sold out in just three hours. If you missed your chance at owning a piece of Rihanna's first collaboration with MAC, have no fear: the RiRi Hearts MAC Summer line arrives online next week. In the second of four collections she's working on with MAC on this year, this online-exclusive range includes three Rihanna-approved lipsticks, a bronzer and blush duo, and a shimmering skin highlighter. We can't think of many ladies who sport a summer glow quite like Rihanna, so if you're hoping to channel the singer's sexy beauty look in the coming months, we suggest heading to MAC's website at noon on June 18.
Hibiscus Kiss Power Blush Duo, $26.
RiRi Woo, RiRi Boy, and Heaux matte lipsticks, $15 each.
Barbados Girl rose gold bronzer, $20. All at maccosmetics.com.