What's In Kristen Bell's Purse?
Inside Kristen Bell's bag.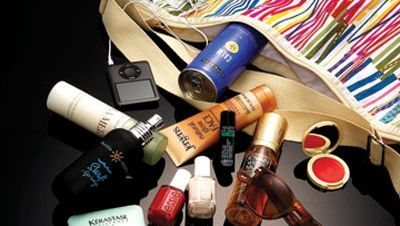 (Image credit: Jeff Westbrook)
"Always, always, always! My mom insisted on SPF," says Kristen Bell, who stayed UV-protected in Hawaii filming Forgetting Sarah Marshall. Now a spokesperson for Jergens and the Skin Cancer Foundation's Glow in the Dark campaign, Bell spills her safe-sun secrets.
La Mer The OilAbsorbing Lotion
iPod Nano in Black: "I love Marvin Gaye and Brett Dennen."
Airforce Nutrisoda: "It's like carbonated juice but doesn't taste like a Flintstones vitamin. And there are almost no calories."
LeSportsacBag: "The little pouches inside hold your products—and no biggie if it gets wet."
Bumbleand Bumble SurfSpray: "I love the way hair looks after the beach, when there's all that salt in it. This re-creates that."
Jergens NaturalGlow Face SPF 20: "Blonde hair, blue eyes, and orange skin? That's an Oompa Loompa—not cute. This gives a believable glow."
C.O.Bigelow Mentha LipBalm: "This has SPF and makes your breath smell nice."
JovanWhite Musk: "My mom wore this. I remember paying $8 a bottle, but now it's $13. Man, Jovan's prices are through the roof!"
Fresh Lipglossin Sugar Desire
Essie Polish inPepperoni andLike Linen: "Pepperoni is really cute for toes."
Persol TortoiseshellSunglasses (with UV-shield lenses): "These are like old-money, grandpa-on-Manhattan-Beach kind of glasses."
KérastaseResistance Conditioner: "In Hawaii, my hair was dry and flat. For body, I conditioned the ends with this."
Lizzie ScheckRings: "Lizzie designed Carrie's horseshoe necklace on Sex and the City."
Emergen-C Cranberry: "I take one before flying. If I skip it, I get sick."
Clinique Naturally Glossy Mascara: For more tips from Bell, go to Jergens.com/GlowInTheDark
"If you ever want to feel really beautiful, go to Hawaii. You're surrounded by flowers and sunlight—so everything looks better!"
Celebrity news, beauty, fashion advice, and fascinating features, delivered straight to your inbox!